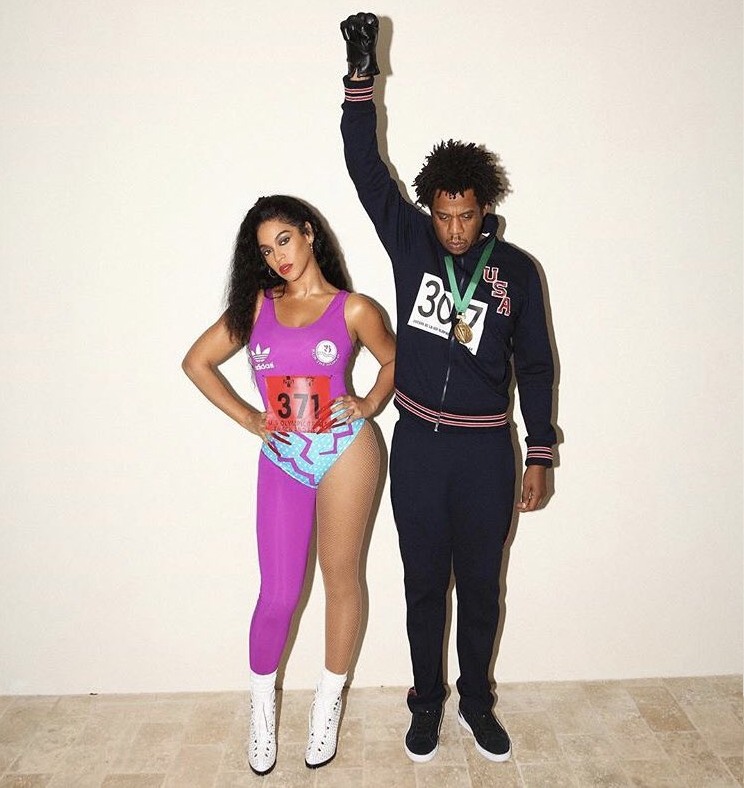 Beyonce cracks me up. While many people probably organized their Black Panther costumes months ago, Beyonce was like "nah, too obvious." She probably also thought "why would I dress up like a Black Panther character when I'm already the Queen of Everything?" So she thought about it long and hard, and decided to do two different costumes. The first costume was Phoni Braxton, a take on Toni Braxton. Then Beyonce and Jay-Z did a couples-costume as two famous and historical African-American Olympians: Flo Jo and John Carlos.
For the kids who don't know, Flo Jo is the late Florence Griffith–Joyner, a track Olympian who won three gold medals and two silver medals in her career. She was known for her flamboyant track outfits, her long nails, her passion and her general awesomeness. John Carlos, 73, was one of the track Olympians – along with Tommie Smith – who raised his fist in a Black Power salute on the medal stand at the 1968 Olympics. Both John Carlos and Flo Jo are considered to be powerful symbols of the civil rights movement.
Now, Beyonce went about these costumes in the most Mom Way possible. I honestly think it's hilarious that she actually posed for the iconic Flo Jo-kneeling-prayer photo and then Photoshopped it to look like she was actually on a track. She's so earnest, y'all. I love her.
Photos courtesy of Beyonce's Instagram.