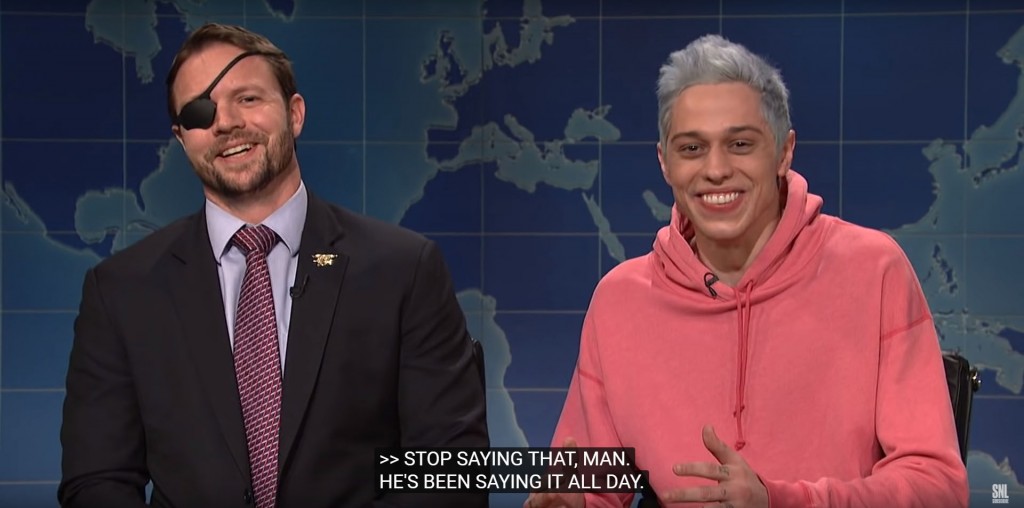 Last weekend, on SNL's Weekend Update, Pete Davidson did a bit where he mocked the Republican Congressional candidates' appearances. One of the candidates, Texas Republican Dan Crenshaw, wears an eye patch after losing an eye to an IED in Afghanistan. Pete joked "You may be surprised to hear he's a congressional candidate in Texas and not a hitman in a porno movie. I'm sorry, I know he lost his eye in war, or whatever." Then he said "whatever" again as the audience laughed. Republicans lost their minds, because being joked about and turned away at restaurants is worse that being murdered or discriminated against in their world. Crenshaw was blasé about it, telling TMZ that he doesn't need an apology but that veteran's wounds shouldn't be fodder for jokes. Crenshaw repeated that claim in his victory speech, that he's not offended but that it wasn't funny.
Pete's SNL costar, Kenan Thompson, has been doing the interview circuit. He said that Pete made a mistake, that he never would have gone there as his dad is a Vietnam veteran, but that he understood because "it's tough when you're fishing for jokes." He also said that Pete's mistake was "being handled internally" and that SNL was "figuring out a way to right that wrong." SNL did just that over the weekend, with an apology by Pete and a personal appearance from Crenshaw. Crenshaw turned the tables and mocked Pete. The best part of this was when Breathin by Ariana Grande played and Crenshaw answered his phone like it was his ringtone! That's at 1:55 in the video below.
Pete Davidson: I made a joke about Lieutenant Commander Dan Crenshaw and on behalf of the show and myself I apologize… It was a poor choice of words. The man is a war hero and he deserves all the respect in the world. If any good came of this, maybe it was that for one day the left and the right finally came together to agree on something. That I'm a dick.

Dan Crenshaw: You think?

Pete: I just wanted to say… the reason you're wearing an eye patch is because your lost your eye to an IED in Afghanistan during your third combat tour and I'm sorry.

Dan: Thank you Pete I appreciate you saying that. [Breathin by Ariana Grande plays and Crenshaw goes to answer his phone!]

[Pete tells Dan to make fun of him]

Dan: This is Pete Davidson. He looks like if the meth from Breaking Bad was a person. He looks like a troll doll with a tapeworm. He looks like Martin Short in The Santa Clause 3. By the way, one of these people was actually good at SNL.

Seriously, there's there's a lot of lessons to learn here. Not just that the left and right can still agree on some things, but also, Americans can forgive one another. We can remember what brings us together as a country and still see the good in each other.

This is Veteran's Day weekend, which means that it's a good time for every American to connect with a veteran… tell a veteran never forget. You are implying… that you are in it with them.

When you say 'never forget' to a veteran, you're implying that as an American, you are in it with them. Not separated by some imaginary barrier between civilians and veterans, but connected together as grateful, fellow Americans. We'll never forget the sacrifices made by veterans past and present, and never forget those we lost on 9/11 — heroes like Pete's father.
Can you imagine what it would be like if we had a Republican like Crenshaw as the President? I would actually buy that message of the left and right coming together and forgiving each other, because this man seems sincere about it. He knows what sacrifice is and he would stand in the rain to honor fallen heroes, having given so much more. (I wouldn't vote for him for Congress or President, I'm just saying this was heartwarming and gave me a little hope for the country.) It was a real shame that they didn't play "thank u, next" though. "Breathin" was probably a concession to Pete.
Update: As several of you have pointed out, Crenshaw was a group administrator of a Tea Party group on Facebook which has about 95,000 members and has touted right wing conspiracy theories including Pizzagate. It's also a platform for white supremacy. I was not aware of this when I wrote this post and would not have written so favorably about him had I known.
Here's the video! Thank you to all veterans for your service.