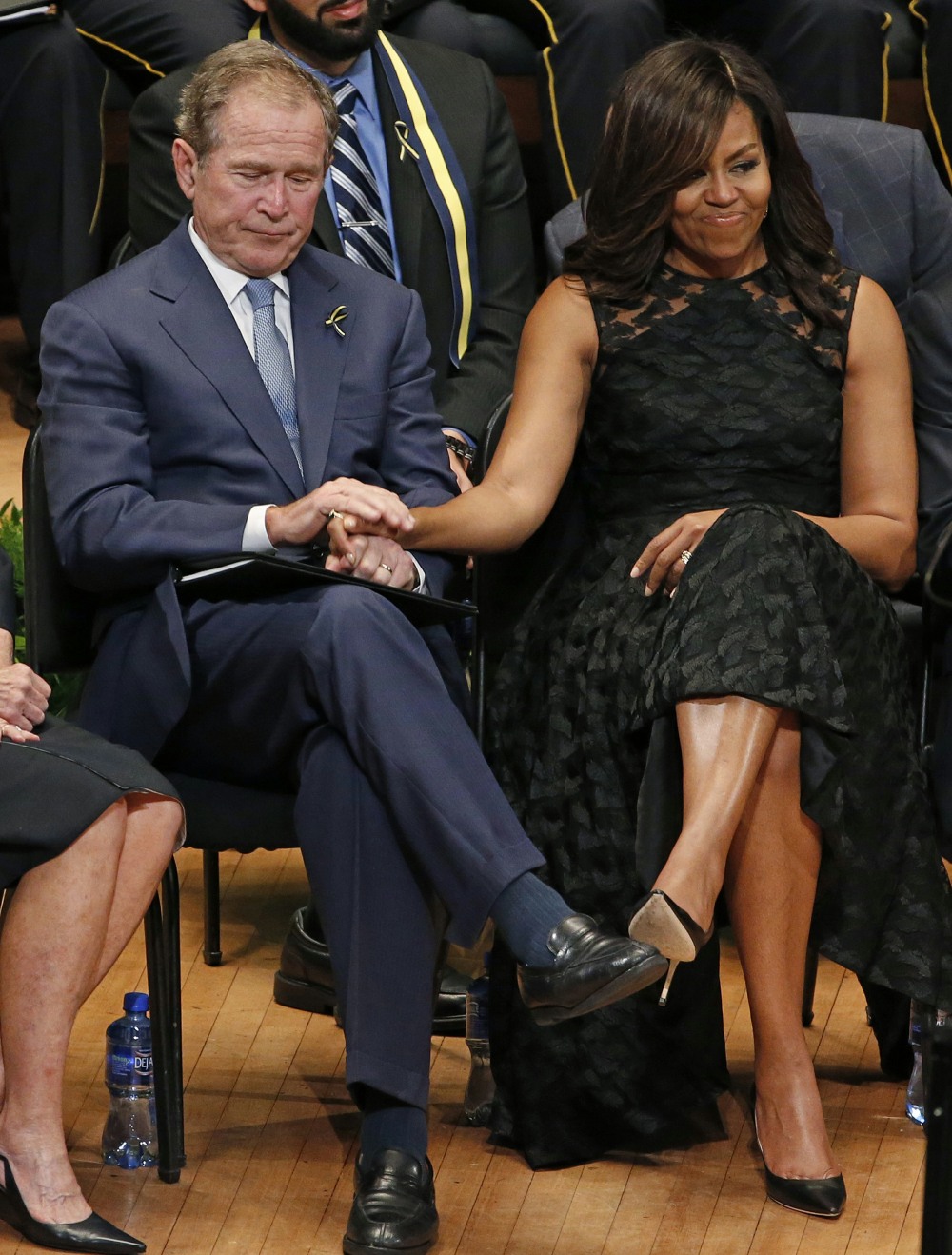 I feel like we sometimes oversell Michelle Obama and George W. Bush's friendship. They really aren't hanging out together on the Texas ranch, nor are they going off on couple vacations together. They're affectionate work friends, the way I see it. They see each other at big events, like museum openings and memorials, and since they get along, they tend to be seated next to each other. Sometimes they hug, sometimes he makes sure to pass her some candy at a memorial. I tend to think we cling to Michelle and Dubya's friendship because they seem like an anchor of grace and cross-party friendship in a hurricane of fascist shenanigans. Michelle seems to think the same – she's not here to polish Dubya's legacy, but she does call him "a beautiful, funny, kind, sweet man." Oh, MO. You're way too kind.
Since Michelle Obama shared a sweet public embrace with George W. Bush in 2016, the world has been intrigued by their friendship — considering their differing political identities. The former first lady opened up about her bond with the former president, 72, and their differences in opinions during an interview with his daughter, Jenna Bush Hager.

"So you know … I got a text from my dad this morning that said, 'Send Michelle my love,' " Jenna, 36, said during the sit-down that will air on NBC News' TODAY on Wednesday morning. "I was like, 'Don't you call her Mrs. Obama?' He's like, 'No, I call her Michelle.' He said, 'Send her my love.' And I thought, you know, it's so interesting how people are so interested in y'all's friendship. I mean that hug was, like, the hug that went around the world. I do love that picture."

"That's your dad," Obama, 54, responded.

"Why do you think people are so hungry for that, though?" Jenna asked the Becoming author.

"Because I think the political discourse, the way it's shown in the media, is — it's all the nasty parts of it. You know? Because I guess we've become a culture where nasty sells. So people are just gonna keep feeding that," the mother of two explained. "But the truth is much more complicated and complex than that. And I'd love if we as a country could get back to the place where we didn't demonize people who disagreed with us. Because that's essentially the difference between Republicans and Democrats.We're all Americans. We all care about our family our kids, and we're trying to get ahead… We have different ideas about what's the best way to get there."

However, she clarified, "that doesn't make me evil. And that doesn't make him, you know, stupid. It's just a disagreement and that's how I feel about your father. You know? He's a beautiful, funny, kind, sweet man. And I don't know that I agree with him on everything."
I'm trying not to go Full Curmudgeon here, because I'll admit it, I have been moved (temporarily) by Dubya and Michelle's friendship at times. She's not looking at him as a man who lied America into a war and got thousands of people killed because of those lies. She's looking at him as a rumpled old Republican who is trying to burnish his legacy a bit. Plus, he passes her candy and likes to flirt with her. I tend to believe Michelle has always had to fend off attention from guys like Dubya, and she's learned how to do it with grace.
Photos courtesy of Avalon Red, Getty.