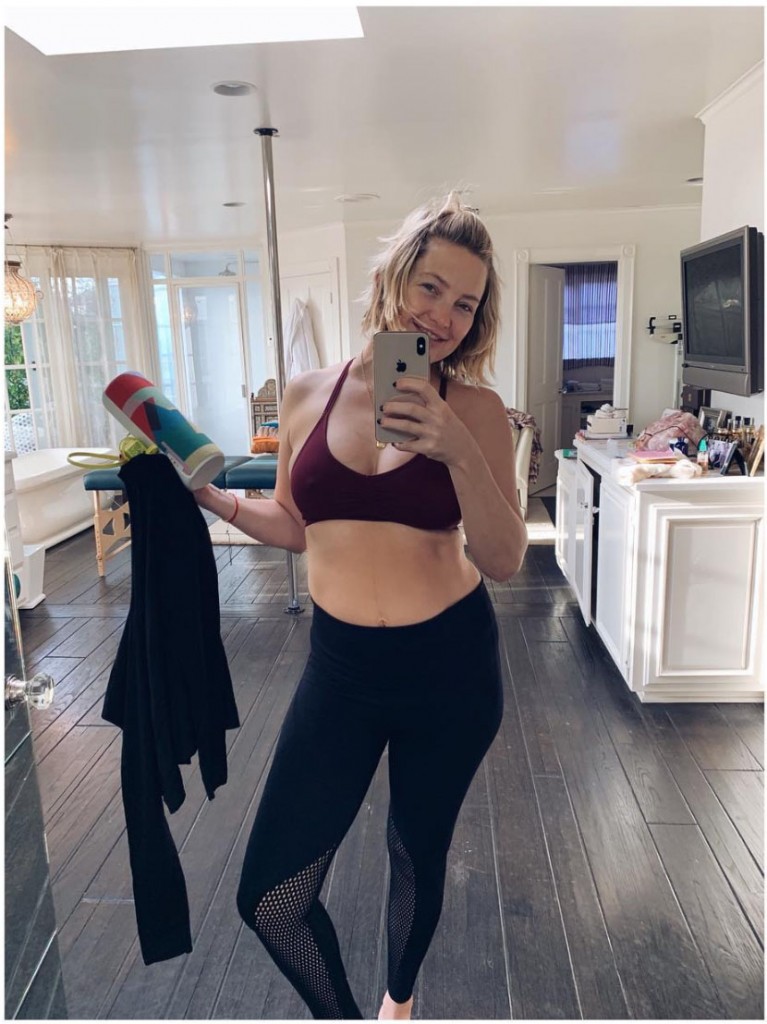 Unlike many celebrities, Kate Hudson is honest about the work it takes to lose baby weight. She doesn't claim to effortlessly shed it or to eat whatever she wants, she admits to counting calories and she said that after her second pregnancy she worked out six hours a day to lose the weight. Kate welcomed her third child, daughter Rani Rose Hudson Fujikawa, almost two months ago. She also has sons Ryder, 14, and Bingham, 7.
In a post to Instagram Kate announced that she's planning to lose 25 pounds by this spring to be fit for a film. She also promoted her lifestyle brand, named after her books, it's called Pretty Happy. She wrote that she'll post tips on that Instagram account. This is a clever cross promotion as she also has that (arguably sketchy) subscription clothing line, Fabletics, and can build another brand and associated products. Unlike other celebrities, I sort of buy what Kate is selling as long as I don't have to prepay for it. Here's what she posted with the photo above.
So…here we go! The routine with our baby is getting more familiar and I'm ready to start taking a little time in the day focusing on myself. For me that means my health. Why? Because I wanna be around a long time for these three kiddos of mine. I know that some are curious about what that means and for all you moms (wether [sic] working or not working moms) it is the most challenging thing in the world to balance kids and personal time. Let's be honest, kids take the number one position and it's haaaaard to make the time for yourself. I've been doing a lot of research and I've spent my life time trying all kinds of new things that are focused on health and wellness. Because I am on a mission right now to get back to my fighting weight 😉 and my strong body/mind back I want to bring you in on some of this journey. If you want to follow a more in-depth of my to-dos, @prettyhappyofficial will be posting all kinds of fun tidbits from exercises we are loving to foods/recipes we ❤️ and meditation practices I just can't live without 🧘‍♀️ MY GOAL: I will be shooting a film in the spring and I'm looking to shed 25lbs. I'd like to try new workouts and eat as healthy as I can. I wanna do all this and keep up milk production, raise my kids, work everyday, make time for my man, have girlfriend time and stay sane! 🤪 I know that this sounds more like a new year resolution but after Thanksgiving and everyone thanking their health, I feel motivated to keep that up. Much love and hope everyone's Having an amazing start to the holidays! 💋
It's perfectly reasonable to lose a couple pounds a week without being deprived. She could lose eight pounds a month and reach her goal in three to four months no problem. Kate knows the math and she's not promoting a crash diet or an expensive "cleanse" that no one needs. I like this, especially because she's being honest about it. (Although she's not working 9 to 5 or longer outside the home and is lucky that way.) The Pretty Happy Instagram account has recently become more active and they have this very brief video post encouraging quick five minute workouts.
I often think about the fact that movement adds up over the day. (I am pretty sure that Michelle Obama said this too, but I haven't been able to find those quotes again.) Recently I've been sitting on an exercise ball at my desk. I have lower back problems and it helps stabilize my core, but it's also an easy way to tone without a traditional workout. Working out doesn't have to mean going to the gym for an hour. If you have enough space in front of your TV or computer you can exercise whenever it's convenient for you. There are so many great workouts on Youtube for all fitness levels. I do PopSugar fitness, and BeFit has so much to choose from too. Of course I have the luxury of working from home. It's a lot harder if you're in a traditional office.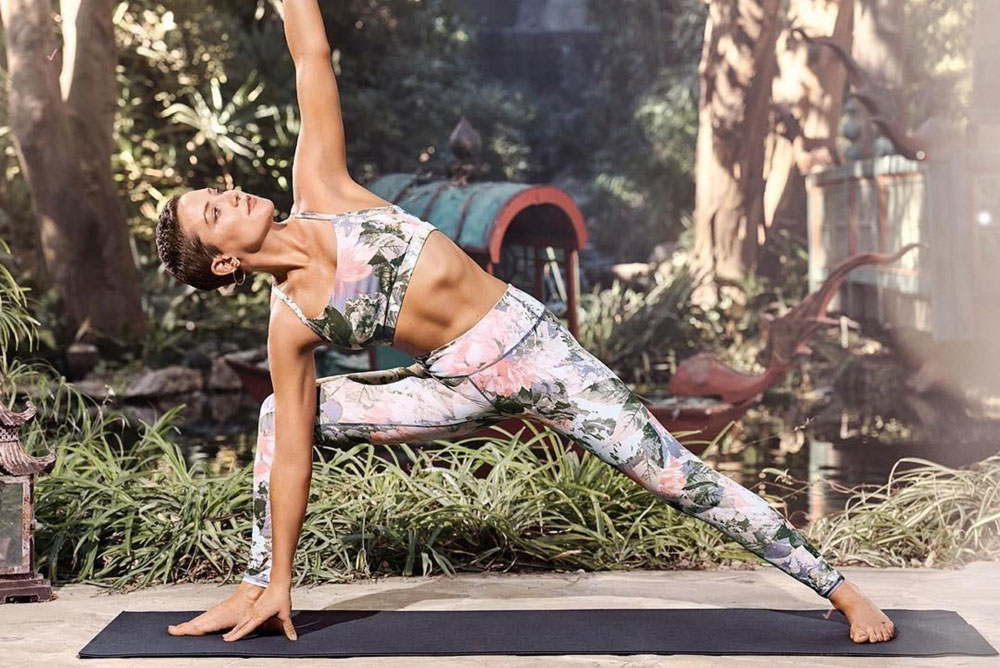 photos credit: Fabletics via Avalon.red and via Instagram