Ariana Grande spends the day with ex Ricky Alvarez https://t.co/ww4nX3kUaj

— Daily Mail Celebrity (@DailyMailCeleb) January 2, 2019

Ariana Grande was photographed out with her ex boyfriend, Ricky Alvarez, on New Year's Day. You can see those photos by following the link above. Ari has unique style that sometimes works and sometimes looks ridiculous. The black face mask is understandable as the flu is rampant, her instrument is her voice, and had to cancel a performance last week due to bronchitis. She likes to wear oversized sweatshirts and jackets and it technically wasn't freezing in NY on Tuesday, but the low was 38°. That's kind of cold not to wear tights, especially for someone recovering from bronchitis, but maybe they were nude-colored.
Ariana was asked on Twitter if she was dating and she said she wasn't and that she probably wouldn't be all year or ever. You can see her tweet below. Outlets vary as to the timeline was but it looks like she tweeted that the same day she was seen out with Ricky, but before the photos were out. These two dated for a year in 2015 and reconnected in early November, when "thank u, next" came out. They joked online about Ricky getting the worst line, "Wrote some songs about Ricky, now I listen and laugh." Then, about three weeks ago, she commented on one of his Instagram posts. When people asked if they were back together she wrote "We're friends everyone take a big ol breather."
Here's what she wrote about being single:
spoiler for the rest of this year / probably my life: it's no one. please refer back to this tweet for future questions. 🖤

— Ariana Grande (@ArianaGrande) January 1, 2019
On the rare (ha) occasions I stepped out with an ex after a breakup I was definitely sleeping with him again. It usually ended just as badly if not worse than the first time, but it's a smarter move for Ari than staying with Pete. She's getting hers and I'll reserve judgment until and unless she declares she's coupled-up again. That wouldn't jibe with her new image though.
Ari's ex, Pete Davidson, is getting press for talking about her in a standup set earlier this week. It sounds like he's doing ok now, which is reassuring after his scare. He talked about "thank u, next," saying that his mom had to hear at least one person singing it to her mockingly. He also called Ariana a "diabolical genius" for including her exes by name instead of writing a typical blind item song. Plus Pete revealed that Louis C.K. tried to get him fired from SNL during Louis' hosting gig in 2017. Louis told the producers, right in front of Pete, that "all this kid does is smoke weed and he's gonna smoke his career away." Pete claimed he got a Harry Potter tattoo the day before Alan Rickman died and then a Willy Wonka tattoo the day before Gene Wilder died. "Now I'm like, all right, that's a coincidence, that's weird. So I'm thinking of getting a tattoo of Louis C.K., what do you guys think?" Go for it Pete.
Also, it was just announced that Ariana will be a headliner at Coachella in April. Other big names include Childish Gambino, Janelle Monae, Tame Impala and Weezer. Her career is fire.
thank u for seven weeks at number 1 🐙 what a beautiful start to this year #thankunext #ipickedupshitafterthis pic.twitter.com/kutYOmiIg5

— Ariana Grande (@ArianaGrande) January 2, 2019
Ari in early December: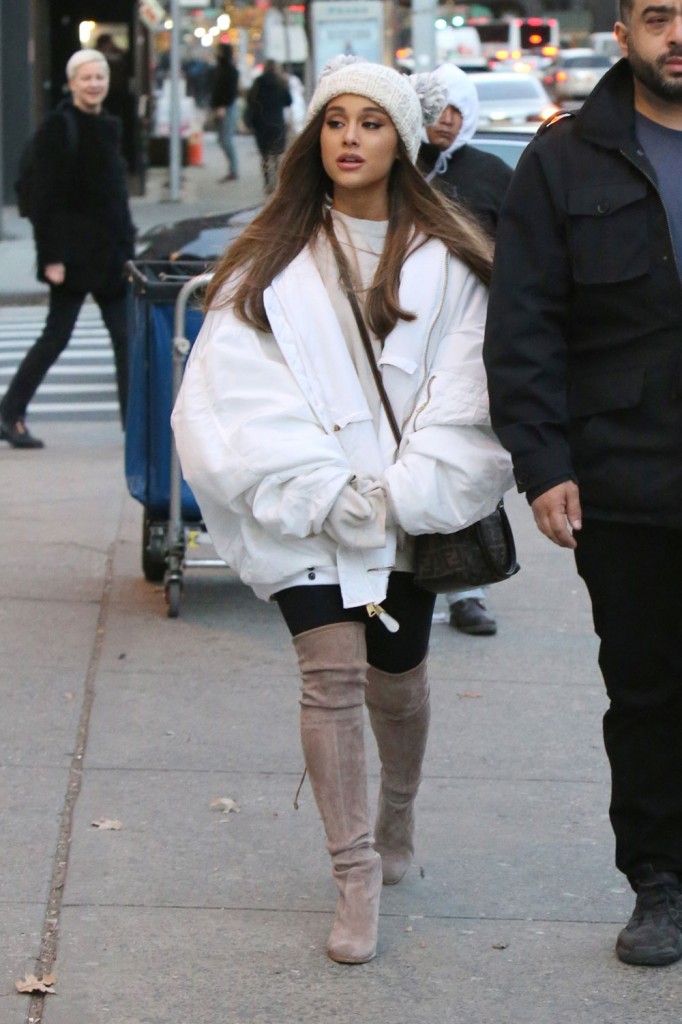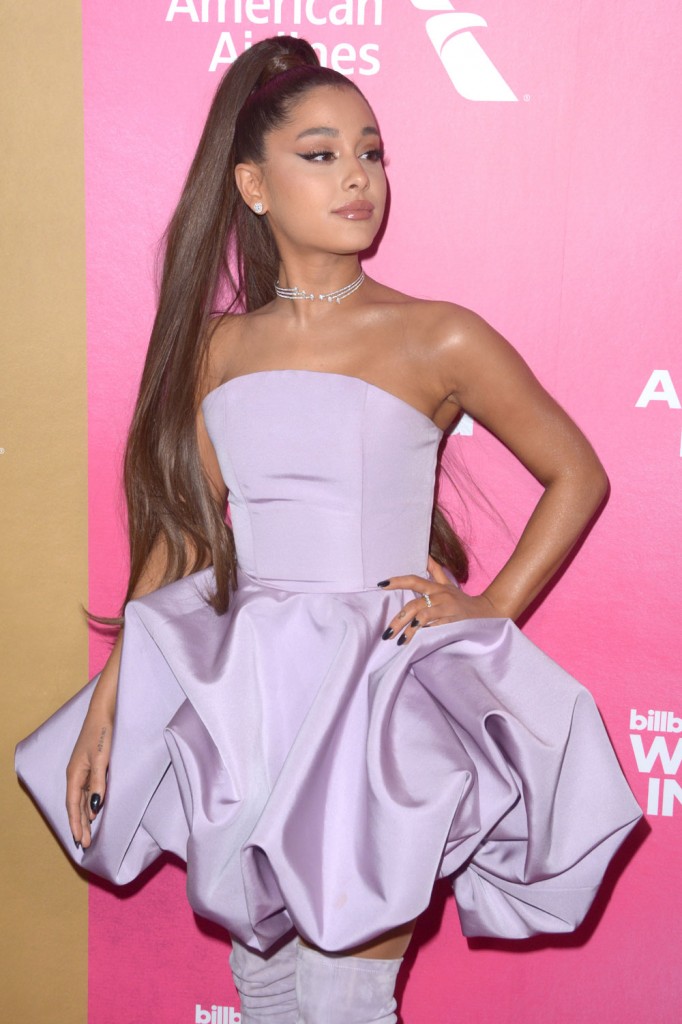 photos credit: WENN and Backgrid