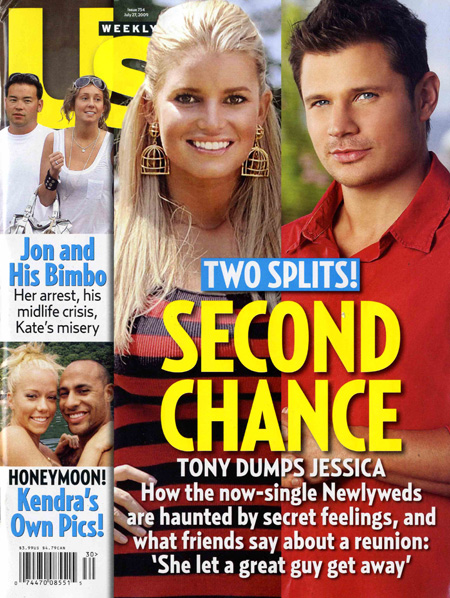 Is it possible for Nick Lachey and Jessica Simpson to get back together, all over again? If you're going by US Weekly, then of course it's possible! While the world is still shivering from the epic douchery of Tony Romo to dump Jessica the night before her birthday, most people have been solely focused on the "what went wrong" aspect of the split. Did Tony just want a way out? Did John Mayer send some naughty texts to Jessica, and Tony saw them? Did Pervert Papa Joe Simpson meddle too much? All good questions.
But it was only the brave editors at US Weekly who realized, as if by magic, that now that Tony dumped Jessica, both Jessica and her ex-husband Nick Lachey are single. Oh. My. God. Cover! We'll call it "Newlyweds: Redux". No, no. Us Weekly instead calls their cover story "Second Chance". If you read the smaller print, it seems that Jessica and Nick aren't even speaking to each other again, they are only "Newlyweds are haunted by secret feelings". Yes, I like Jessica, but this is making me a little barfy. Here's the basic rundown, via Jezebel:
After five pages of speculation about how since Jessica Simpson and Nick Lachey are both single now they MIGHT get back together since they are "haunted by the ghost of their relationship past."

Quotes refuting this theory appear at the end of the story: "He would never ever go back with her. He's a different person now," a source says. "All Nick wants now is a non-famous girl he can settle down and have kids with."

Then the magazine writes: "Ironically, though Simpson now wants to settle down and have a family, a source close to her tells Us she isn't pursuing her ex-hubby." "They don't talk and haven't seen each other in years," the insider says. "That's the last thing on her mind." Okay then!
[From US via Jezebel]
Yeah, I don't see it happening. I could totally see Nick being a nice guy and calling Jessica to offer his sympathies, and maybe offering her some rebound sex. In general, though, I suspect Nick is totally over Jessica. I think he's totally over the whole Simpson family – his dealing with Pervert Joe must have really soured the whole situation. I really believe that Jessica still has that "Newlywed" stuff in her head – she wants to identify herself as someone's wife, and I do think she wants to be a mother. Tony wasn't her guy, and she wasn't mature enough to appreciate Nick when she had him. Sigh.
I am thisclose to playing matchmaker for Jessica. Who would be good for her? Pattz? God no. Mayer again? Uh, no. John Stamos? No, he's for Aniston. Daniel Radcliffe? He likes cougars, but his atheism would be a problem. George Clooney? He would like her boobs and her ditziness, but I think he prefers brunettes. Oh my God, I've got it! Prince Harry! He and Jessica would be perfect together. Neither one of them is very bright, he likes blondes, she likes athletes, and you know the sex would be pretty awesome. Perfect match!
Header via CoverAwards.