I think Kate Hudson is positioning herself for her own talk show. She does have a couple of projects coming up, but the last few years she's focused on her lifestyle brand. Lately she's always got her mom, Goldie Hawn, in tow. I think she's trying to let networks know that if they get her, her mom will be part of the deal. The pair co-hosted Ellen's talk show yesterday with what felt like one big sales pitch as every conversation revolved around them. I'm not complaining because I love me some good Goldie stories, but when you steal focus from Gwyneth Paltrow, that's an accomplishment. Right before Kate gave birth to Rani Rose in October, she told a story of Goldie annoying her during her last birth by eating in the delivery room. Apparently, Goldie was given permission to return to Kate's delivery room for Rani after Goldie promised to behave, which she almost did.
As Goldie said, she was trying very hard to be supportive, but in doing so, she got a little too close to the action:
[The doctor] was like this, leaning down, doing the thing, with the baby, I'm trying to look over his shoulder, and I see the head and I'm going, 'Oh, there's the head!' And then it went back. And he said, 'Goldie, if you get any closer, you're gonna fall in.' So I took my cue. I didn't get that much closer.
My mother wasn't in the same city when I gave birth, let alone occupying the same space as the doctor delivering my child. But it sounds like Kate is used to her mother's need to be totally present in her life. Kate sounds fine with it.
Kate's brother, Oliver Hudson, was working next door and showed up by surprise. He told a quintessential Goldie story and it did not disappoint. He described the time he was trying to fly under the 'famous parents' radar at camp but Goldie wasn't playing his game:
Camp. I was 11 years old and it was my duty in life to have nobody know who my parents were. I just wanted to be my own thing, I didn't want anyone to know my mother was Goldie Hawn. So, I did the best that I could, no one knew at camp. We had this big hill at camp, big lawn that descends down into this dock. The director is doing his morning announcements and out of nowhere, from the back of us this big sea plane roars down and everyone goes 'oh, look at that.' And it makes this big left-hand turn and lands and then everyone gets quiet, all 700 campers and it pulls up to the dock and out comes my mother. She's waving. I'm just like, 'oh my god.' And she goes, 'I'm coming to see my kids!'
See, I love this. Goldie is, at heart, a movie star. She lives her life as big as she does her career and it makes me laugh. And this is why whatever Kate is pitching will probably work, because people like me will eat up any amount of Goldie we can get. Okay, maybe not any amount, I still don't want her in my delivery room.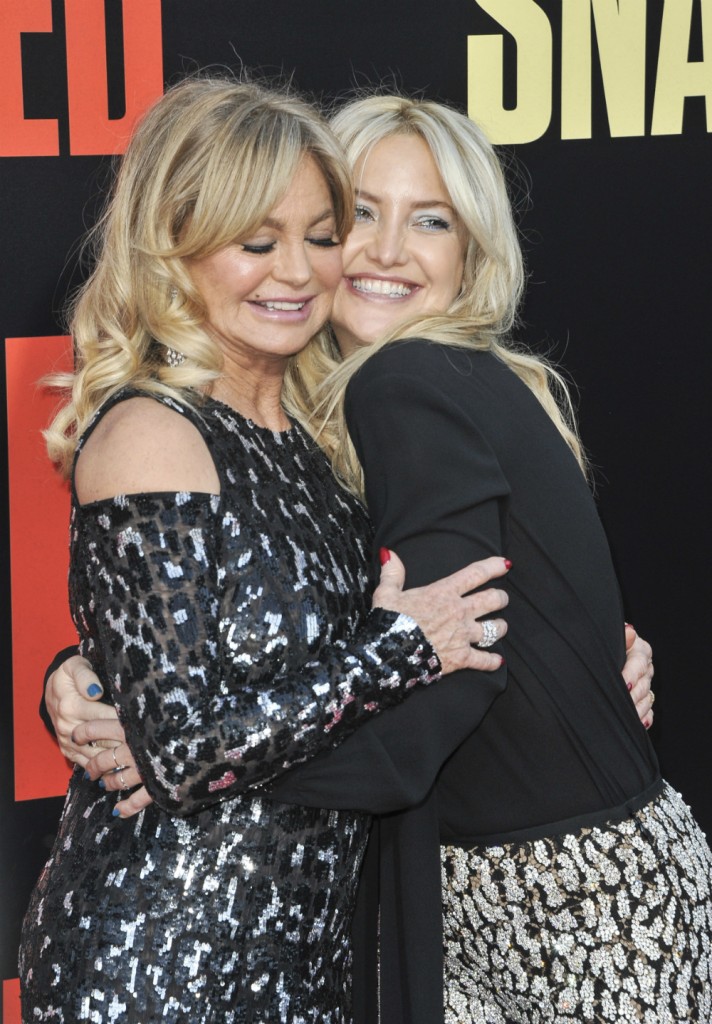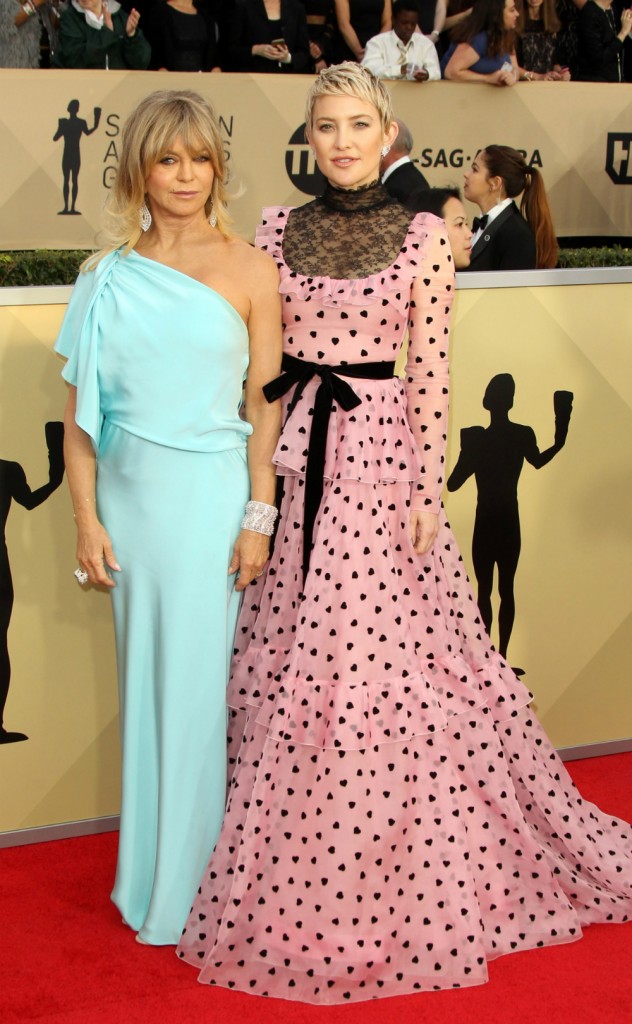 Photo credit WENN Photos, Instagram and EllenTube