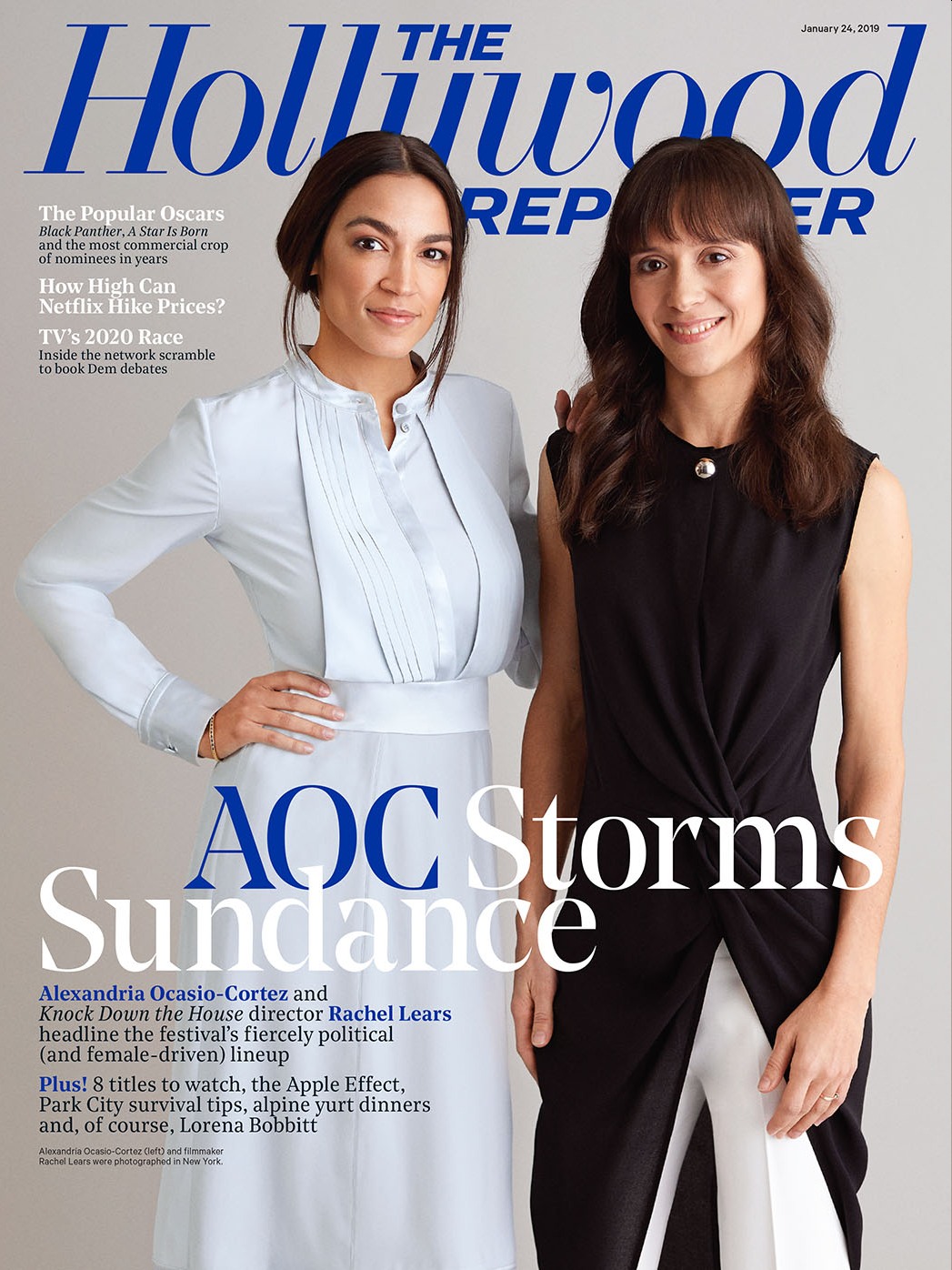 Alexandria Ocasio-Cortez (aka AOC) is the subject of a documentary called Knock the House Down, which will be premiering at the Sundance Film Festival in a few days. The doc is directed by a woman, Rachel Lears, and while it didn't start out as a documentary just about AOC, it evolved into the story of her successful primary race and successful congressional race. AOC plans to go to Sundance to help Rachel Lears hype the film, and they appear together on the new issue of The Hollywood Reporter. It's a good, well-balanced piece which shows off AOC's Millennial savvy – she doesn't need lessons on media relations or how to use social media or how to "clap back" in a certain way, it comes naturally to her because of her age and authenticity. You can read the full THR piece here. Some highlights:
On the reports that Democratic leaders are irritated with her: "People are overwhelmingly over it. They're overwhelmingly done with how Congress operates. There are a lot of things that just need to change. And friction and conflict is just a foundational element of change. If there was no conflict in change, then we would be in a totally equal society and people would have no problem getting health care and getting paid a living wage. But that's not the case."

On how the GOP keeps trying to take her down: "I always expected to be treated differently or less. The extent and the degree to it is actually pretty mind-boggling to me. When it comes to these alt-right dudebros, I think it's hysteria. It's the fear of, 'We may not be in charge much longer,' in terms of just blanket homogeneous representation. Like, oh my God, what happens if white dudes aren't in control of Congress? I feel like I'm at the edge of a diving board. And I'm just sitting there looking down. And I'm bouncing on that diving board and I kind of just ask myself the core question. And it usually is like, if we don't do this no one will. And so I jump, but I'm scared all the time."

On clapping back: "It's a Bronx thing. It's call-and-response culture, which is very much in the wheelhouse of people of color. There is a certain amount of street cred that comes with being able to cleverly defend yourself."

Why she thinks Trump hasn't directly attacked her yet: "I'm not sure. I think as nuts as this guy is, one thing he does have an expertise in is media and branding and marketing. And I think, I don't know, maybe he thinks that he's met his match."

She's been trying to take her safety seriously: "It's hard. I do everything I can do. I don't walk alone places. This whole moment is just really emotionally overwhelming for my mom. It was really hard growing up for so many different reasons. There were so many times where we just thought, 'It's over, life is just going to be impossible.' And to have this happen is just so unbelievable for her and for the whole family."

Just a girl from the Bronx: She was living off her savings of about $7,000 when she was elected while paying off student loans that total a little over $25,000. "There are threads of my life that haven't changed since I was a waitress….Going back to the same bodegas and talking to everyday people, and my neighbors still being my neighbors. That's really important."
Something struck me about AOC in this piece – it's not that she's some genius Millennial-whisperer whose every social media move is absolute brilliance. It's that she just seems real and young and fresh. It's not rocket science – there are millions of young women like that in this country. AOC just looks so fresh and shiny because we've been staring at crusty turtle-faced old men in the House and Senate for too long.
There's also a section in THR where they discuss "Hollywood money," in that AOC was the rare candidate who didn't travel to LA to attend big-donor fundraisers for her own campaign or for the Democratic Party (or DCCC or Emily's List or anything). She says it wasn't so much that she was completely shutting off the idea of taking "Hollywood money," it's just that is not her priority at this time. And I honestly don't get why it's a big deal – Republicans have their shadowy wackadoodle billionaires financing their campaigns, why couldn't a congressional candidate from the Bronx take contributions from Anne Hathaway and Steven Spielberg? Mostly, I want Democrats and progressives to stop shooting themselves in the collective d-cks about campaign finance. Do I think the current system is awful? Yes, I do. But also: don't be dumb and play by a different set of rules than the other side.
.@AOC admits the spotlight can sometimes can feel daunting and "like I'm at the edge of a diving board": "I kind of just ask myself the core question. And it usually is like, if we don't do this no one will. And so I jump, but I'm scared all the time" https://t.co/9DCIKfqb8D pic.twitter.com/37pWPc3YTJ

— Hollywood Reporter (@THR) January 23, 2019
Photos courtesy of The Hollywood Reporter.