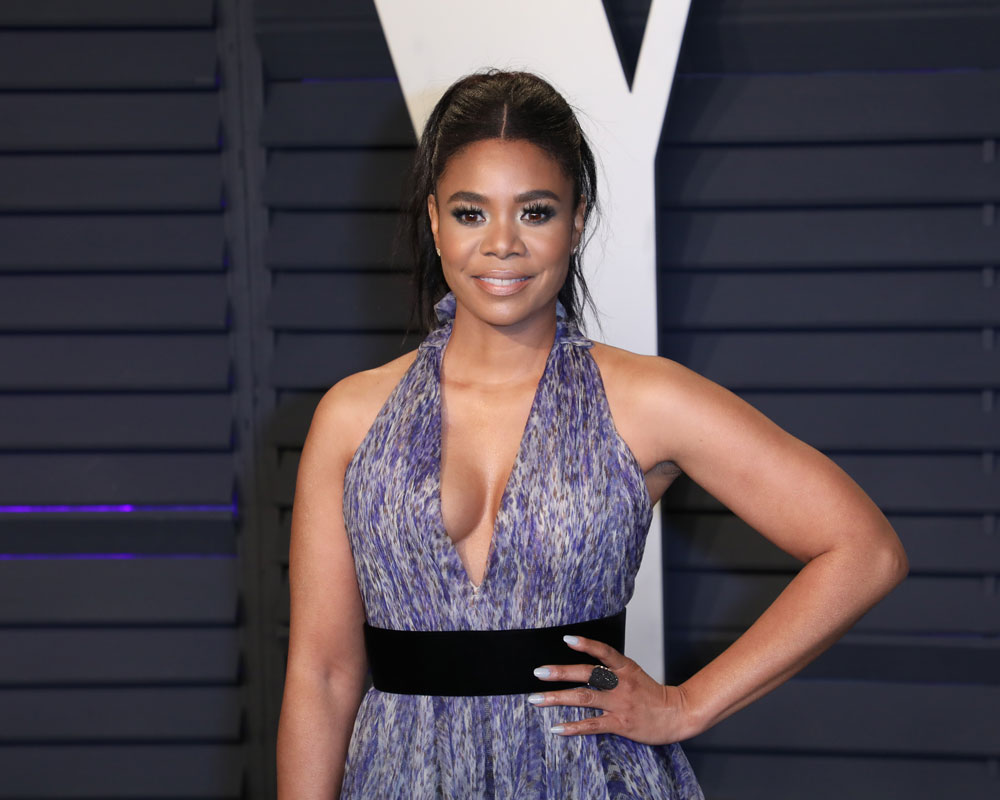 I just had the best time watching Regina Hall's last three appearances on Jimmy Kimmel. (I watched three because Jimmy referenced her last appearance but he really meant an earlier one.) This story, which is summed up pretty well in the title, is somewhat crazy sounding but true. Regina had marijuana oil which she used to treat her sick dog. After the dog passed Regina and her mom took it. As you can tell, it did not go well for her mom.
When Regina was on Jimmy Kimmel, in July, 2017 promoting Girls Trip (I loved that movie), she told a story about giving her dog marijuana oil. Her dog, Zeus, had a tumor and she explained at the time that she was "healing him holistically" by giving him marijuana five times a day. It didn't sound like her dog was actually prescribed that by a veterinarian. This week, Regina told Jimmy that after her dog passed she gave some of the marijuana oil to her mom, which she described as more like the consistency of honey, to treat her mom's arthritis. Regina's mom told her not to be so stingy with it.
You told me that you were giving your dog marijuana. Is that still happening?
He ended on a high note. He's in heaven now. It hurts but it's ok. He lived a great life.

What did you do with his marijuana?
The good stuff, you don't want to throw it away. I was sad, I couldn't sleep. My mother came to visit. She had arthritis so I gave her a little and I took a little.

How did that work?
For a while. I said 'Mom… I think that's too much.' It's in a tube, it's like the consistency of honey. You put it on a little cracker, this is to help heal. She put too much. I said 'Mommy that's too much.' She said 'That little dab you give me barely does enough.'
After that her mom couldn't move her mouth to talk and Regina thought she was having a stroke. They called an ambulance. Regina called her friend from the hospital and her friend said "I think you bitches are high." The hospital did a bunch of blood tests and an MRI on her mom, which of course was all normal. egina had to tell the doctor that it was probably the marijuana oil her mom took. He was not amused.
Also, as I mentioned above I'm not sure that marijuana oil was meant only for her dog, you know? The way she described it in that earlier interview was like she was just trying to make life easier for Zeus. Jimmy asked her a couple of times if a veterinarian had prescribed it and she was like "oh sure" but it didn't sound like it. That time she also told a story about accidentally eating marijuana brownies someone had given her after a dinner party and not realizing they had marijuana in them until she felt the effects. I've heard so many bad stories like that about edibles! I know this is a little different because it's an oil but it sounds like it's easy to have too much.
Update: Thanks to the first commenters on this story, Brynn and Alissa, for explaining that CBD oil is regularly prescribed to dogs but does not make them high as it doesn't have THC in it. At 4:00 into this video from her 2017 appearance on Kimmel she said "Zeus is always high. Zeus is on cannabis five times a day." Jimmy asked "So your veterinarian has prescribed drugs for your dog?" and she laughed and didn't say. Jimmy added "Just say yes the answer is yes." She said "yesss, it's legal though. I take it too for him."
Here's the video from her latest interview with Kimmel:

RIP Zeus. You can tell she loved that dog so much.
Photos credit: WENN and via Instagram