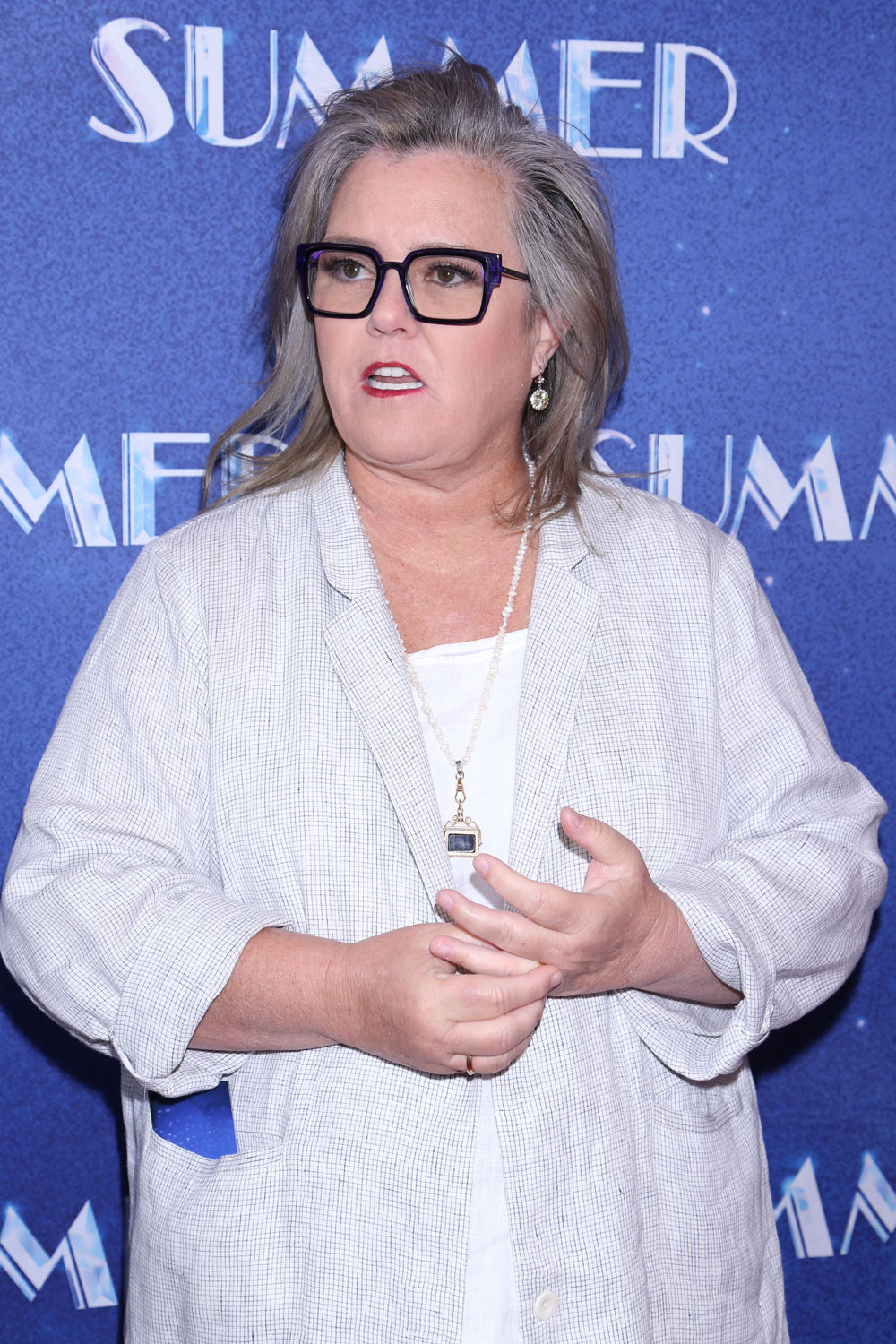 Earlier this week we heard that Rosie O'Donnell said she had a crush on Elisabeth Hasselbeck, back when they worked together on The View. We didn't cover that because it was Rosie, honestly, and she doesn't rate much coverage. You may vaguely remember that Rosie and Elisabeth got into a huge argument when they both worked on The View. I just checked our archives and that happened way back in 2007! It was over Elisabeth calling Iraqi people terrorists and Rosie saying that they didn't do 9-11 and that a lot of innocent civilians were killed in the US-Iraq war. I sided with Rosie at the time as she was the calmer more reasonable one. Rosie quit The View a couple of days later, with weeks left to go on her one year contract. It's all ancient history, but Rosie talked about it to Ramin Setoodeh who has that upcoming book out about The View. Rosie said that she had a "little bit of a crush on Elisabeth" and that were "underlying lesbian undertones" to her feud with her. Rosie's reasoning is hilarious and offensive, I get that.
Joy Behar speculated that O'Donnell had a crush on Hasselbeck, which O'Donnell confirms in the book. "I think there were underlying lesbian undertones on both parts," O'Donnell says about her working relationship with Hasselbeck. O'Donnell backed up this idea with some dubious evidence. "I think this is something that will hurt her if you write it. She was the MVP of a Division 1 softball team for two years that won the finals. There are not many, in my life, girls with such athletic talent on sports teams that are traditionally male that aren't at least a little bit gay."

Although O'Donnell was attracted to Hasselbeck, she never wanted to act on it. "There was a little bit of a crush," O'Donnell says in the book. "But not that I wanted to kiss her. I wanted to support, raise, elevate her, like she was the freshman star shortstop and I was the captain of the team." O'Donnell changed sports metaphors from baseball to basketball. "I was going to Scottie Pippen her. If I was Jordan, I was going to give her and the ball and let her shoot. But it was in no way sexualized."
Yes that is offensive. Well Elisabeth is still one of the fembots on Fox News and she addressed this on the show. You can see the video on US's site.
"Rosie, I think it was disturbing to read those things and it was offensive to me, but I forgive her," Hasselbeck said on Fox & Friends. "I totally forgive you, Rosie. … I really hope that we can be at peace and that we can both hold our beliefs in one hand and hold each other's hand in the other and still have a relationship that's at peace. … Even more than I want to be at peace with her, I hope she finds that peace because God wants that for her too."
Of course Elisabeth wielded her faith like a weapon! That's what those holy roller types do. "I'm praying for you. Jesus makes me better than you. Enjoy eternity in hell." Also, I just have to say that the hair and makeup artist on Fox and Friends is also obviously Republican. Those people do not know how to blend colors or brush hair. (Screenshot below.) After that Elisabeth went on The View and kept talking about how she's praying for Rosie. I'm not going to recap that but you can read it here.
Then Rosie tweeted one of her fragmented incomprehensible responses.
hey eh – my crush on u was not sexual – sorry u got scared – ❤️surely u recall b4 it all went wrong – i never objectified u – i did find u fantastic – broadway shows – my pool -we were friends once ❤️ god love ya kid – i always did #hasselbeck #raminSUX

— ROSIE (@Rosie) March 26, 2019
I like that she added "my pool" as if it's some tryst they had together. I wonder what the #raminsux hashtag is though. Is Rosie denouncing the quotes she gave Setoodeh for his book? We'll probably never know and I'm completely ok with that.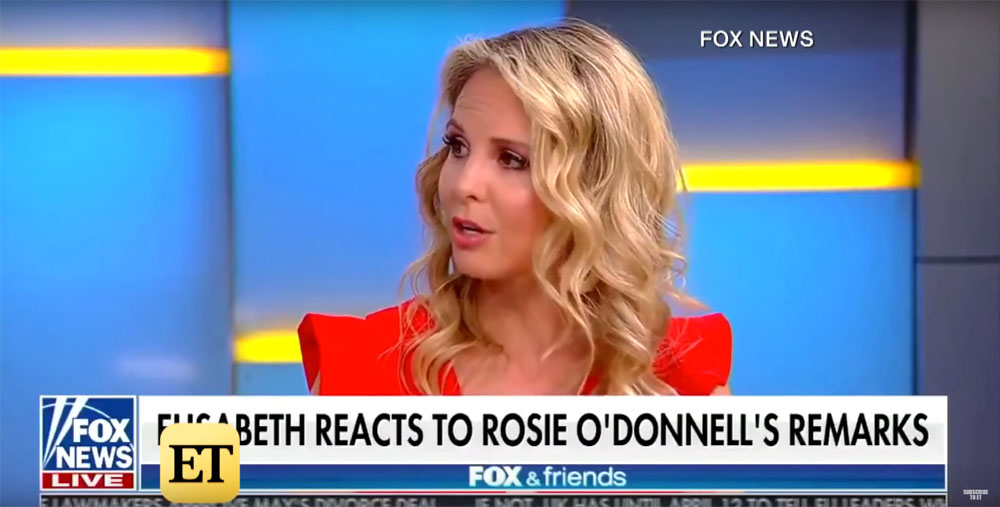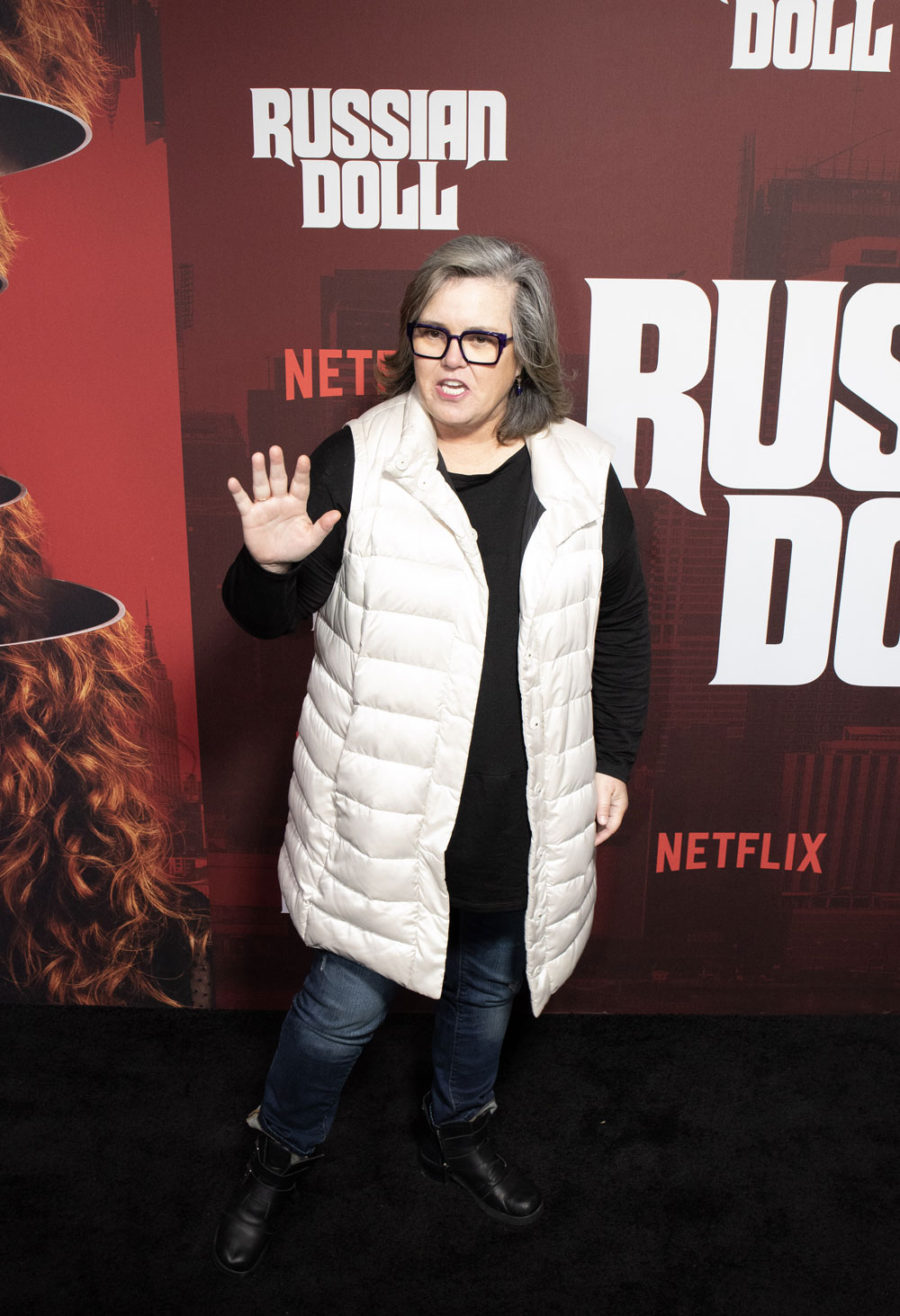 photos credit: WENN and screenshot from Youtube via ET