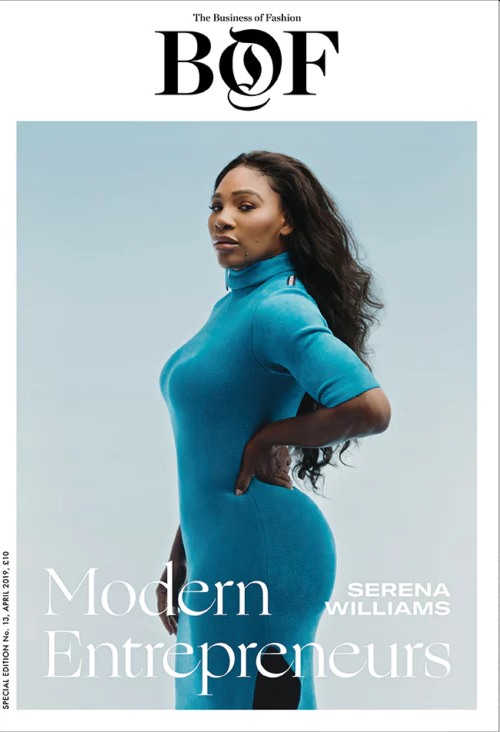 Serena Williams covers the latest issue of the Business of Fashion, because everyone always forgets that Serena has been a fashion designer for years. She has one failed fashion business, Aneres, under her belt, and she also had a three-season experiment with the Home Shopping Network for a clothing line. Now she's financing her own line, S by Serena, and she's running it as a low-key start-up. What's interesting is that you can really tell that the failures of her earlier ventures informed what she's doing now, and she's just doing it because it's really her dream. Like, she's not expecting S by Serena to become the next H&M. She just wants to do it because she loves doing it. The whole interview was interesting, but of course there's also some tennis drama at the end, when she was asked about last year's US Open controversy. Oh, and Serena mentioned the Duchess of Sussex TWICE in this interview.
Planning Duchess Meghan's baby shower: "Planning something like that takes a lot of effort. I'm a perfectionist, so I'm like, 'Let's make it perfect.' It's been a lot the last few days."

Her latest fashion label, S by Serena: "I always joke with my husband that I never thought I would have my own start-up, but I have my own start-up now and it's going pretty well! It hasn't even been a year. We launched 10 months ago officially, even though we've been working on it for two and a half, three years — and in my mind since I was a teenager."

Her first fashion-company failure was Aneres: "Everyone that goes to fashion school wants to do eveningwear. I stuck with that for years and years and I loved it. But I was doing evening gowns and we never actually sold anything — nothing that people could really actually buy in store. We did some amazing shows and I was able to be super creative in those shows, from head-to-toe, from makeup to eyelashes to shoes to nail polish. Literally every decision was based on what I wanted… But it didn't work. So many times, I would be at a meeting with Macy's or lots of other companies and they would be like, 'We love it. We love the presentation, but we're not going to get this collection.' I've sat through so many of those meetings, more than I can count to be honest. And they're demoralising. Eventually I got realistic. I can't do eveningwear, so let me think of different things that I can do."

Her HSN deal lasted from 2014-2017: "I learned a lot, but I felt like there was so much more I wanted to do at a different demo, a broader demo that I wanted to reach. Design-wise, there was only so many fabrics you could use. It just wasn't me. As much as we pushed for a label at HSN, it still wasn't what I wanted to do. And then one day I was talking to my friend, and she was like, 'Oh, you know, I really love my music and I don't want to give up.' And I was like, well, sometimes you have to invest in yourself and if people don't want to invest in you, you have to believe in yourself and invest in yourself. And then I stopped. It hit me like a ton of bricks. I was like, 'Oh my God, all this time I have been doing different things and meeting different people and doing HSN, but I'd never actually invested in me.' So, I was like, 'I'm investing in me!'"

How Meghan wore one of her blazers: "It's so fun because people are like, 'Oh my God. Like wow, the quality is crazy.' Listen, if we're giving our stuff to Meghan, it has to be the highest quality that we can get. So, that's what I tell our team internally: 'We have to make sure it's super high quality that, you know, is fit for a royal princess!'"

The controversy in the US Open final: I ask if she regrets losing her cool that day. "That's a really loaded question. Do I feel regret for being penalised for something which has never happened in the history of tennis and I didn't use one single curse word? And what, do I feel regret over that?….For me, being a perfectionist and being a professional, it would be impossible not to wish I didn't handle a lot of situations differently, even that particular situation. So, absolutely. However, I have to tell myself, because of my daughter, that I should be able to have any emotion that any man can have. It's about teaching our new generation that everyone should be treated the same."

On public scrutiny. "It's part of life, you know. If someone's not scrutinising you or talking about you, then you're not doing something right. If everyone's praising you and everything's perfect, then it's not the real world. People are going to scrutinise you no matter what. They'll find something wrong with you even if you're not doing anything wrong. And I don't let that affect me anymore. I think in the past I did.".
"Do I feel regret for being penalised for something which has never happened in the history of tennis and I didn't use one single curse word?" The reference she's making is not to the first violation, which was a warning for coaching. It's not a reference to her second violation, the racquet break. She understood those violations, even if she thought Carlos Ramos should have lifted the first one. No, she's referencing the third violation, which Ramos gave her after she vented at him on the changeover. And she's right, she didn't use any curse words. She called him a "thief" and that, in Ramos' mind, deserved a third violation and a game penalty. I'm still salty. So is Serena.
As for the Meghan references… I doubt Meghan will mind that Serena is using her name to shill her clothing line. They really are friends and they've got each other's backs.
Photos courtesy of the Business of Fashion.