The last time we reported on Tori Spelling was about a month ago, when it was reported that there was a bench warrant out for her arrest following her failure to appear in court. Tori missed a scheduled appearance to answer for non-payment of a $260k judgment on a loan from City National Bank. She owes hundreds of thousands to other creditors, totaling around a million dollars. Of course Tori was never arrested because she's a white woman who schemed for years to steal seven figures, not a poor person who wrote some bad checks. The latest news in Tori's case is that the warrant against her was dismissed and her next court date was delayed.
A bench warrant was issued for Tori Spelling after she failed to appear in court for her ongoing legal battle with City National Bank. Now, RadarOnline.com can exclusively reveal the cash-strapped star may no longer face arrest, as an agreement has been made to drop the warrant.

In court papers obtained from Los Angeles Superior Court, a stipulation and proposed order to continue judgment debtor examination of Victoria Spelling and request to dissolve bench warrant was filed on Friday, April 26.

Attorneys for City National Bank and Spelling explain in the filing that she will appear on May 10, 2019 at the law offices of Ervin Cohen and Jessup LLP.

The attorneys asked for her warrant to be dissolved and for her Wednesday, May 1 court hearing has been continued to Monday, July 1.

As Radar reported, the bench warrant was issued when she failed to appear in court on March 27, 2019. The warrant was held at the time and would be activated if she didn't show up to the May 1 appearance…

City National Bank was awarded a judgment in the amount of $202,066 against Spelling and McDermott back in May 2017.

Spelling racked up $40,280 interest for failing to pay. McDermott has to pay an additional $37,029.

On March 28, 2019, a Los Angeles Superior Court clerk signed off on a writ of execution, meaning the Sheriff can now take steps to garnish the couple's wages and seize their bank accounts.
All that is quite complicated but I think the gist is that a warrant was issued but that it wasn't going to go into effect until May 1st. Neither Tori nor her representative showed up in court in late March as required. So can we assume that she didn't even have a lawyer up until that point and only got one at the last minute, filing just a few days before she was about to be arrested? This woman had owed hundreds of thousands to various creditors dating back at least three years, when Amex sued her. That suit is ongoing. In 2017 the IRS seized her bank accounts and she also owes over $250k to the state of California for back taxes. Plus her husband, Dean McDermott, is a deadbeat dad and owes a ton in child support. In 2017 Star Magazine ran a cover that read "Jail for Tori." Of course that never happened. She wasn't even arrested in this latest case. Imagine if she embezzled that money instead of failing to pay back creditors. Forget that, she wouldn't go to jail for that either.
Meanwhile, Tori went to Israel last month, right around the time she missed her court date. It was a working vacation though. At least her Instagram feed is full of sponcons. She's making a living by getting sent free stuff and posing with it, often with her kids and husband. I'm sure that pays more than the 90210 reboot.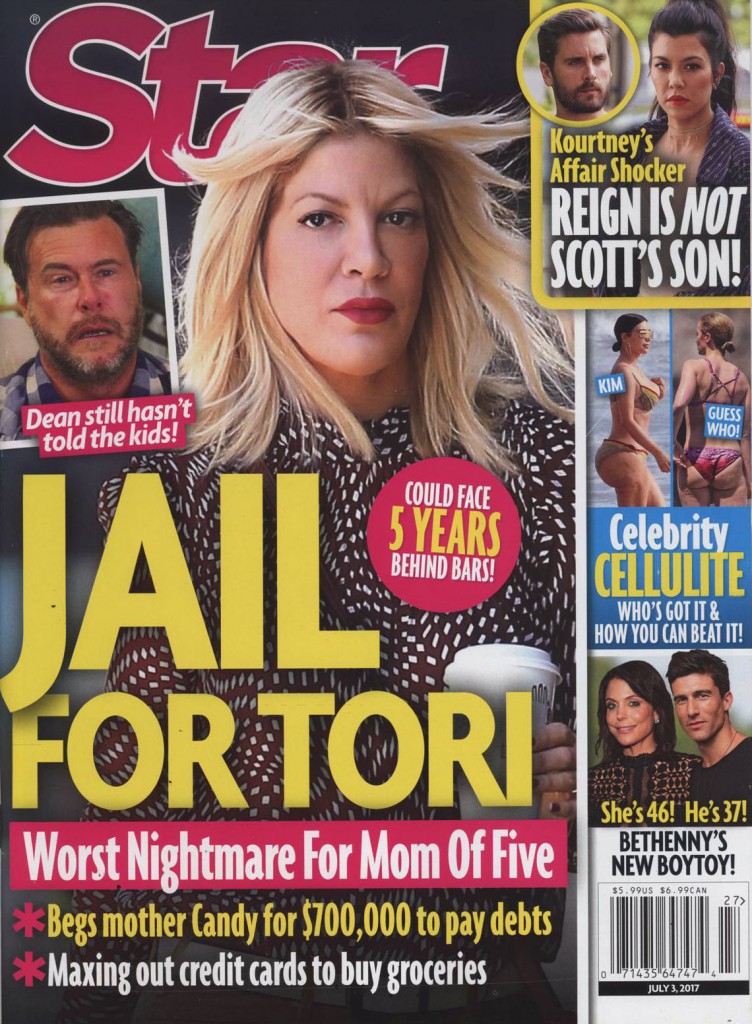 The top comment on this post below is "How do you go skiing with No Job?" This is her job. Tori answered "@h8rtless you mean how do we go skiing with my job? Answer is we planned a couple months ahead and I asked my work for a few days of to coincide with my kids spring break." It's about money not time but leave to Tori to willfully misinterpret that.