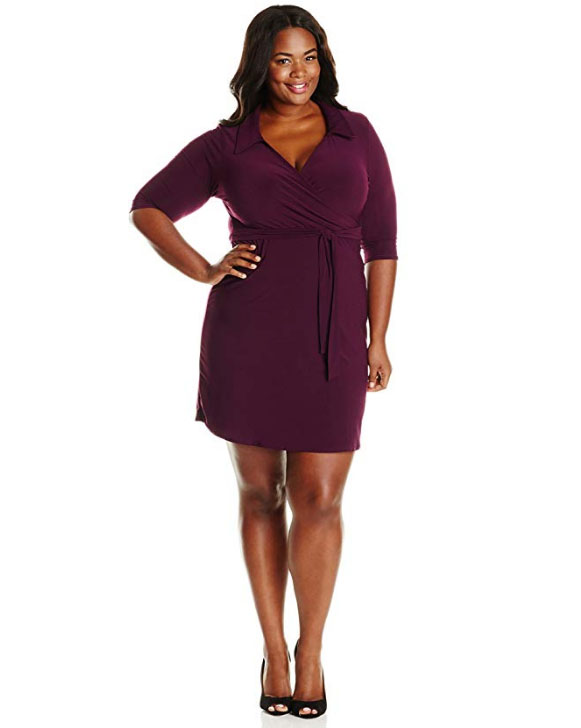 In our last affiliate post on dresses and skirts I asked for clothing recommendations. You guys love t-shirt dresses and maxi dresses! I am in shopping mode now that the weather is warmer. Also, as I always say on these posts, visit your local thrift and consignment shops! It is such a thrill to score things for cheap. Last week I found a DVF wrap dress in my size, with tags, at Goodwill. It was a bit tight as DVF runs small but it was close to the holy grail of Goodwill finds. I guess I could always find couture in my size or a Tiffany lamp or something, but I'm still so excited about that dress. Please brag about your thrift store finds and also let me know if you've bought anything off Amazon you love and recommend. It can be any product, it doesn't have to just be clothes. I got the trunk organizer we talked about last week along with the car seat fan. The trunk organizer works so well I really like it. I'll have to see how the fan works once it warms up, but it's just what I need. I'm hoping it will be perfect for summer.
A casual dress with pockets you'll live in this summer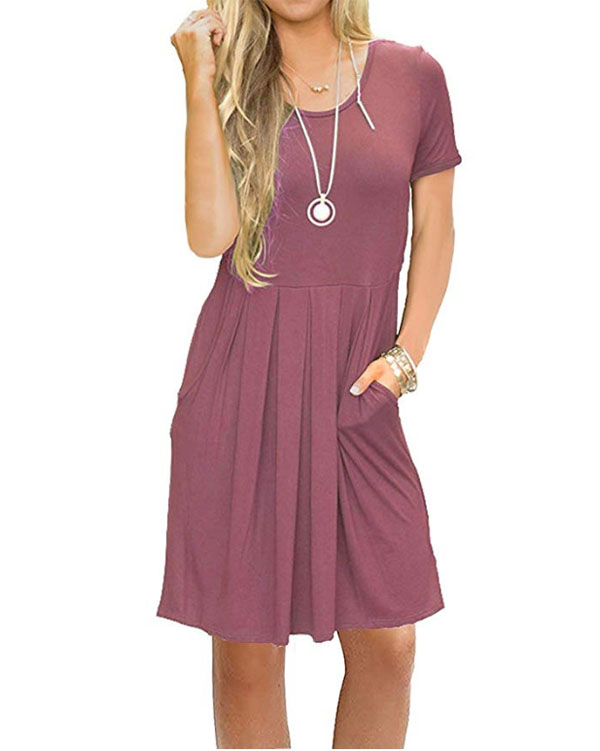 This dress comes in 18 different colors and prints and in sizes x-small to x-large. This is recommended by reader LP! Reviewers say it's true to size, that the fabric is "super soft and stretchy" and call it "cute and comfortable." Many women love how you can dress it up or down and have already ordered it in another color.
A v-neck maxi dress you'll want to wear all day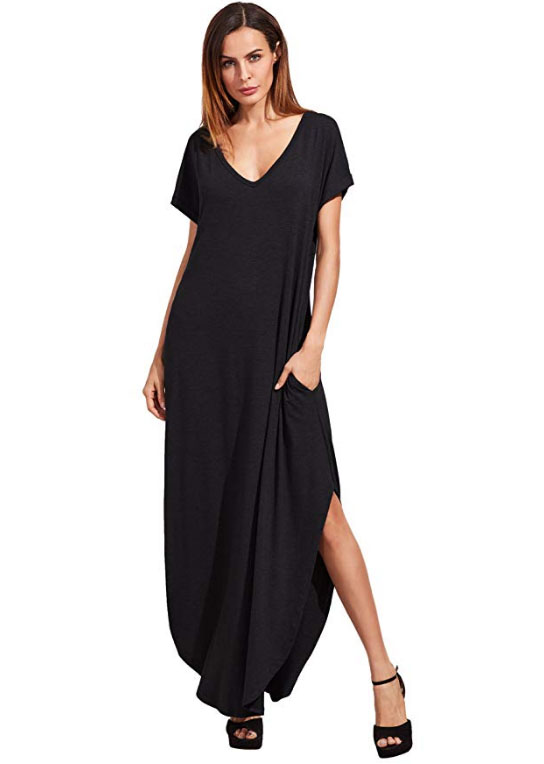 Reader feralchild recommended this awesome short sleeve maxi dress. This has over 1,400 reviews and a 4 star rating. It comes in sizes x-small to x-large and in 14 solid color and 2 stripe options. Women rave about how comfortable it is and say they adore the pockets, that the material is "soft and luxurious" and that it's a "nice loungey dress." Some women say to order a size smaller than you usually take. It's also so affordable at less than $25. Here's a link to a similar dress which comes in more colors and prints and also has great reviews!
A short sleeve maxi dress with pockets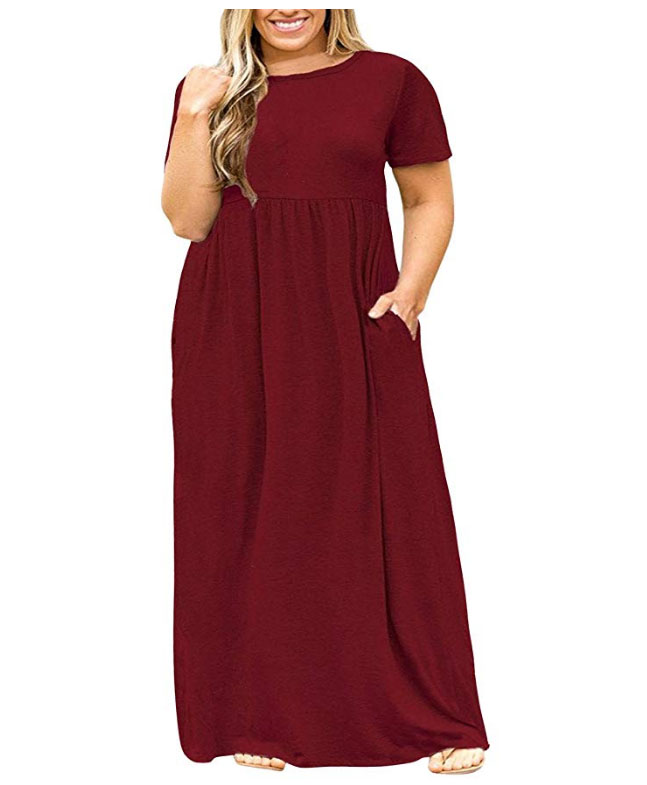 This maxi dress comes in 29 different prints and colors, some with long sleeves, and is in sizes 14W to 26W. It's got a 4.5 star rating and over 1,100 reviews! This dress is said to be true to size and to fit well. It's lightweight with good fabric, and said to be "flattering for larger busted gals and modest." Many reviewers have bought it in multiple colors and one woman calls it "the most comfortable maxi dress I have ever owned."
A racerback maxi dress with pleats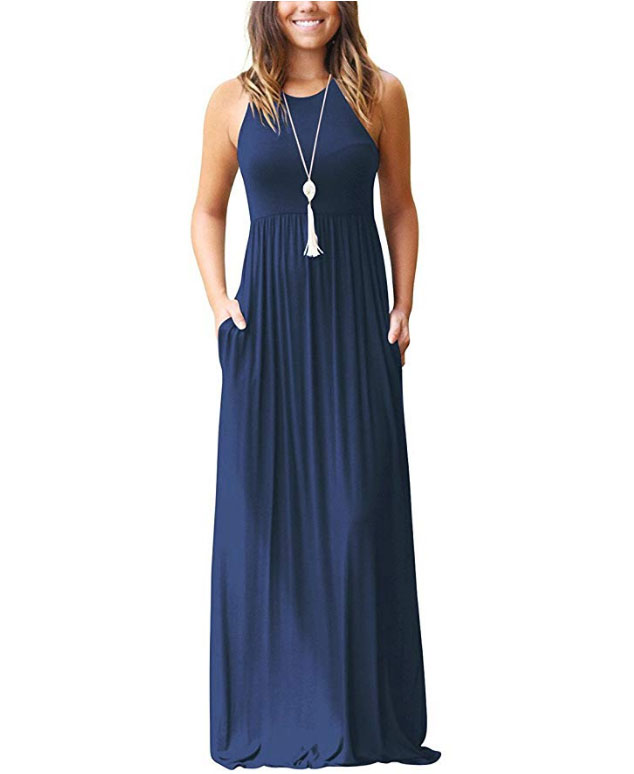 Reader Becks1 loves this racerback maxi dress and writes that it's really comfortable, that the pleats are flattering and that it has pockets. She does say that the "downside is that you can't wear a regular bra with it." This comes in 31 colors and prints with some gorgeous florals and in sizes x-small to xx-large. There are versions with sleeves and without. It has a 4.3 star rating and almost 3,000 reviews! Plus it's only $17. Reviewers rave about this dress, saying that it gets compliments, fits great and is "perfect," "a tall girls dream."
A gathered t-shirt dress that's casual and comfortable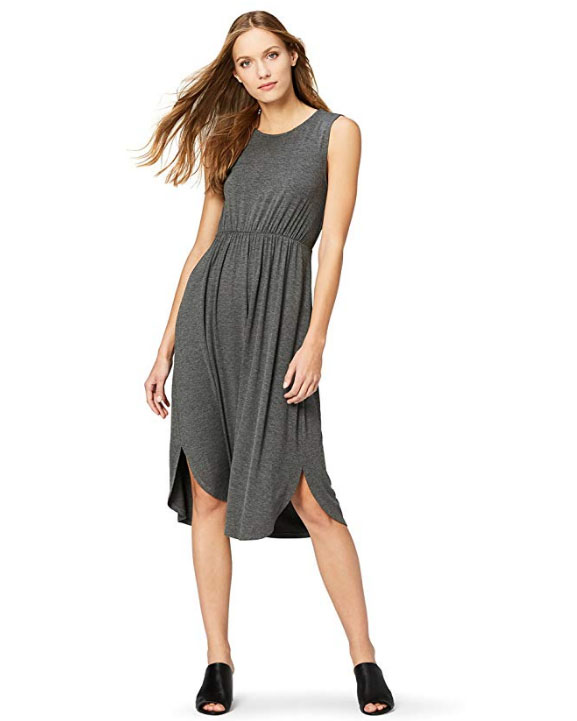 I think I found the dress I'm going to buy, but I'm partial to gray. This gathered t-shirt dress by popular brand Daily/Ritual comes in xx-small to xx-large and in black, navy and gray. Reviewers call it an "awesome buy," that's "versatile," "comfy and flattering" and a "great little casual dress."
A vintage look feminine polka dot dress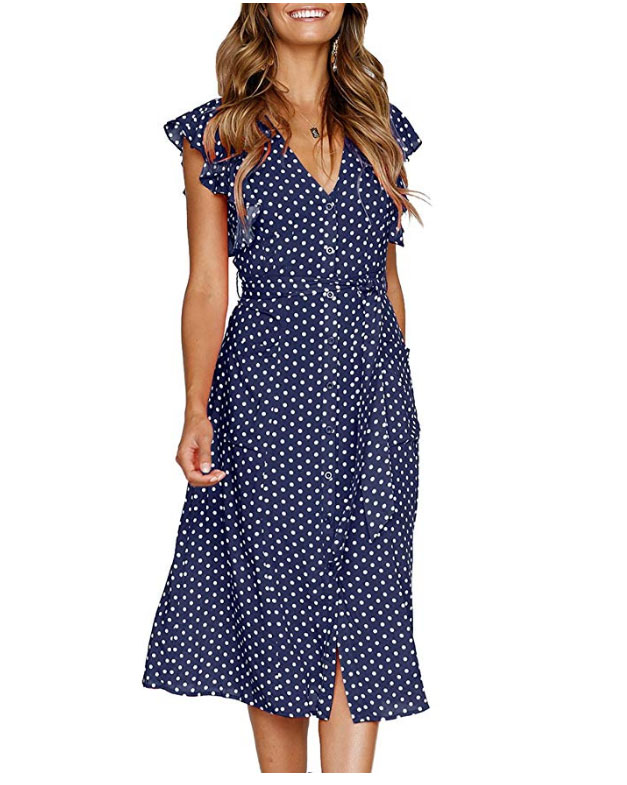 This cute little polka dot button-up dress is another recommendation from Becks! It comes in 7 colors and sizes small to x-large. Plus it has a 4 star rating and 430 reviews. Women call it "comfortable and cute," say it "fits beautifully" and the "fabric is light and comfortable." Some women with larger busts say it can run tight though.
A wrap dress that's so comfortable and classy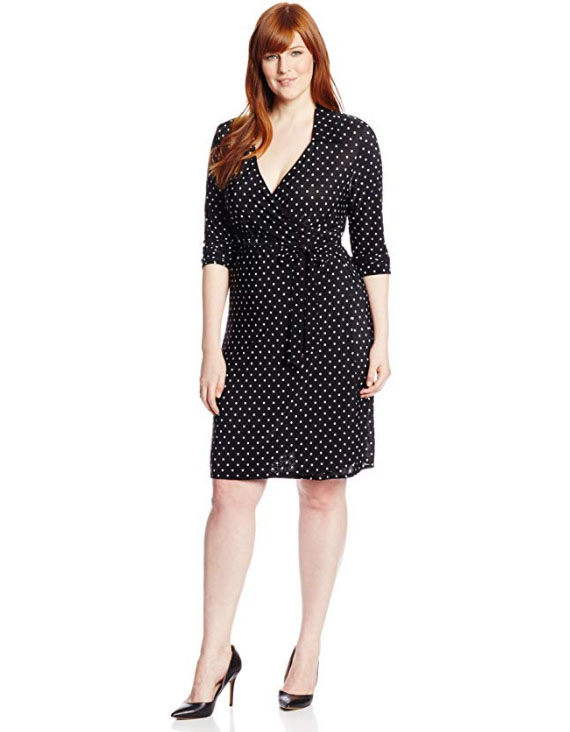 I love wrap dresses! This wrap dress comes in sizes 1x to 3x and in 3 solid colors and 3 prints, including the gorgeous polka dot version above. Women say this "fits well and is classy," that it looks great on, and that it's "very comfortable, perfect for work." Here's a link to another plus-sized wrap dress in more colors! (That's the dress at the top of this post.)
A graphic print midi dress that will turn heads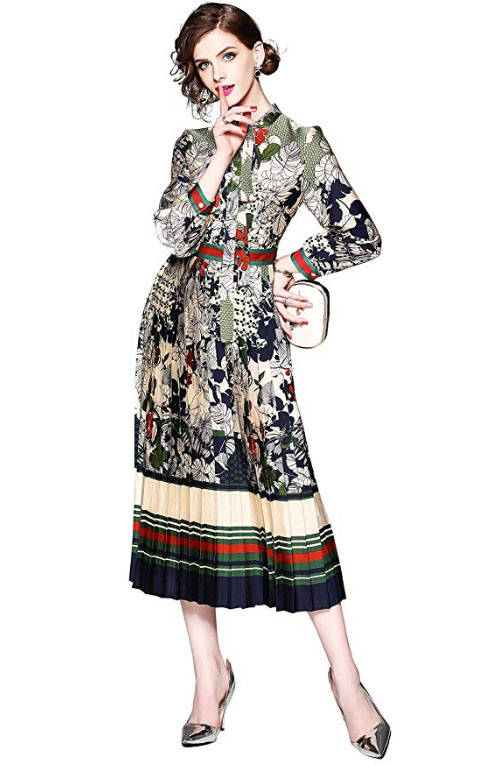 Look at all the incredible bold prints in this dress! It looks designer but it's under $35. Women call this dress "absolutely gorgeous," say they "love the design" and "get compliments" when they wear it and that it's a "beautiful dress" that "looks just like the picture." This comes in sizes 2 to 14.