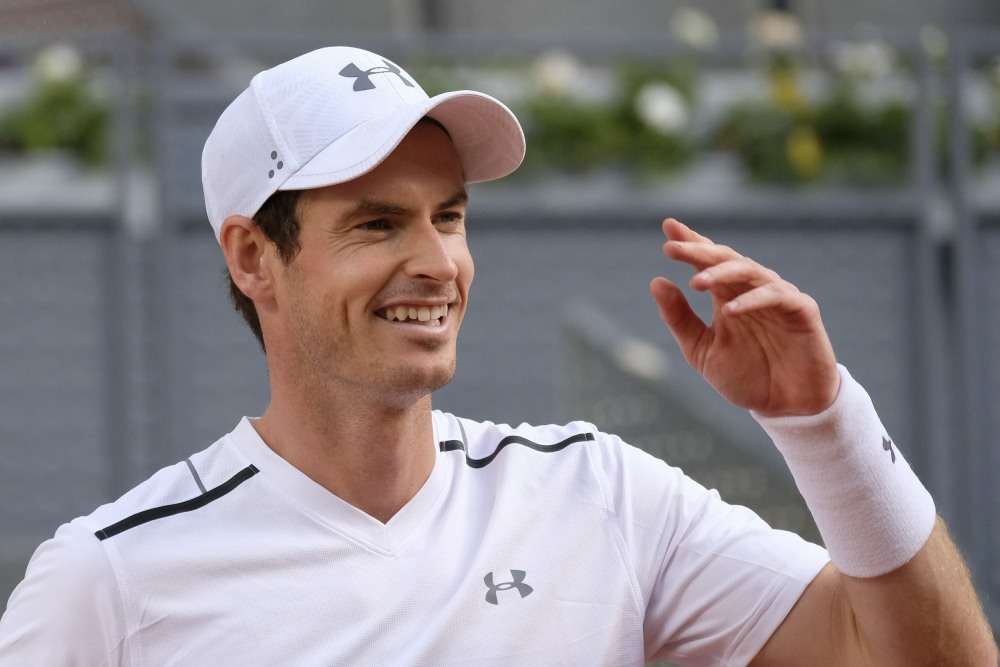 Andy Murray missed the majority of 2018's tennis season, and he thought he might be able to start his season in Australia in January, but he ended up announcing his retirement. His issue was a bad hip. After the Australian Open, he got a new hip (same as one of the Bryan Brothers) and he's spent the last four months resting, recuperating and trying to figure out if he really needs to retire, or merely give his body more time to heal before attempting another comeback. It looks like his hip surgery wasn't the only thing Andy had "done" while he's been away though! Andy has always had an imperfect smile. His teeth were sort of crooked and all over the place. I actually liked it – it gave him a boyish, sweet look when he smiled. But Andy got his teeth fixed this year. *sob*
Sir Andy Murray has changed his appearance, opting for a striking new set of teeth. His new appearance is rather subtle but when paired with how his smile used to look but the 31-year-old's natural gaps have been replaced with perfectly straight teeth. According to The Sun, the sportsman, who married Kim Sears in 2015, paid thousands of pounds to alter his appearance.

Andy showcased his new look at the London Marathon on Sunday, where he headed as an official starter while recovering from a hip operation. A source told the publication: 'Andy was always quite conscious of his teeth. He had a slight gap-tooth and others were quite spiked. The more tournaments he won, the more he had to smile for pictures. He didn't like the way he looked, so he decided to finally get the treatment done. As he was out injured he thought it was the perfect opportunity. Andy inherits his teeth from Judy but she had them fixed a few years back. He spoke to her about getting his done and she offered him some advice.'
I'm including some photos and video below of Andy at the London Marathon over the weekend. His new teeth look nice and I'm not criticizing – he probably loves his shiny new smile. But I'll miss his crooked teeth. There are so many people who claim that everyone should have the same bright white perfect teeth but really… I feel like it's the same as different body types, hair colors, whatever. Diversity is nice. Teeth diversity is nice.
Found @andy_murray on my way to the start of the #LondonMarathon2019! #runningtheworld196 #run #marathon pic.twitter.com/AxFc3VrVZQ

— Nick Butter (@nickbutterrun) April 28, 2019
Andy says, please donate to Neil's fundraising efforts https://t.co/Os4pPPRVlQ @andy_murray pic.twitter.com/HGJkdwABCA

— Neil Gray MP (@NeilGrayMP) April 28, 2019
Andy Murray has new gnashers after shelling out thousands to fix crooked teethhttps://t.co/a1KFdIe6TW pic.twitter.com/LpmPgSr6ss

— The Scottish Sun (@ScottishSun) April 30, 2019
Photos courtesy of WENN.