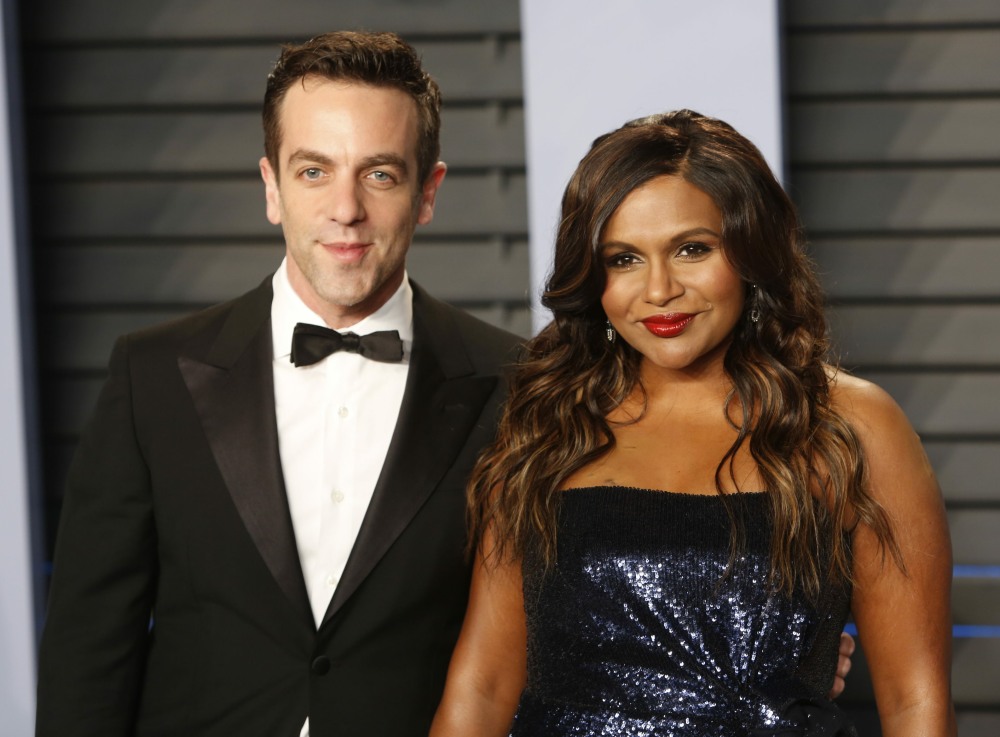 We've never learned the identity of Mindy Kaling's baby daddy. To be clear, it's none of my business and none of yours either. But of course it's human nature to wonder and theorize. I once did a mildly deep dive into the time of conception. I figured out a three-week block of time when Mindy likely would have conceived her daughter Katherine, and she was probably in New Zealand (filming A Wrinkle In Time) around that time. She also came back to LA for the Oscars and she attended the Vanity Fair Oscar party with… BJ Novak. My guess was that the baby daddy is A) Chris Pine, B) some Kiwi rando or C) BJ Novak.
Truly, I've never wanted to admit that BJ Novak is the most likely candidate, because their relationship bugs the crap out of me, as I've said before. They used to date, and he dumped her and she was devastated. They eventually repaired their friendship and now they do the creepy "we're best friends but maybe we're still romantically interested in each other" thing. I find the whole thing to be so dysfunctional and unhealthy, but I'm saying that mostly because I like Mindy and I identify with her and I wish she would just move on from him completely. Again, I know I take this too personally. Come and join me!
But here's some mildly good news, I think? BJ Novak is probably not Katherine's father. Probably not because… generally, people don't ask the FATHER to be the godfather.
Ever since they appeared as Kelly Kupoor and Ryan Howard on The Office, the world can't stop shipping Mindy Kaling and B.J. Novak. In fact, both of the actors get asked constantly if they're secretly dating, and rumors only intensified after Mindy gave birth to her daughter, Katherine, and decided not to reveal her father (a total badass move, if you ask us).

"If I was on the outside looking at it, I would think the same thing," she told GoodHousekeeping.com at a luncheon for her year-long partnership with DSW. "But the truth is that B.J. is so much more like family now than a platonic friend. He's the godfather to my daughter, he comes over like once a week. Sometimes he'll come over just to hang out with her."
STOP BEING SO DYSFUNCTIONAL. Gawd. You will never be able to move on from your ex if you continue to do this dysfunctional, mindf–king dance with him more than a decade after the breakup. Anyway, so is BJ Novak the father? I guess it could be a feint – he could be the father, but they've agreed to keep it a secret and Mindy wanted Novak to have some kind of formal title in her daughter's life, so now he's the "godfather." Lord, I've never been so hopeful that an Indian girl got impregnated by a Kiwi rando.
Photos courtesy of WENN, Getty.