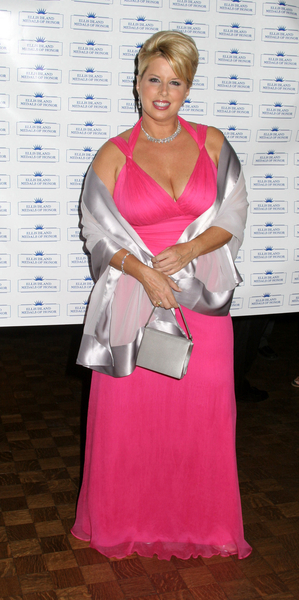 I'm no giant Larry Birkhead fan, nor am I at all a Howard K Stern fan, but I gotta say that sometimes there are really justified lawsuits, and this sure sounds like one. Rita Cosby – the former MSNBC anchorwoman with a voice that reminds you of running across playground gravel – wrote a book titled "Blonde Ambition: The Untold Story Behind Anna Nicole Smith's Death" in which she accused Howard K Stern and Larry Birkhead of being gay lovers. Now I can't deny that Birkhead has a bit of a case of "gay face" as Perez Hilton calls it – but her accusations seem like complete horseshit. From pretty much every opinion we've ever head, Stern was freakishly obsessed with Anna Nicole, and desperately in love with her. I know we could make a lot of arguments, but sometimes, you can just tell something is pure bullshit, and Cosby is one of them. I'm probably tainted by the fact that I have an intense loathing for the woman – has anyone ever suggested she try clearing her throat? It could do wonders for the voice. There's just something about her that always struck me as hackish and desperate, and she never seemed like a real reporter. She was all over the Anna Nicole mess – and I know we're not ones to criticize, but hey, we don't work for MSNBC either.
So Howard Stern has sued Cosby for libel – and though I don't like him, I hope he takes every sent that crazy woman has.
"Usmagazine.com confirms that former Anna Nicole Smith lawyer Howard K. Stern has sued journalist Rita Cosby for libel. Stern's lawyer Lin Wood tells Us, 'The libel lawsuit was filed this afternoon in the United States District Court for the Southern District of New York against Rita Cosby and her publisher, Hachette Book Group USA.'

"The lawsuit, which was first reported by CelebTV.com, asks for $60 million dollars in compensatory and punitive damages.

"Former MSNBC anchor Cosby is the author of Blonde Ambition: The Untold Story Behind Anna Nicole Smith's Death. In the book, she writes that Stern, 38, and Larry Birkhead, Smith's former lover and the father of her daughter, Dannielynn, engaged in homosexual acts, which were caught on tape. Further, the book alleges that Stern and Birkhead struck a deal — Birkhead would get custody of Dannielynn in exchange for Stern being named executor of Smith's estate.

"Before the book's release, Birkhead, 34, told Us of Cosby's claims, 'If this book is not sitting next to Harry Potter on the fiction shelf, then Rita Cosby is going to be wrapped in one of the most expensive lawsuits ever.'"
[From Us Magazine]
Considering all of the gay love accusations in Cosby's book were based on this supposed tape of Stern and Birkhead going at it, that woman better be able to produce a tape. On the other hand, I really don't believe a tape exists – as a lawyer, I doubt Stern would risk a lawsuit that would likely force such a tape to be played. Would he really expose himself to that? Probably not. Like I said, I think Rita Cosby's a hack and full of shit. She got canned by MSNBC and went out drinking and partying and dancing on bars all over Manhattan afterwards. I'm a total current events junkie, and can tell you everything you never needed to know about almost every cable journalist out there. And Rita Cosby couldn't cut it, so she wrote some crap-ass book to try to get herself a little publicity. Congratulations Rita. Now you'll lose every penny of that $48,000 MSNBC probably paid you.
Picture Note by Jaybird: Here's Rita Cosby and her "the frog in my throat ate some gravel" voice. Just listen for 30 seconds to get the point, but no longer – I don't want any of you to suffer hearing loss… or nightmares. Images thanks to PR Photos.