Embed from Getty Images
Over the summer, I wrote about an interview that Rumer Willis did with HuffPost. She mentioned both appreciating Quentin Tarantino's no-phone rule on set, and how her mother, Demi Moore, has banned phones at the dinner table (but often caves to check hers). Another celebrity mother who has instituted the same rule is Maria Shriver:
When Maria Shriver hosts dinner for her family every Sunday, she has one rule — no phones at the table.

All the scrolling, she says, is just a distraction from having to actually look each other in the eye and have a conversation about how we're really feeling. And it's making us sick.

"People can sit down and find common subjects, find common ground," Shriver tells CNN, adding, "I'm a big believer that we're in desperate need as a country to find things that we can talk about, then we can listen and form relationships. Everybody's obsessed with their phone. Loneliness, anxiety, depression, trauma, all these things, I think, is coming from the lack of talking."

The journalist, author and mom to Christina, Patrick, Christopher and Katherine Schwarzenegger, who she shares with ex-husband Arnold Schwarzenegger, has been including conversation starters in her newsletter for a couple of years, and says "there's no substitute for the human connection."

"I get in an elevator and people don't even look up," she says. "There's no denying that is all coinciding with these epidemics of anxiety and loneliness across generations. We're technically connected, but we're not connected."
I agree with Maria about the problem of spending more time on our phones than chatting with people, to a certain extent. As an introvert, it's very easy for me to get sucked into the work that I'm doing, or using the phone to interact with people via social media, email, or texting rather than spending time together. And, as an introvert who needs to recharge, I often don't have the energy to be "on" all the time with people in person. My phone (or computer) is a great way to stay connected. So, I think the issue is about finding a balance and not completely neglecting face-to-face interaction, but for everyone, that amount of time is different.
Maria's blanket statement, "Loneliness, anxiety, depression, trauma, all these things, I think, is coming from the lack of talking" really annoys me. No. Anxiety and depression are mental illnesses. Trauma is caused by someone or something. Can a lack of talking exacerbate loneliness and mental illness? Can it make trauma more difficult to cope with? Absolutely. But the lack of talking doesn't actually cause those conditions.
I think it's fine if Maria wants to work on a project that fosters human connection. I love the people whom I have chosen to surround myself with, and they make my life infinitely richer and happier. And I think it's fine to address the ways that technology can hamper interactions. But if she's going to start talking about the serious topic of mental health (which is worth talking about), I hope that she's more thoughtful and responsible in how she chooses to talk about it. I've already said in other posts that there's a lot of stigma around mental illness, so anyone who is going to be talking about mental health publicly needs to do so with care. Putting down your phone isn't going to make your anxiety, your depression, your loneliness, your trauma go away, because your phone isn't actually the "thing" causing it.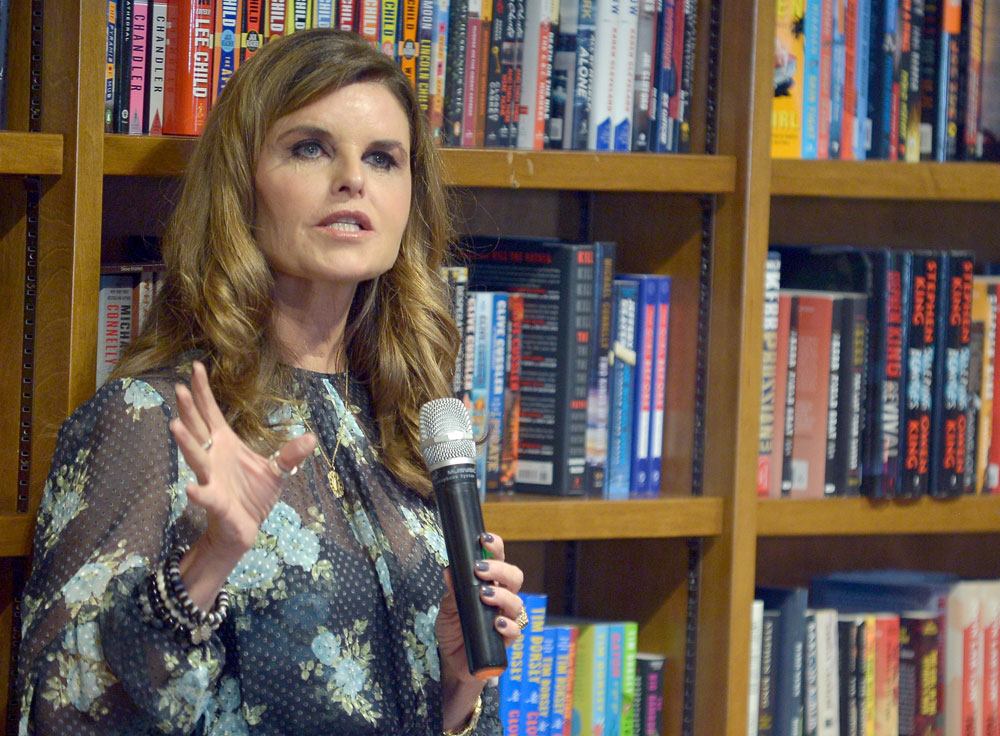 photos credit: WENN, Getty and via Instagram