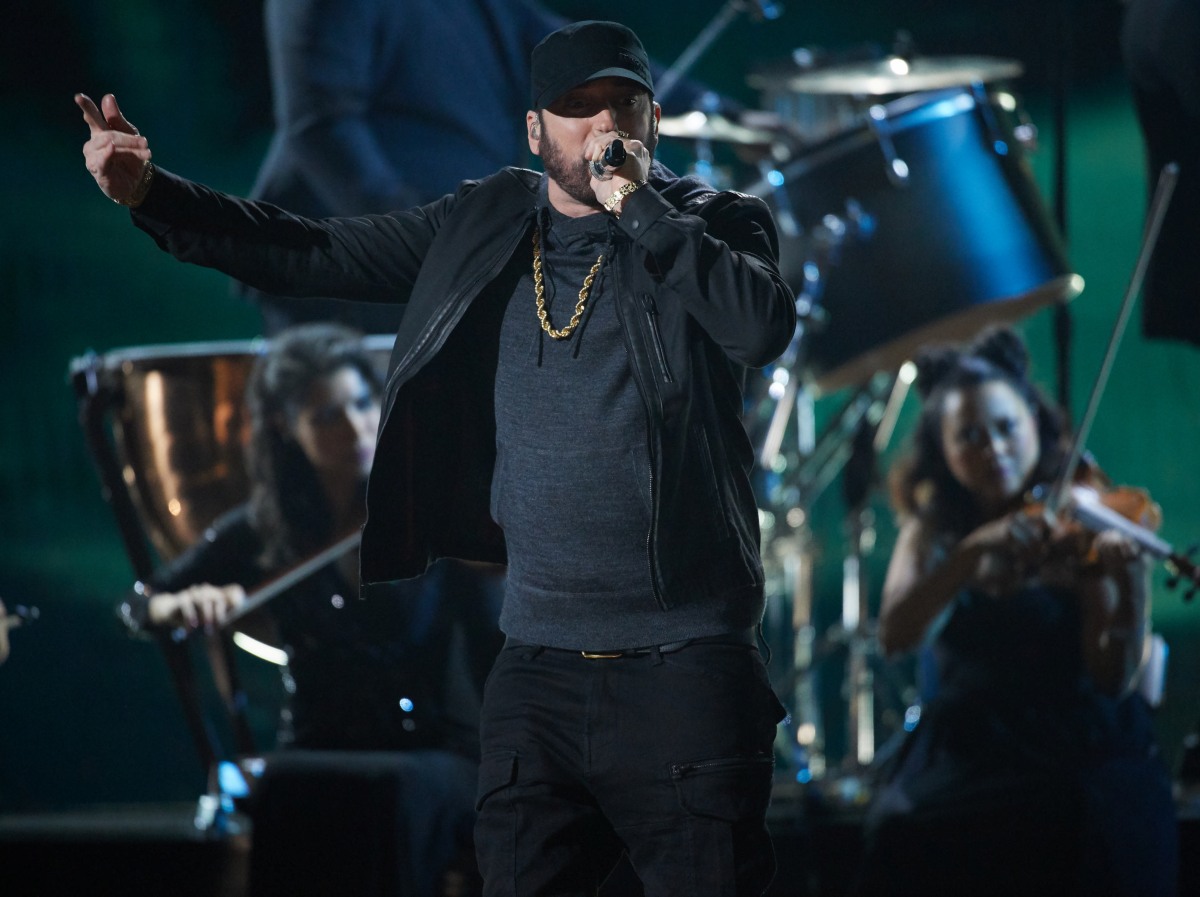 I was like everybody else on Oscar night: absolutely shocked to see Eminem on stage, performing "Lose Yourself," his Oscar-winning song from 8 Mile, the mostly autobiographical film directed by Curtis Hanson. Since I'm old, I remember so much about the promotion around 8 Mile and how Em basically had to go to Actor Bootcamp, and how he tried to watch a lot of Curtis Hanson films and Kim Basinger films (Basinger played his mom). I remember that he ended up a huge fan of Hanson's LA Confidential (which is a really good movie). I remember that he, like, dated Basinger? And he became close to Brittany Murphy too. And of course, I remember that Eminem didn't go to the Oscars the year he won. I don't think anyone told him that he was actually the odds-on favorite to win Best Song. So Em never got his moment on the Oscar stage, either as a performer or with the Oscar statuette. In recent years, Eminem has chilled out a lot too – maybe winning an Oscar always meant something to him, but it definitely means more to him now. So maybe that's why he decided to perform "Lose Yourself" eighteen years after the film was released. Eminem gave his sole interview about the performance to Variety, and you can read it here. Some highlights:
How his 2020 Oscar performance came together: "I kinda figured maybe since I didn't get a chance to do it at the time, maybe it would be cool. Back then, I never even thought that I had a chance to win, and we had just performed "Lose Yourself" on the Grammys with the Roots a couple of weeks before the Oscars, so we didn't think it was a good idea. And also, back at that time, the younger me didn't really feel like a show like that would understand me. But then when I found out I won, "That's crazy!" That to me shows how authentic and real that award is — when you don't show up and you still win. That makes it very real to me.

How he felt when he learned that he won in absentia in 2003: "I don't know that I was disappointed, I was blown back by the fact that I won. I don't even think I understood back then that you could get an Oscar for a song, and I remember being kinda confused about why I was even up for one, because as a kid with the Oscars, it was like a vacuum….

Whether they offered him a chance to perform in 2003: "I think they did — yes, [longtime manager Paul Rosenberg] just said they did. He just said they even discussed having someone else perform it, because back then every nominated song had a performer.

Whether he enjoyed going this year: "Absolutely. I got to hug Salma Hayek!

The Oscar producers just asked him to come this year and he said yes: "I think that's pretty much how it went. And it was cool because we just put out an album, so we said maybe that'll make sense with the timing of the new album…We flew in [to Los Angeles] last week, so we probably have four or five rehearsals just to make sure we got everything right. Most of the rehearsals were offsite, not in [the Dolby Theater], just trying to keep it secret. I don't know [why it was a secret], I think it was either [the Oscars'] idea or Paul and [longtime publicist Dennis Dennehy's] idea before they brought it to me. It was presented to me that way and I said, "Oh that's kinda dope, to not even announce it."

Whether he would act again: "Um… I'm not gonna say I don't, because if the right script comes along and it's something that fits with my schedule I might take another dive in it.

Why he thinks more artists haven't dissed Donald Trump: "In the hip-hop world, there's definitely some people that have gone at him. But I kinda feel that I've said what I had to say and people know where I stand on it, so … [dead silence, publicist wraps up call].
That last part is kind of dumb, because when Eminem gives his increasingly rare interviews, he speaks with a lot of insight and intelligence on American politics and Trump in particular. Em has said in recent years that he really, really wants Trump to say something about him or tweet about him because that will give him (Em) the chance to completely unload. I say, let Eminem be Eminem. Don't let the publicists shush him. Anyway, I know Em isn't everybody's favorite (he isn't mine either), but I love the weird whimsy of this – he didn't really have a reason for performing at the Oscars this year other than "he thought it would be cool" and "they asked him." I still wonder if he talked to Elton John about it – they're reportedly still quite close, and Elton performed (and won) as well.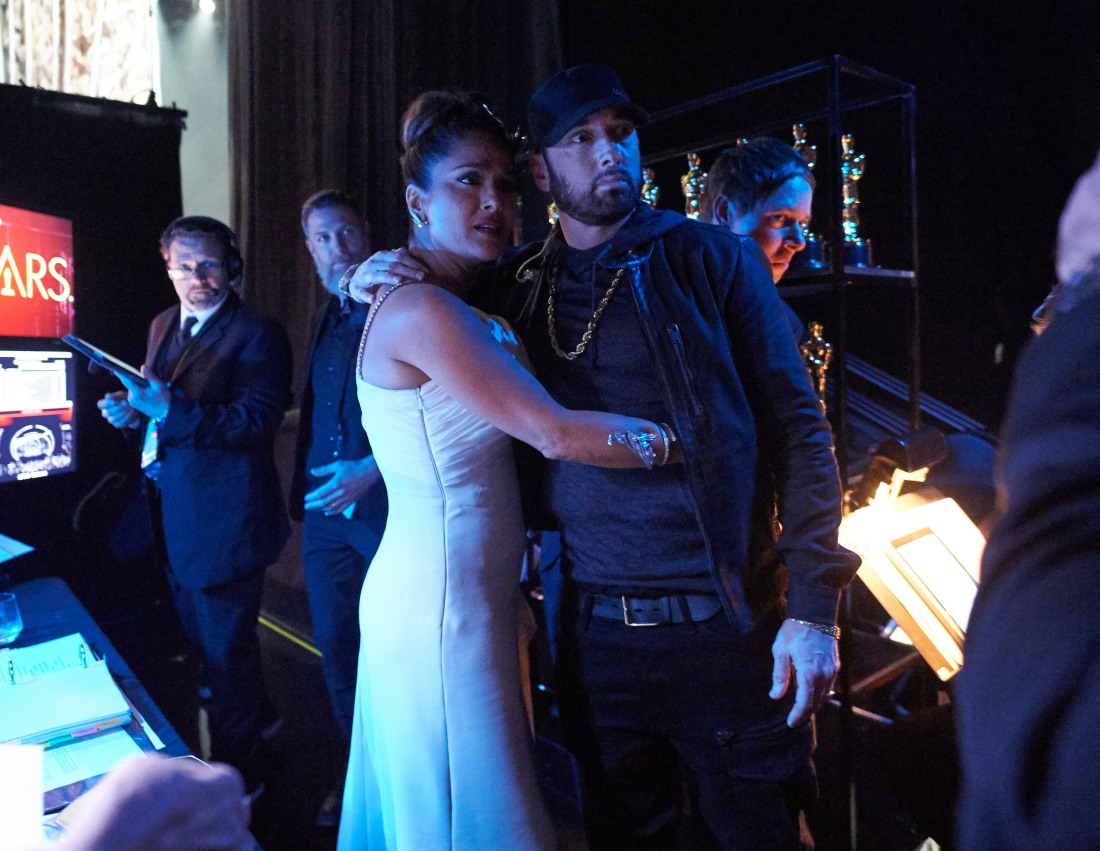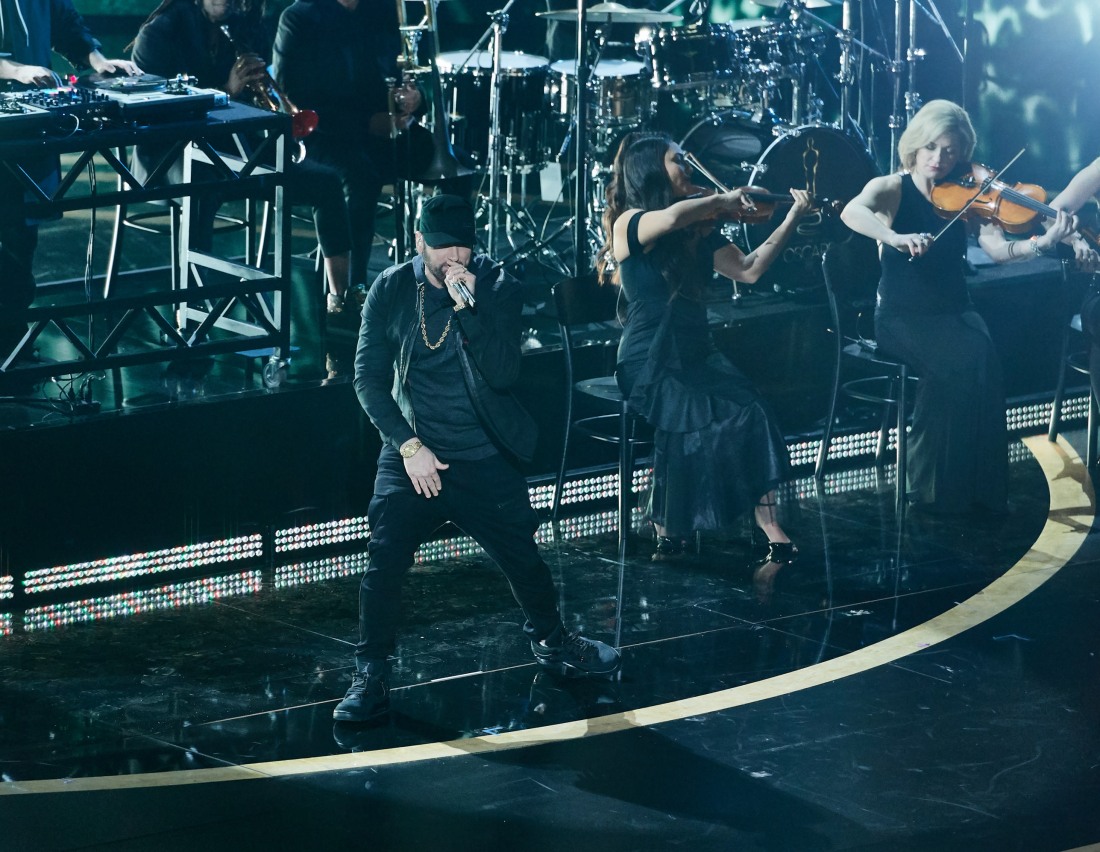 Photos courtesy of WENN.