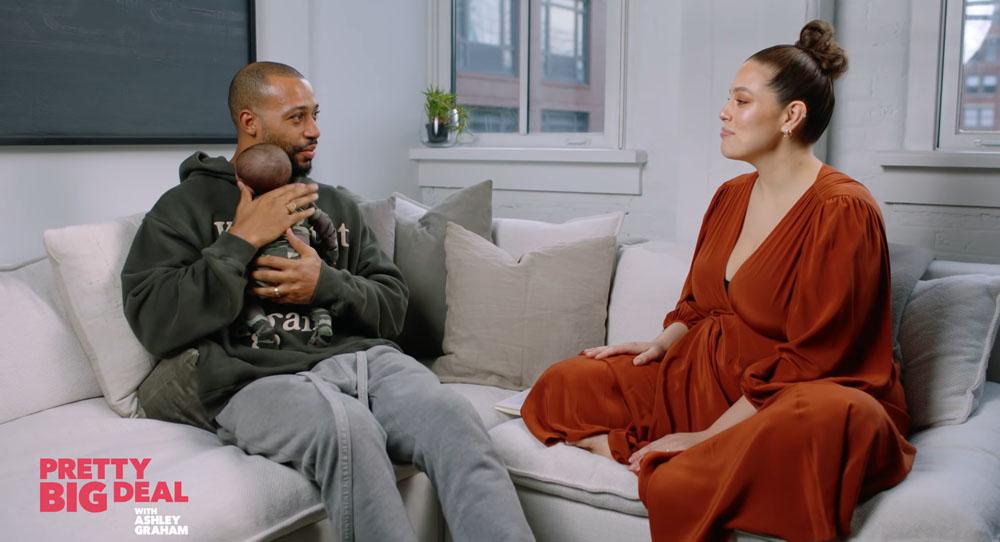 Ashley Graham and her husband, Justin Ervin, welcomed their first baby on January 18. Ashley tweeted two days later that the baby had arrived, although she didn't share any other details about him:
At 6:00pm on Saturday our lives changed for the better ❤️ thank you for all your love and support during this incredible time

1.18.2020 💙

— Ashley Graham (@ashleygraham) January 20, 2020
On Tuesday, Justin and Ashley introduced their baby to the world on Ashley's Pretty Big Deal podcast. They talked about her Vogue cover shoot and about Ashley's pregnancy and her home birth. Ashley went to her yoga class after her contractions started until her water broke! Toward the end of the half-hour, Justin brought the baby over, and he and Ashley introduced him in unison: "Isaac Menelik Giovanni Ervin." Isaac was a name that Justin had picked out in high school for his hypothetical future first son. Ashley shared that they chose Menelik after visiting Ethiopia last Christmas. Menelik was the name of the first emperor of Ethiopia and means "son of the wise." Their friend Anthony had suggested the name Giovanni, the Italian translation of John. Both Ashley and Justin have grandfathers named John, and John was also the name of the founder of the church that Justin's parents "got saved and baptized in."
While Justin was getting Isaac, Ashley showed off the postpartum underwear that she is "obsessed with." She also posted on Instagram about them, and how they've been a lifesaver the past couple of weeks:
On her podcast, Ashley says that she calls them "diapers" because, "I change my diaper and then I change [Isaac's] diaper" and that they are comfortable on her "booty," and, she says very emphatically, "the parts that are still hurting."
I skipped around the episode, but I love watching Ashley and Justin chat together. They're both relaxed and happy, and you can tell how much they adore each other (and baby Isaac)! I also love learning why people choose the names that they do for their children. My actual name doesn't have a very interesting origin story, so I always appreciate it when people choose meaningful names for their babies.
I'm also glad that Ashley is still being incredibly real and honest and open about her experiences postpartum. She amplified important conversations around changing bodies while she was pregnant, and I'm not surprised that she's continuing to talk about her experiences as a new mom. Congratulations to the family of three!
Here's her podcast queued up to the part where they bring their newborn on.