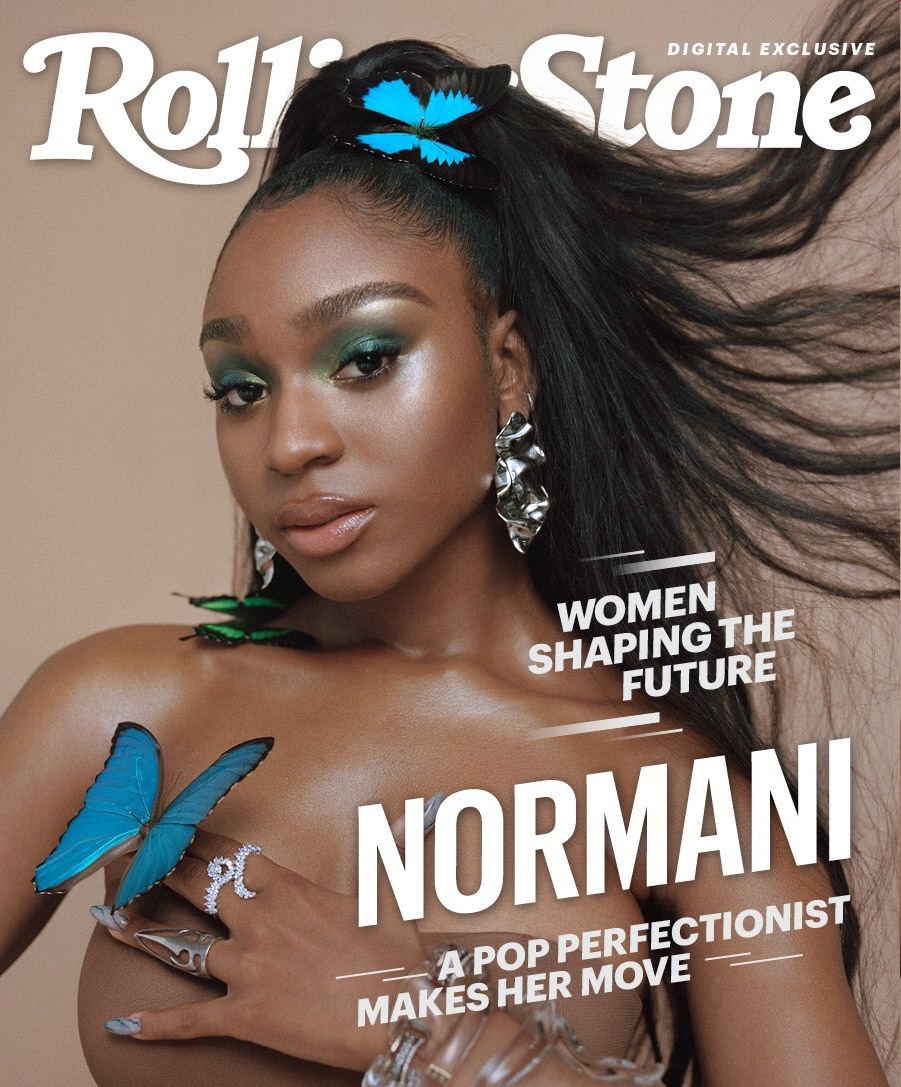 When Camila Cabello left Fifth Harmony, it definitely felt like she was going to be the stand-out, the one destined to have a bigger solo career. But then Normani started doing her thing and now I really feel like she's the one who will have the longer career and the bigger career. Normani is part of a trio of Rolling Stone covers and cover stories, alongside Megan Thee Stallion and SZA. Most of Normani's cover profile is her history and background, which is surprisingly complicated for a 23-year-old. She was an early performer, hustling from a young age, when she got put together with the Fifth Harmony girls. Camila was the one eyed for a solo career, but Normani caught the eye of a lot of producers and divas (Janet Jackson, Beyonce, Kelly Rowland, Nicki Minaj, Rihanna). Normani's new album comes out soon, thus the cover story.
But really, I wanted to cover this because of Normani's response to questions about Camila. As you remember, Camila confirmed last year what had long been rumored online and on social media: she spent a chunk of her teenage years as a racist sh-tposter, hiding behind various social media accounts. Camila apologized in December when someone finally produced the receipts, but Camila's apology was still rather vague. Normani is mixed up in this because when Fifth Harmony was still a thing, Camila-stans were harassing Normani and being gigantic racists towards her. So how does Normani feel about all of that now, and what does she have to say about Camila? From Rolling Stone:
In Fifth Harmony, the singing group that also gave the world Camila Cabello, she was the underdog. As the only black member, she often felt like "the other one in the room." She was targeted by racist bullies online after a subset of Harmonizers believed Normani had slighted Cabello by calling her "quirky." Trolls posted Photoshopped images of her being lynched; others sent death threats. "She's still scarred from that," her dad says… For Normani, there was not much room for mental recovery on the road, especially while dealing with racist trolls. During the ordeal, Cabello came to her defense in a series of vaguely worded tweets, but Fifth Harmony were ill-equipped to handle the situation. Normani describes it as "them not knowing how to be there for me the way that I needed it because it wasn't their own experience, and because when they look at me they don't see me."

Recently, Cabello came under fire when it was verified that she had shared and written racist slurs and memes on a personal Tumblr she maintained around the age of 14. Since 5H Cabello and Normani have interacted at award shows, where their paths have repeatedly crossed, but when I talk with her, Normani is still wrapping her head around those Tumblr posts. As a black woman with young black fans, she wants to be "concise" with how she addresses it. "I just want to make sure that anything I say is exactly what I mean," she offers. "I'll get back to you on that."

And she does get back to me on – in writing, after deliberating for a couple weeks: "I want to be very clear about what I'm going to say on this uncomfortable subject and figured it would be best to write out my thoughts to avoid being misconstrued, as I have been in the past. I struggled with talking about this because I didn't want it to be a part of my narrative, but I am a black woman, who is a part of an entire generation that has a similar story," she begins, via e-mail.

"I face senseless attacks daily, as does the rest of my community. This represents a day in the life for us. I have been tolerating discrimination far before I could even comprehend what exactly was happening. Direct and subliminal hatred has been geared towards me for many years solely because of the color of my skin. It would be dishonest if I said that this particular scenario didn't hurt me. It was devastating that this came from a place that was supposed to be a safe haven and a sisterhood, because I knew that if the tables were turned I would defend each of them in a single heartbeat. It took days for her to acknowledge what I was dealing with online and then years for her to take responsibility for the offensive tweets that recently resurfaced. Whether or not it was her intention, this made me feel like I was second to the relationship that she had with her fans."

"I don't want to say that this situation leaves me hopeless because I believe that everyone deserves the opportunity for personal growth. I really hope that an important lesson was learned in this. I hope there is genuine understanding about why this was absolutely unacceptable. I have spoken what is in my heart and pray this is transparent enough that I never have to speak on it again. To my brown men and women, we are like no other. Our power lies within our culture. We are descendants of an endless line of strong and resilient kings and queens. We have been and will continue to win in all that we do simply because of who we are. We deserve to be celebrated, I deserve to be celebrated and I'm just getting started."
What a well-thought-out statement. It was more than Camila was worth, but the point of it – as Normani says – is that she has young fans and she wants to be a role model to them in how she handles these things. Camila treated Normani like sh-t privately and publicly, and shock of all shocks, it turns out that Camila had a long history of being racist AF when she was a teenager. It's clear Normani is still processing everything and maybe even going over their past interactions and trying to figure out what was really happening. Anyway, I feel for Normani. But she's amazing, and I hope she outsells. I hope she's the next Beyonce/Rihanna/Britney pop star.
.@Normani talks about performing at the Savage x Fenty fashion show, making decisions about her craft and more in our latest "The First Time." See the full video here: https://t.co/7pEMZFSe2S pic.twitter.com/cENojqNXjf

— Rolling Stone (@RollingStone) February 28, 2020
Cover courtesy of Rolling Stone.