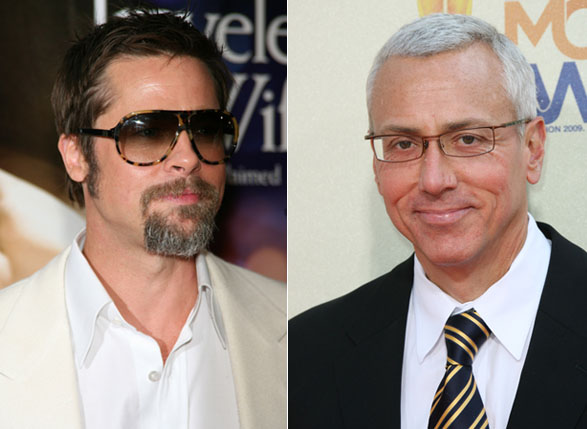 We've all been mislead into worrying about Brad Pitt's drinking. Brad's spent the better part of year talking about beer and getting liquored up and joking about being "a drunk", but it looks like Brad's real problem all along was the reefer. This is according to Dr. Drew, who has become famous for "diagnosing" celebrities without ever meeting them. He just judges them, with an aura of professionalism, by reading about them in Star Magazine or whatever. Last year, in a now infamous Playboy interview, Dr. Drew said that Tom Cruise exhibits the signs of "serious neglect in childhood – maybe some abuse, but mostly neglect." Dr. Drew also insinuated that Angelina Jolie was probably using heroin while pregnant, and dismissed her work with the UNHCR as "global self-serving acts". Back in June, Dr. Drew piped up again to talk some smack about Lindsay Lohan, saying that "she's going to lose a limb or something before" she gets sober.
Now, some or many of you might agree with some or all of Dr. Drew's opinions/diagnoses. Me? It's one of my biggest peeves about the tabloids – I hate it when medical doctors or psychiatric professionals talk to the press about someone they are not treating. It lends a patina of medical credibility for what should remain in the realm of pure gossipy speculation. It's cheap, it's unprofessional, it's unethical, and, in my mind, it's libel. But there's no stopping Dr. Drew. He just had to speak out about Brad Pitt's reefer addiction, and why everything about Brad is just plain wrong:
Dr. Drew Pinsky — board certified addiction specialist & host of Celebrity Rehab — has some advice for actor Brad Pitt who recently revealed to Bill Maher that he no longer smokes marijiuana because he became a father.

Dr. Drew tells RadarOnline.com exclusively, "You have to wonder how much pot Brad was smoking. Was it a chronic problem? I don't know. But to the extent that he had to quit because he felt it was interfering with his parenting abilities is bothersome."

Drew says the number one mistake parents make is admitting to their children that they did drugs. "I see it all the time with my patients. Parents tell their son/daughter that they did drugs, and then they warn them about the hazards of drugs. But in the child's adolescent mind, it's hypocrisy. Their parents did it, and they are ok."

Dr. Drew says the only time it's acceptable to tell the children is if they, the parents, are in recovery. Drew has specific advice for daddy Pitt when one the members of the Brangelina brood inquires about his pot smoking days.

"Don't lie to your kids. The horse is out of the barn. Here is what I would tell him (Brad Pitt) to say I wish I hadn't said that, it would have been better for you to not know what I did or didn't do. The fact is why is here is why I think you shouldn't do it, or I would say I was so badly addicted I had to struggle with it, to stop to make sure I was available to parent you. It's an unusual situation with this public conversation."

Another concern Drew has for the Pitt children, are all of the moves the family makes.

"Multiple moves are very destructive for kids. I can't say it's necessarily going to harm them. They never develop any stable relationships with their peers. It's very traumatic on many levels. A couple of VH1 programs coming up, some of the patients have moved 20 or more times."

The third season of Celebrity Rehab is set to premiere on VH1 in early 2010.
[From Radar]
God, I couldn't disagree more. Unless you (as a parent) are talking a child with significant mental disabilities, most adolescent kids get the difference between "mom's being a hypocrite" and "mom's being honest about her drug usage, I should listen and learn." And I hate when anyone equates smoking pot to heroin or anything harder. It's not. Stop it. This isn't the first time Dr. Drew has been in utter disbelief that someone could smoke a joint once, and not immediately need rehab and a lifetime of out-patient recovery. He sounds like an out-of-touch idiot when his advice is to tell kids "daddy was badly addicted to the reefer." Enough.
In one last Brad Pitt story, if you've ever wanted to know what it feels and looks like to stalk Brad, Star Magazine has the up close and personal experience for you. Self-proclaimed "Manhattan-based Internet personality" Justin Ross Lee was on a plane with Brad, and he spent the entire flight surreptitiously filming and photographing Brad. Now he's sold the photos and footage to Star Magazine, including his own little personal insights on the actor. Stuff like: "Brad had zero attitude and seemed like a regular guy — the kind of guy you'd like to have a beer with. Brad ate a full four-course meal with relish. Brad couldn't possibly have been any more down to earth. He was a first-class guy all the way!" If you want to see Brad attacking airline food like a hungry dog, check it out. It's kind of boring, actually.
Header is of Dr. Drew on 5/31/09 and Pitt on 8/12/09. Credit: PRPhotos. Picture below is of Brad drinking whisky at the after party for The Time Traveler's Wife on 8/13/09.