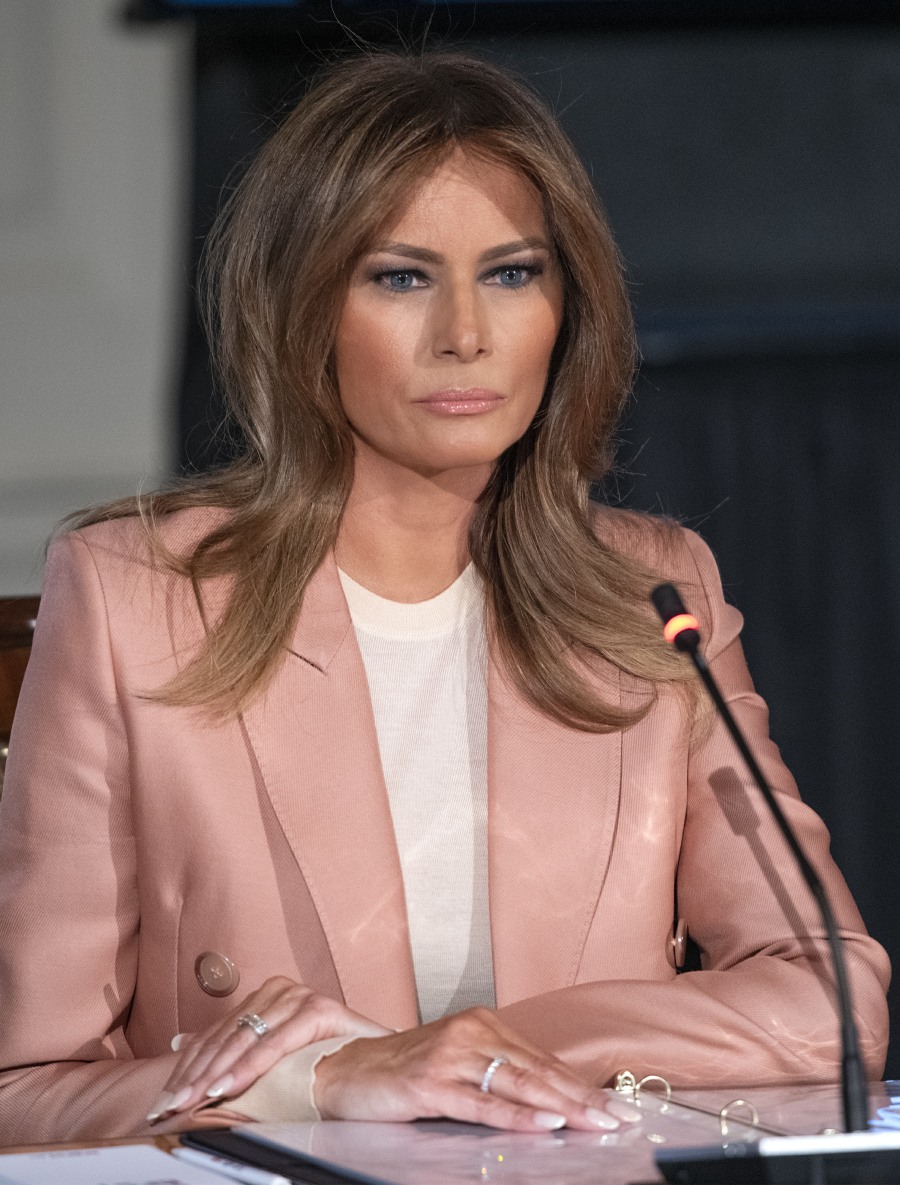 When I first began reading some of the quotes and excerpts from Stephanie Winston Wolkoff's Melania and Me: The Rise and Fall of My Friendship With the First Lady, I thought it was just going to be some grasping, tacky tell-all from someone who was barely involved with the Trumps. But then I read Vanity Fair's interview with Wolkoff, and I get why Melania and her people are freaking out. Wolkoff kept EVERYTHING. She saved all of her emails and texts from Melania, from their pre-White House friendship to their work together in the White House. She also began taping Melania when the sh-t hit the fan. So here we are. Did you know that Melania used a private email account in the White House? BUT HER EMAILS!
Melania Trump regularly used a private Trump Organization email account, an email from a MelaniaTrump.com domain, iMessage and the encrypted messaging app, Signal, while in the White House, according to her former senior adviser and close friend Stephanie Winston Wolkoff, who says she corresponded multiple times a day with the first lady. "Melania and I both didn't use White House emails," says Winston Wolkoff, in an interview with The Washington Post, upon the publication of her tell-all memoir, "Melania and Me: The Rise and Fall of My Friendship with the First Lady."

The Post has viewed messages dated after the inauguration that appear to be from private email and messaging accounts used by Melania Trump. The messages contained discussions of government hires and contracts (including Winston Wolkoff's), detailed schedules for the president and first lady during the Israeli and Japanese state visits, strategic partnerships for the first lady's Be Best initiative, the logistics of the Easter egg roll, and finances for the presidential inauguration, key parts of which Winston Wolkoff, an experienced New York City events producer, planned.

Members of the Trump administration have already faced scrutiny for using private email. The House Oversight Committee last year began looking into the use of private accounts for government business by Ivanka Trump and her husband, Jared Kushner. Commerce Secretary Wilbur Ross also has used private email to conduct government business. Donald Trump spent much of the 2016 election cycle drawing attention to the FBI investigation into Hillary Clinton's use of a private email server while she served as secretary of state, calling it "worse than Watergate."

Melania Trump's email habits have not been previously reported and are not described in Winston Wolkoff's book. She told The Post she left it out of the book because she "just had so much" to write about and was concentrating on telling the story of her personal interactions with the first lady and others in the White House. She says she decided to discuss the first lady's personal email use — along with recordings she made of her conversations with Melania — with The Post after the White House attacked her integrity in response to the book.
I mean, the fact that Melania, Ivanka and a slew of other White House staffers use private email to conduct government business is unsurprising. It's also not the end of the f–king world, because it was not the end of the f–king world with Hillary Clinton either. So I expect journalists and politicians and commentators to treat this private email use with the same thoughtful, nuanced arguments they used against Hillary.
Meanwhile, I'm still cracking up at how bad Stephanie Grisham is at her job as Melania's spokesperson/communications guru. Grisham released another awful statement about Wolkoff, saying: "Literally everyone she worked with was an obstacle in her mind, people she belittled and blamed for everything. This is a deeply insecure woman whose need to be relevant defies logic." Mel is really freaking, huh.
And Wolkoff was interviewed by Rachel Maddow last night. She confirmed the fact that she'd been taping Melania in the final months of their working relationship.
"Melania and the White House had accused me of criminal activity, and publicly shamed and fired me, and made me their scapegoat. At that moment in time, that's when I pressed record." -Stephanie Winston Wolkoff on whether she has recordings of the quotes in her new book pic.twitter.com/LpXyWg0MWR

— Maddow Blog (@MaddowBlog) September 2, 2020
"Rachel, there's no way to fabricate any of my story. And the only way to tell the story is to say it exactly as it was," Stephanie Winston Wolkoff explains with regard to whether the quotes of Melania Trump in her book "Melania and Me" are verbatim. pic.twitter.com/wVMIwBPzQC

— Maddow Blog (@MaddowBlog) September 2, 2020
Photos courtesy of Getty, Avalon Red.