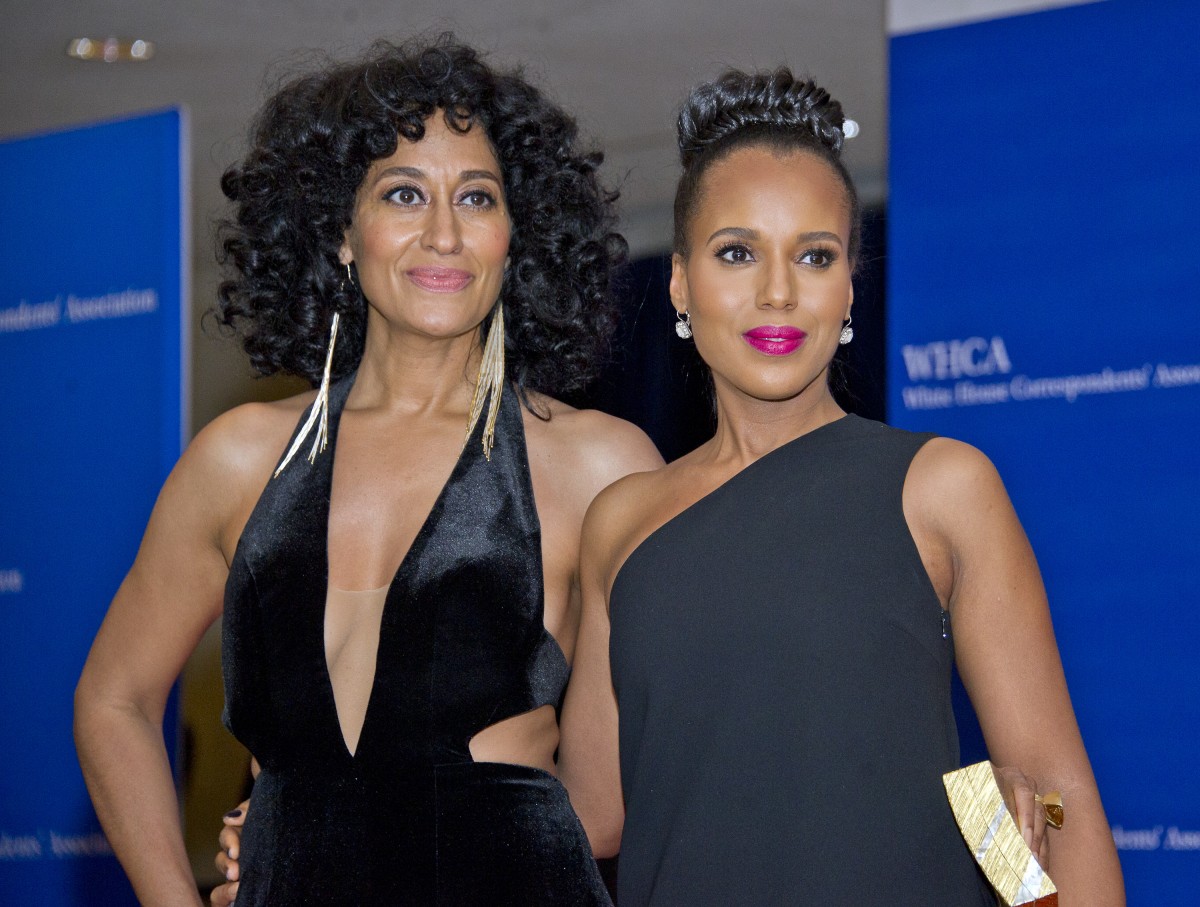 Black celebrities are speaking out about natural hair representation in film and television. Many have mentioned their struggles behind the scenes because of the lack of hair and makeup professionals experienced with black hair and skin. The Crown Act has also been implemented in seven states and there is a push to make it a law in all states to protect against ethnic hair discrimination
Kerry Washington interviews Tracee Ellis Ross for Elle's September issue. It's a long interview which is well worth a read. I wanted to focus on the part where Tracee talked about her natural hair care company, Pattern, her hair love evolution and the importance of natural hair representation. Here are a few excerpts from the interview:
On her relationship with her hair:
It started as such a personal relationship with my own hair, and feeling like I didn't have the support to find what I needed. Not just in terms of products, but in terms of how to love myself. I was very supported in my family around my hair. But in terms of seeing all different kinds of versions in the wallpaper of my lives out in the world, I wasn't seeing it. And I was getting confused. All of the things that I was taught from the media were like, I was supposed to have easy breezy beautiful hair. Bouncin' and behavin'. My hair didn't blow in the wind! All of these things didn't match up.

I was a track runner. So I was sweating out my hair all the time. And I swam. So there were all these things that were occurring for me personally, and I discovered that there were so many other people who were experiencing the same disconnect. There was a void, in both seeing ourselves in our natural, authentic beauty, and also having products that would work for us to do our hair naturally—to wear it the way it naturally came out of our heads. It was after Girlfriends that I wrote my first haircare brand pitch. And it was not received the way I thought it would be received [Laughs].

On the cultural shift of natural hair representation:
It reverberates back for each of us. You making space for yourself allows me to make space for myself. I think back to 10 years ago, I went to the Essence Music Festival and a woman was like, "Girl, you're on TV. You need to get your hair done." And I was like, "What do you mean?" She was like, "Put some heat on your hair! What are you doing?" Growing up, we all went through this experience, where straight hair was your dressed-up hair. The blowout, silky-whatever meant you became more presentable, more appropriate. It was your dressy, sexy version of you. I see such an evolution on that narrative and I'm so grateful for it. I've had days, particularly during the pandemic, but even two years ago, where I looked at the news and I'm like, "Oh my god." You're never used to see natural texture on a news anchor. There's been a real shift. And bringing the circle back to Dr. Crenshaw and this idea of the frame—I realize that Black girls have been magic forever, but once we got this term, the world was able to see that magic in a way it wasn't being received before. From Girlfriends until now, what I see out in the world gives me courage to be myself. Seeing the way Solange wears her hair, I'm like, "So beautiful. This is so beautiful." Back in the day, Black girls on TV who were wearing their hair in its natural texture were like five. Rae Dawn Chong was the first one I ever saw. My mom, yes, but Rae Dawn Chong, then there was Lisa Bonet, Cree Summer, Lisa Nicole Carson, that's all I saw. So seeing the exploration—I mean, every time we're on a Zoom, I'm like, "Kerry, your hair is so gorgeous."

On black hair being at the center of cultural, political and economic revolutions:
I say it every time, even if we're on with other people. I'm like, "Hold on everybody. Do you see the coils?" I have a real love of texture. Those with tighter textures have given me the courage to embrace and love what grows out of my head. I always remind people, we've been here doing this forever. This is not some new phenomenon. Braids are not new. Cornrows are not new. Twists are not new. Bantu knots are not new. If our hair could talk, it would tell you of our legacy. Black beauty is timeless and holds such a story that I am so grateful to be a part of, and to continue allowing it to unfold through me. Black women and our hair have been at the center of social, cultural, political, and economic revolutions and movements through time. We hold so much power in our beauty. Our beauty is filled with love and joy and an emotional intelligence that reaches into spaces that allow us to connect with each other in such sacred ways.
I loved everything about this sort of girlfriends talk Tracee and Kerry had. It is the conversation we tend to have with our friends when no one is around. There were so many things that resonated that it took me a moment to get back to the purpose of the article. I will say that the bit about how the system works to make those in marginalized groups feel isolated is a whole word in and of itself that I may cover another time.
Tracee's natural hair and hair love journey reflects my own. I started my natural hair journey officially in 2004. I went to Israel for a 10-day visit and seeing all of the Ethiopian Jewish women walking around confidently with their natural hair gave me the courage to finally do the big chop. I was taught that my hair needed to be tamed and the way that it grew out of my head was messy and difficult. For a while after I went natural, I had to listen to family members and other black people tell me my hair was nappy or that I needed to comb my messy hair. The more disparaging the comments were the more proud of my afro I became. I worked tirelessly to grow it as big as possible so that it would be a symbol of my rebellion against the Eurocentric ideas of beauty that were being shoved down my throat from within and outside my community. In 2007, I started loc'ing my hair for 3 years and that in itself was another experience that grew my love for my hair. Needless to say, I was a bit of a trail blazer in my family and friend circles. Falling in love with my natural hair texture, for which I have three (textures), took me many years and I am STILL learning how to care for my hair.
The conversation that many are having about natural hair representation in Hollywood is necessary. The celebration and advocacy for natural hair acceptance began in the streets and within the community. Hollywood and corporate America are starting to follow. As BIPOC continue to create art and wield power in new places we will be able to make more spaces that celebrate who we are unapologetically. And being unapologetic itself is true power.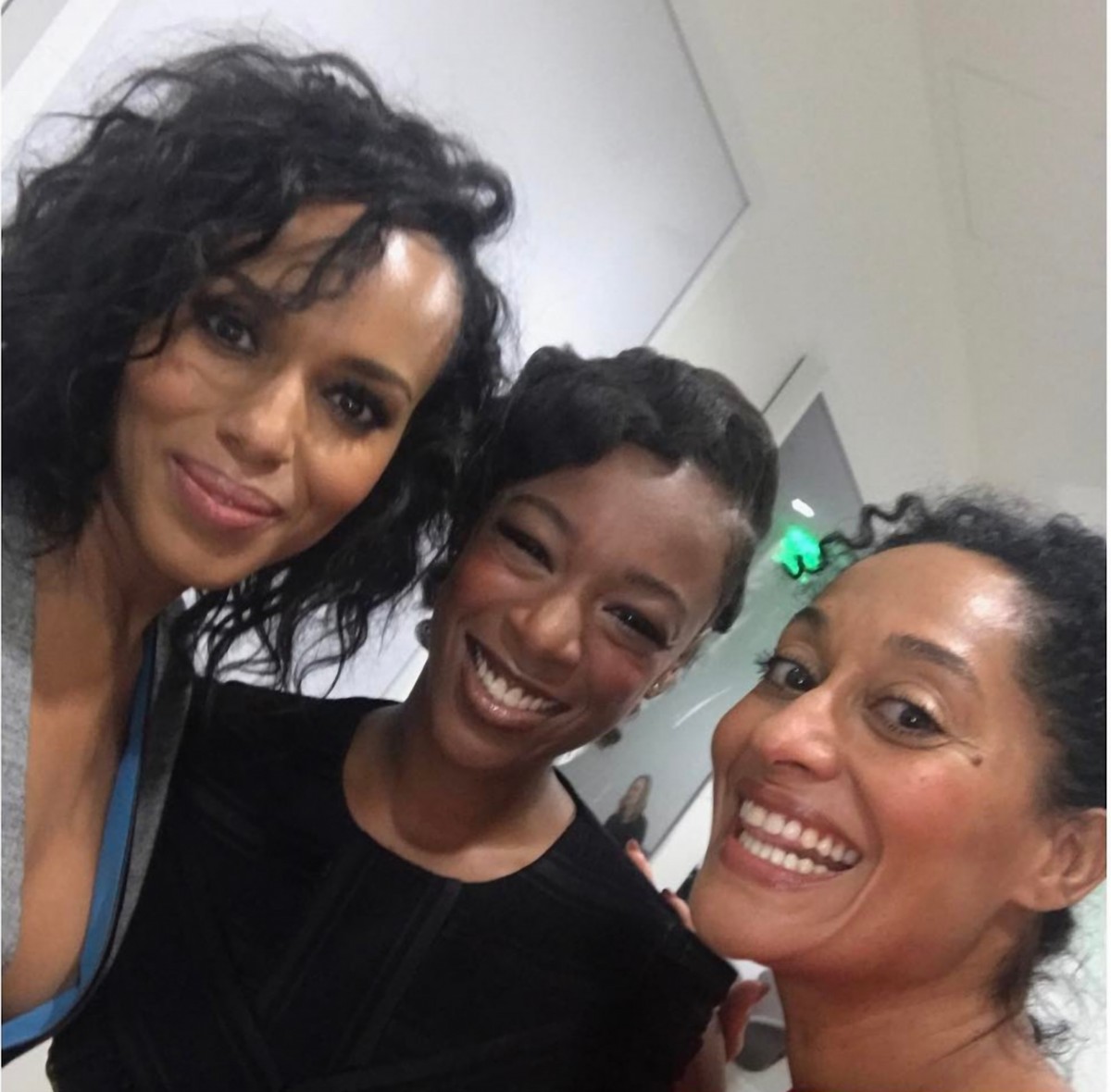 Photos credit: Avalon.red, Getty and via Instagram