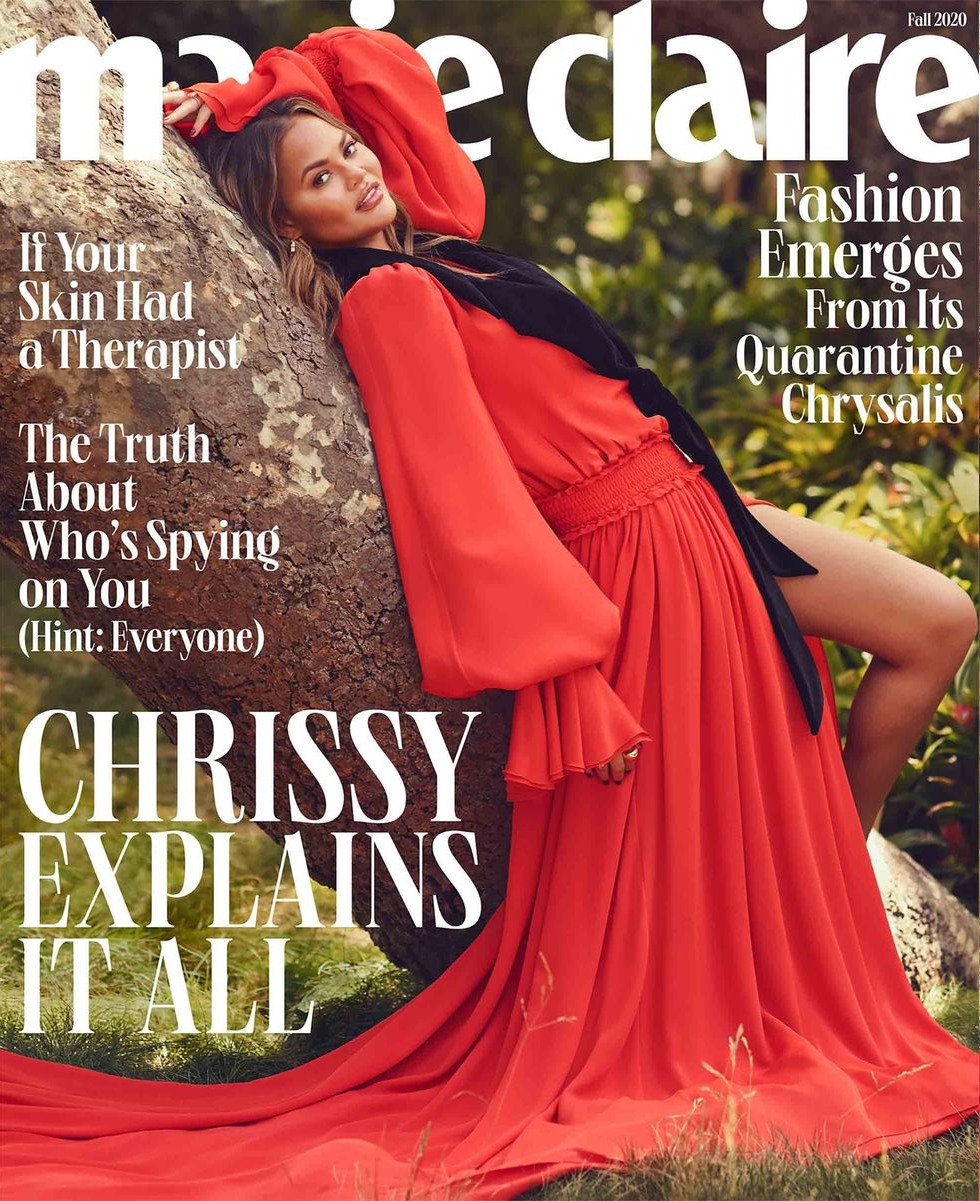 Chrissy Teigen covers the latest issue of Marie Claire. She talks about a lot of different things in this interview – she's promoting all of her projects, including her lifestyle brand (Cravings), her cooking shows, her cookbooks and on and on. This interview was done shortly after she announced her pregnancy this summer, which is beyond tragic given her recent tragedy. She's also talking about her politics, racism and how happy she is to vote for the Biden-Harris ticket. You can read the full piece here. Some highlights:
Anxiety as she becomes more successful: "I'm having a hard time being any kind of mogul and running companies because it's hard for me to work on, or even talk about, two things at once. With my anxiety, the worst thing is not giving enough to enough people. It's like going grocery shopping when you're full; if I feel like I have too many good things going on, I can't say yes to another good thing."

She doesn't live online anymore: "I'm barely online anymore, and that was at the request of my therapist. I didn't start therapy until quarantine. I used to avoid it and make fun of the idea of it, and then I found the right person and it changed my world. People think I'm tough, but I'm such an empath, and I take on other people's pain and sadness as my own. And when I let people down, I'm hyperaware of it. Sometimes I feel like people aren't going to be as hard on me as I am on myself. So it's good for me to take a break…. Part of me right now knows this is not the right time to go silent. It does feel very selfish and weird to say that my mental health is important when there are people being murdered by police and murdered in their own homes. Who gives a f–k about someone making fun of me when people's livelihoods are being threatened just for telling their stories? I have Black children, so is it really the right time to not want to step on anyone's toes?"

Raising black children: "There are books that I read when I became a mom that would explain to them hard and traumatic situations. But it's really hard to teach them about their privilege; there are no books for that. But regardless of money or status, they're always going to have their skin color… When it comes to them being treated differently because of the color of their skin, I'm going to look to John for a lot of help with that because while they are Asian and white too, their skin color is Black. We just try to talk to them like little adults, saying it in words they'll understand, making it known that it's very serious, and letting them ask as many questions as they need."

On Trump: "People are very confident in their ways of being open about their racism because they have the backing views of the president. It's become such a hurtful, weird presidency for so many Americans, and I'm going to fight to get this person out of office because I can't live another four years with this kind of hatred boiling through America."

On the Biden-Harris ticket: "There were multiple people that I liked, and I knew speaking out would be an endorsement of them. Then they started dropping out one by one. I love Kamala Harris, and my biggest regret is not speaking out about her. I was thrown off and got scared. I wanted to wait and wait until I 100 percent backed somebody, and then sooner or later that just became the one candidate…We are proud to stand behind Biden. We're not only voting for Biden because it's not Trump. We're voting for him because we think he's going to do an incredible job of bringing a bit of healing to the country. We are a divided, hurt nation that needs to be brought back together. [Biden is] someone who looks into issues with clear eyes, empathy, and understanding from being involved in politics. I also look at a presidential candidate as someone I want my kids to be able to look up to. I don't see that in Donald Trump or any of his family."
I was trying to remember what Chrissy had said or done regarding Bernie Sanders, because I was just reading this piece cold, and I thought it sounded like she was a reformed Bernie supporter. But no, she's talked sh-t about Sanders and his toxic fanbase in many tweets and statements starting in 2019. It basically sounds like she kept relatively quiet during the Democratic primaries and then threw her support to the Biden-Harris ticket once it was a sure thing. Which is smart, and I wish more celebrities would do it that way. Also, to Chrissy's therapist: THANK U.
Photos courtesy of Marie Claire.