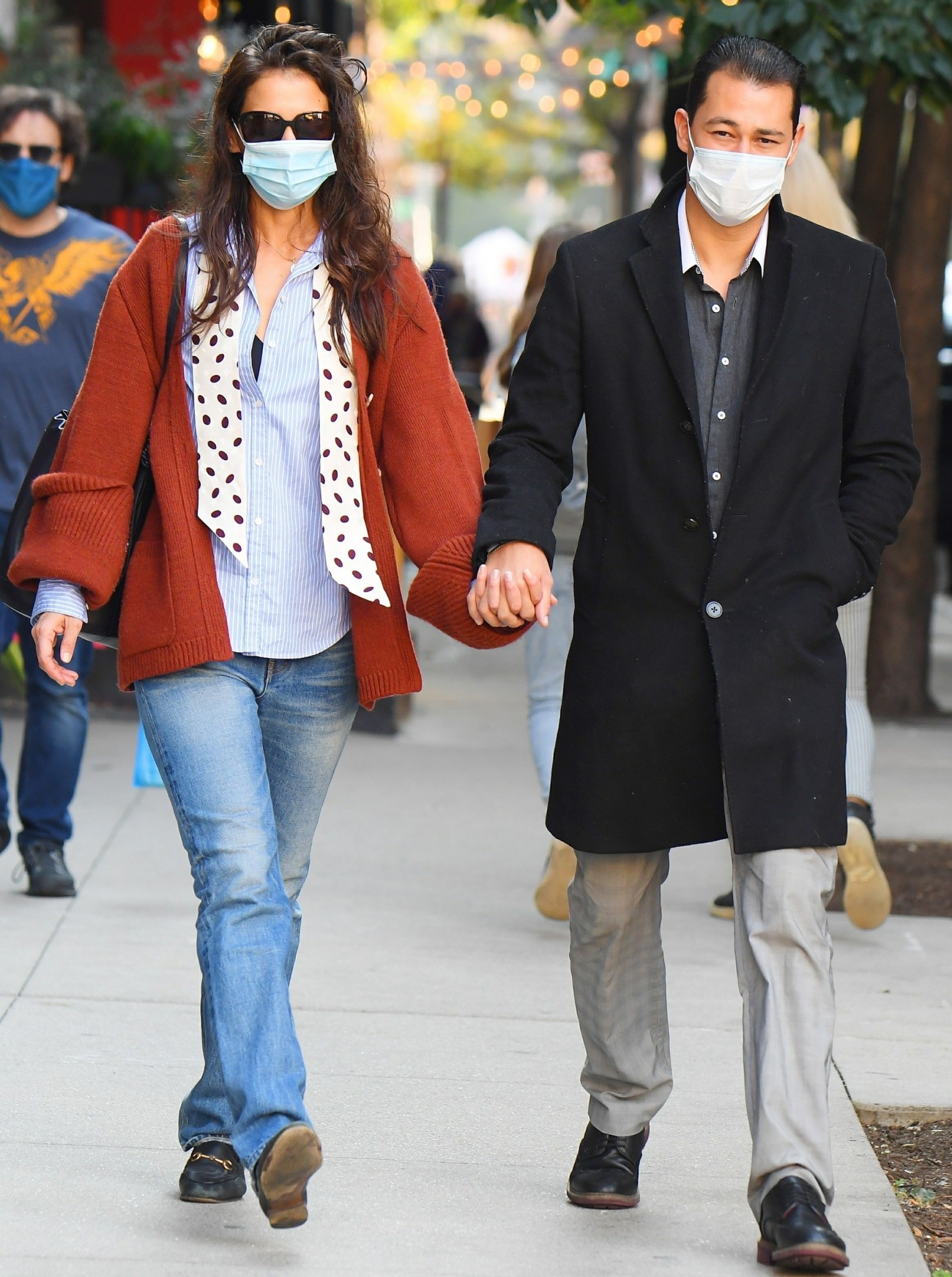 We've been through a journey with Katie Holmes and Emilio Vitolo this month. They were first photographed together the first week of September. Then we learned that Emilio had actually dumped his live-in fiancee Rachel Emmons around the same time he was being photographed with Katie. Then Katie and Emilio began doing regular pap strolls as they went on dates all over the city. She seems completely enamored with him and like she's fine with how public this has become. He seems… happy to be with a celebrity. Anyway, these are some photos of Emilio and Katie out and about last Friday. They even stopped by his restaurant for a meal, in what feels like a spot of advertising! So, about that dumped fiancee? Page Six had a lengthy story about what's happened behind the scenes this month.
Katie and Emilio were first snapped together on Sept. 1 at the Soho restaurant Antique Garage. But that same day, according to an insider, Vitolo sent his then-fiancée, 24-year-old designer Rachel Emmons, a break-up text. The two were together for nearly two years and got engaged in February 2019, later flying to Italy to look at wedding venues. Just a week before the break-up, Vitolo celebrated his birthday at a party thrown by Emmons at Lower East Side restaurant Balzem. A photo shows him beaming with Emmons by his side, her engagement ring on full display.

"Rachel moved out of their apartment on September 2 with only what she could carry with her," said the insider. "She left her engagement ring and all her furniture behind. She then saw the photos of Emilio and Katie as she was flying home to Oklahoma."

It's all come as a shock, the insider said. "Emilio still hasn't reached out to Rachel. She's okay — keeping her head up, trying to handle all of this with grace. She's working on her business and plans to return to New York soon." Emmons declined to comment.

Holmes is thought to have first met Vitolo at his family's restaurant about nine months ago. She helped him get cast opposite her in a short romantic film that was shot in August. Their romance has been "organic," according to a source who knows Holmes. "This was not planned … Katie had nothing to do with Rachel and Emilio's split."

A friend of Vitolo's echoed that sentiment: "He did not break up with his fiancée for Katie. They had major issues that were insurmountable. He did break up with her, though, and their friends were shocked."

For Holmes, the public affair is markedly different from her six-year relationship with Jamie Foxx. Before they split in May 2019, the two were rarely seen out together, and a pal told The Post that Foxx never wanted them to make a big fuss in public: "I don't think it was Katie's decision to keep things low-key. At first she thought it was a good idea to be careful, but after several years, she wanted them to be more open."
Page Six's sources go on to say that Jamie wanted to have his cake and eat it too – he wanted lady friends and live-in proteges and other women AND Katie. And so that relationship eventually died out. I also think it's interesting that Katie wanted it to be more public with Jamie after several years but he didn't want that. As for Rachel and Emilio… God, that poor woman. Emilio sounds like such a f–king douche. It's possible they were having problems, who knows. But to dump your live-in fiancee (via text!!) and then have her move out the next day while you're gallivanting around New York with your new celebrity girlfriend. Poor Rachel.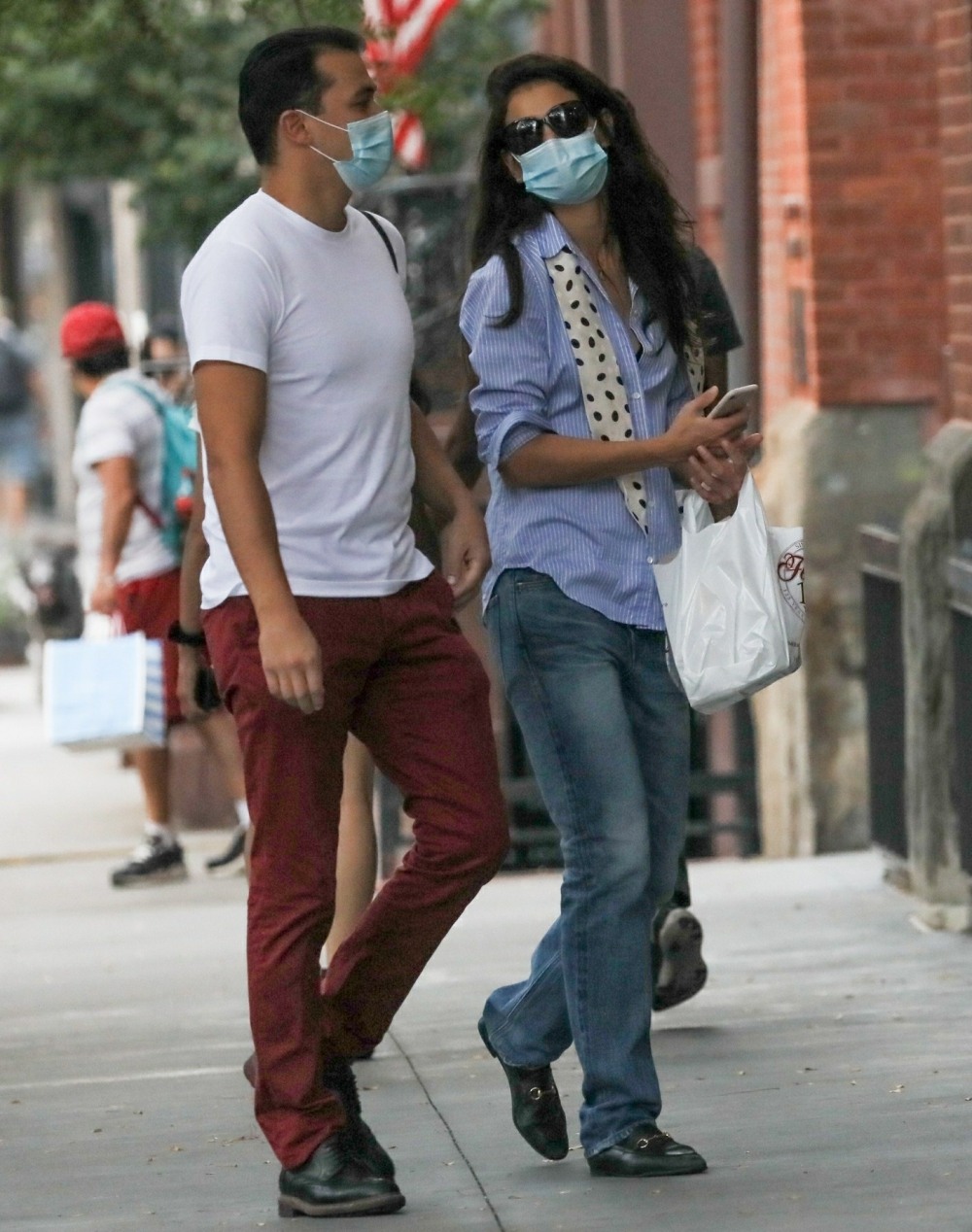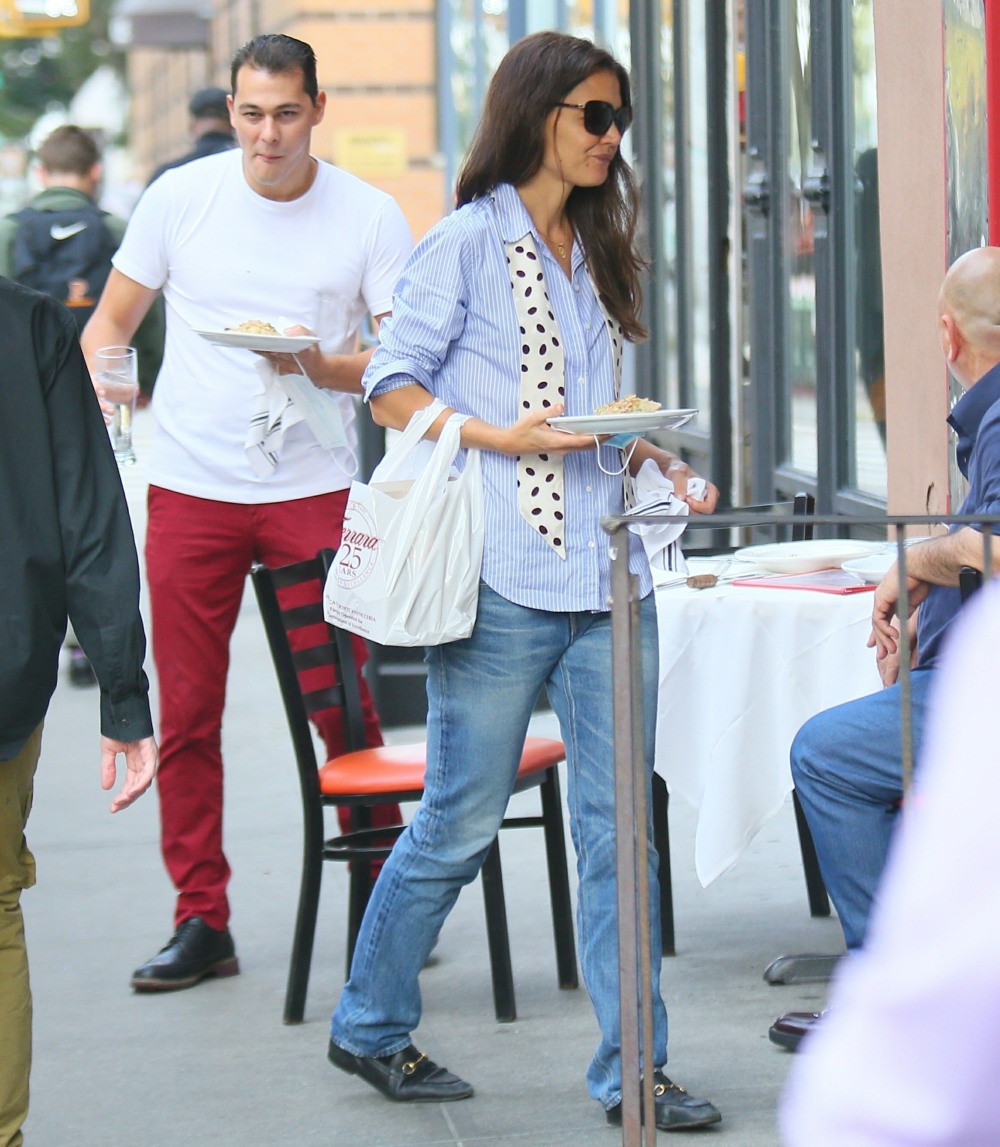 Photos courtesy of Backgrid.