Amanda Seyfried has been doing press for her horror movie which came out in lockdown, You Should have Left. I've covered a few interviews with her recently and she's only on video from the chest up, which is typical now. (She did look a little fuller in this interview, but barely.) The last time I reported on her was last month when she was praising her mom. She said that her mom lives with her family, acts as their nanny and that her "life is awesome because she is the third parent for us." At that time Amanda and her husband of three years, Thomas Sadoski, had just one child that we knew about, a three-year-old daughter whose name they have not published. They live in upstate New York on a working farm with animals. It seems like she had even more reason to thank her mom because at some point Amanda and Thomas welcomed a son! We have no idea when, and are just going on this photo Amanda and Thomas gave to two organizations they wanted to support. The charities War Child and Inara posted the photo above along with this message announcing the birth:
We are so happy to join with INARA to be the first to announce that our ambassadors Amanda Seyfried and Thomas Sadoski welcomed their second child into this world. ⁠
⁠
Their statement:⁠
"Since the birth of our daughter 3 years ago our commitment to the innocent children that are so brutally affected by conflict and war has been a driving force in our lives. With the birth of our son the work of INARA and War Child has become our North Star."⁠
@mingey @thomas_sadoski @inaraorg⁠
⁠
⁠#AmandaSeyfried #ThomasSadoski #BabyBorn #BabyAnnouncement #SecondChild #NewBorn #INARA #WarChild
That's really amazing actually and a thoughtful way to get attention to these causes. Plus she kept her whole pregnancy quiet, as she was promoting two projects, and that's admirable too. This makes me reconsider some of Amanda's recent interviews, like the one where she said how hard it is for her to lie! (That was in context to her character, but still.) Congratulations to Amanda, Thomas and their family!
War Child works with children affected by war so that they can get back to school and maintain a sense of security and normalcy. You can learn more about their work on their website, WarChildUSA.org. Inara provides children wounded in war essential medical care. Here's a link to their Instagram.
Amanda also posted this photo to her Instagram stories: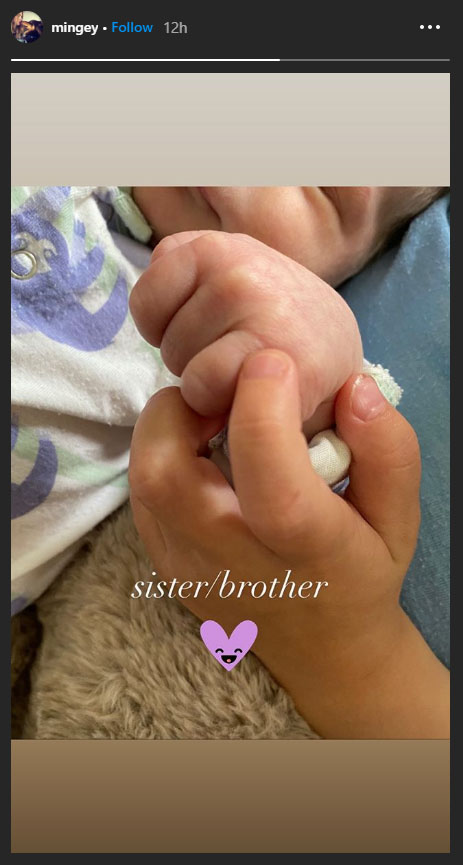 I can't believe Mamma Mia! Here We Go Again was two years ago! That was the last movie I saw using Movie Pass, RIP. I need to watch it again but it's not streaming anywhere yet.
Embed from Getty Images