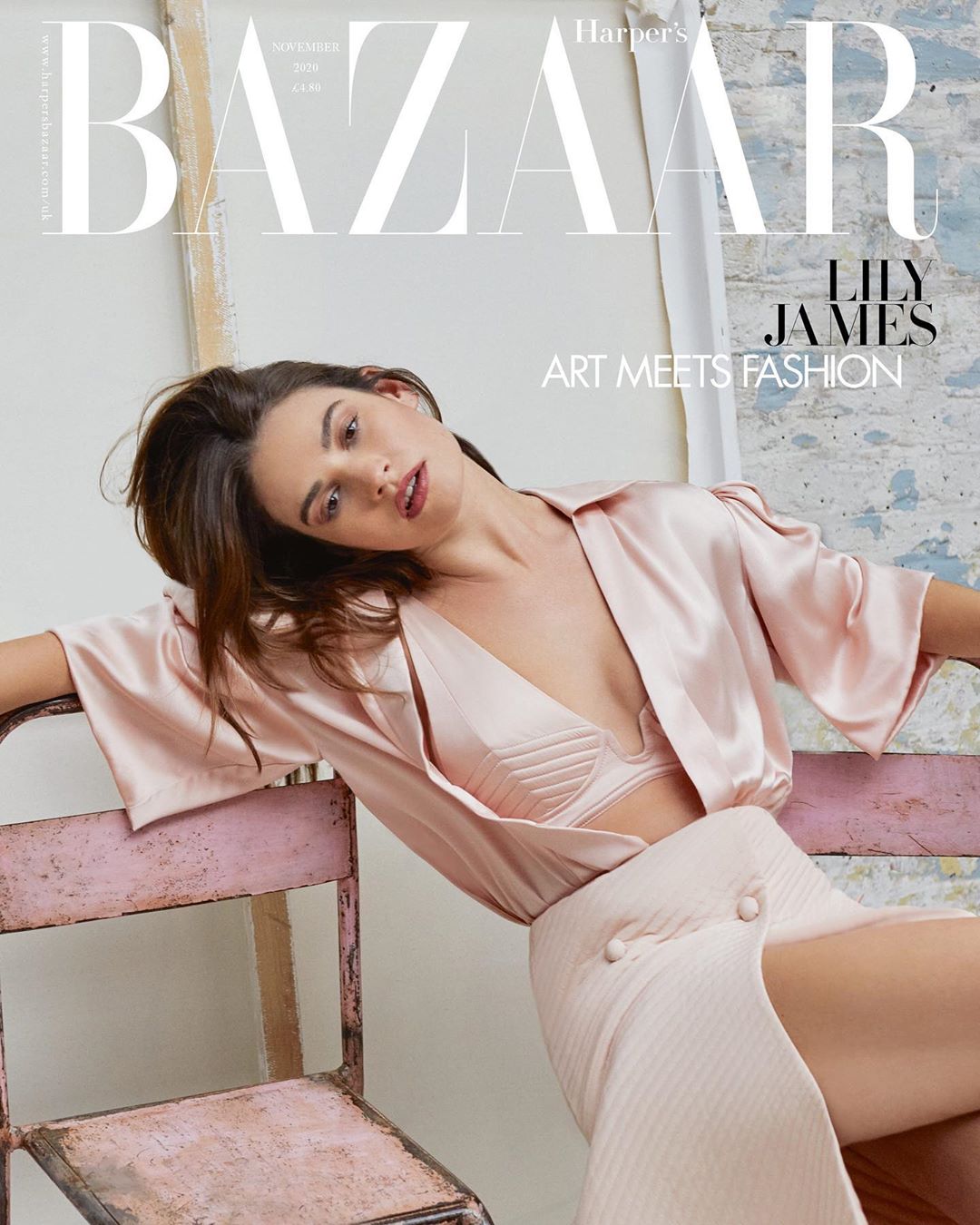 Lily James covers the November issue of Harper's Bazaar UK to promote her starring role in the remake of Rebecca. The cover editorial is nice enough – kind of uninspired to see an "English rose" in shades of dusty rose, but so be it. This was done and published before Lily's affair with Dominic West was outed, and it happened after her fling (or whatever) with Chris Evans. Bazaar even states at one point that Lily isn't talking about Chris. Hm. Anyway, post West affair, these quotes hit different. Some highlights:
On Rebecca: "Exploring the different extremes of womanhood shown by Rebecca, Danvers and Mrs de Winter is so exciting. And I think it remains such a bewitching story because it preys on all our fears, insecurities and sense of longing. Imagine living in the shadow of your lover's past – it's sort of terrifying and erotic."

She admits she has obsessive and self-critical tendencies: She continually puts herself through the experience of watching and admiring other actors' performances of parts she is playing. "That was an easy headspace to find myself in– I can slip quite easily into negative self-loathing," she acknowledges. At other times, she found the character's timidity and paranoia highly frustrating. "It was like a brick wall that I was always bashing my head against," she says. Later, she adds frankly: "I am actually really glad it's all over."

On lockdown: "Lockdown forces you to confront things about yourself, and part of stopping was realising that repeating yourself is the death of creativity. I just know that I want to try to stretch myself and become another person… I hope that's what next year will bring."

She's not happy & sunny all the time: "Your pain, your happiness, your grief are all part of who you are. This idea that we should always be happy is probably setting us back: often in life, we don't take our pain seriously, as a way of coping, but it's obviously there and you have to examine it."

On being 31: "Lots of girlfriends said to me, 'Oh, you feel so much relief in your thirties, you know who you are.' I thought I was there, but then realised I'm actually not. I think I'll probably always be quite a "searching" person… I can't picture getting to a point where I'll feel like, "Oh, I've grown." I still feel like a child."

The one mention of Chris Evans: As for her love life, James' outlook has changed. She won't discuss whether or not she is dating the Captain America star Chris Evans, but she will say that if she could give her younger self any advice, it would include instructions not to lose sleep over matters of the heart. "Don't be obsessed by boys! Hang out with your girl mates. And don't take everything so seriously – be kind to yourself."
Her thoughts on happiness are really good, actually. I've said before that I like Lily but I usually find her deep as a puddle, but maybe that's just because she comes across as a light, sunny, happy person. But no one is happy and sunny all the time, every day and maybe that's a facade she's learning to drop. As for being obsessed with boys… hm. There's also this video which features some interesting quotes about affairs, mistakes, etc.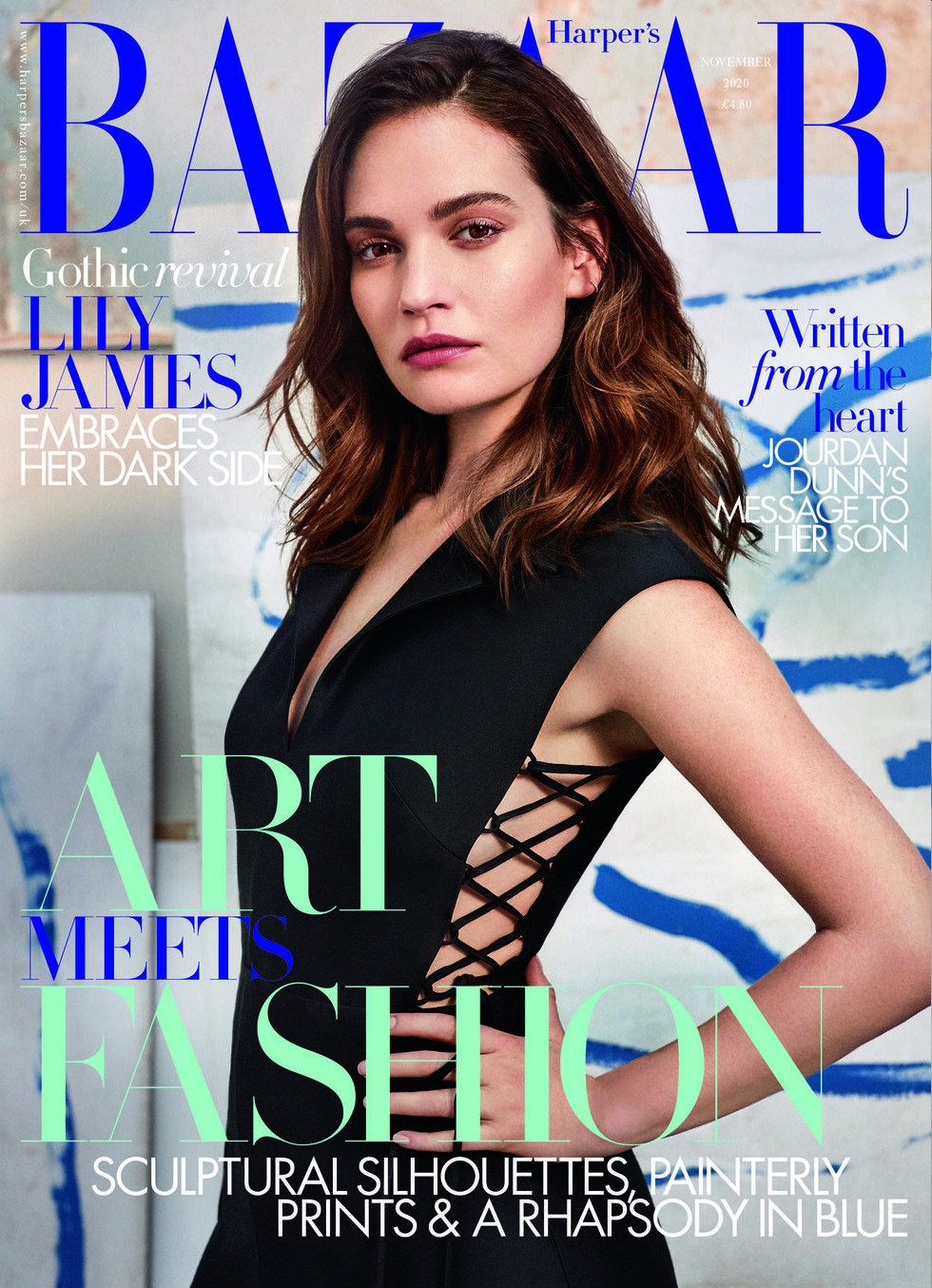 Covers courtesy of Harper's Bazaar UK.