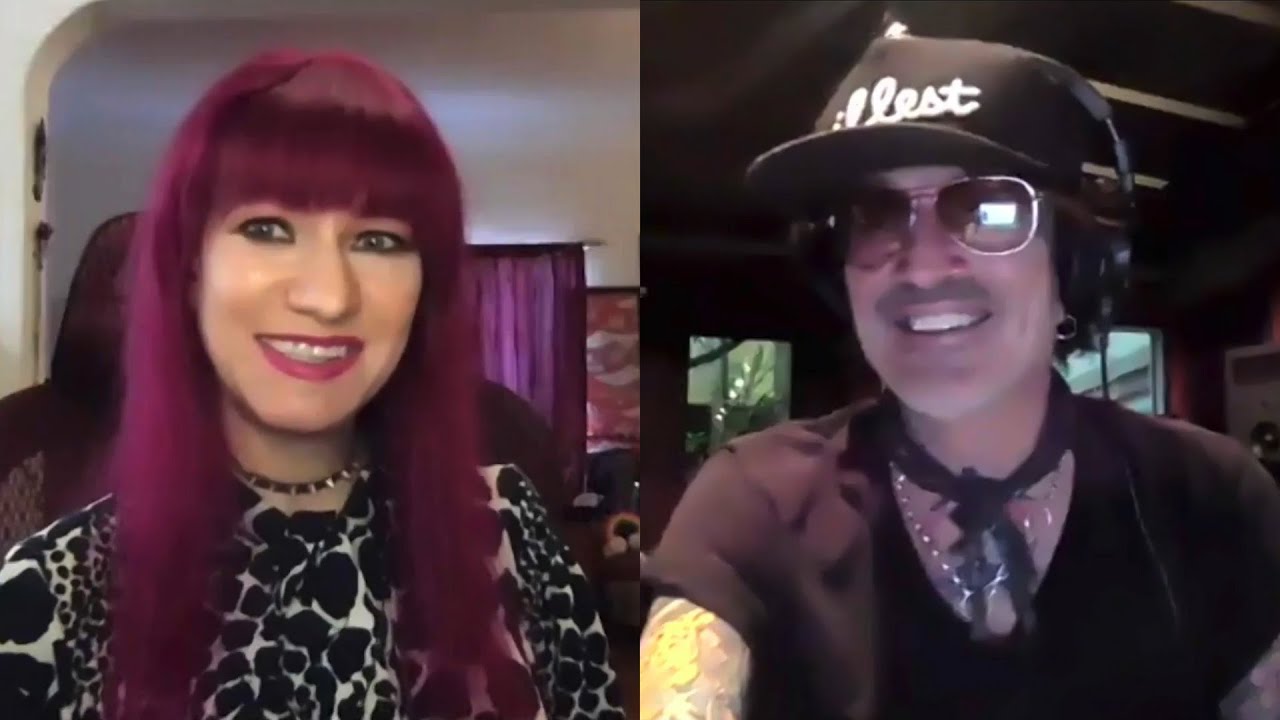 Tommy Lee did an interview with Lyndsey Parker of Yahoo Entertainment. It's 40 minutes long and I swear I watched the whole thing. It wasn't that Tommy was particularly fascinating, I just liked how down-to-earth and knowledgeable the interviewer, Lyndsey, was about his music and the industry. She was a fan but she wasn't gushing over him and she asked smart questions. Tommy said he's been sober a year, but it took him over a half an hour to talk about it and it wasn't until Lyndsey asked him a direct question about his sobriety. She really got him to open up. You could tell that Tommy still romanticizes drinking and partying because he talked about how awesome it was to be famous in the 80s before cell phones could bust you. This was in context of the film The Dirt, about the rise of Motley Crue (it's been on Netflix for a while, I really enjoyed it). Machine Gun Kelly played Tommy in that movie. Tommy had nothing but praise for the filmmakers and particularly for MGK, whom he'd known for a couple of years before Machine Gun Kelly played him. He said that MGK took drum lessons for months and worked with him to get his mannerisms right.
The quotes that got me interested in this video were run by Page Six, and were about Tommy's horribly excessive drinking. He also talked about people telling him not to get "political" and how he finds it frustrating to read the comments. I'm not going to say this video is worth watching, but I don't feel like I wasted my time either. Tommy is promoting his solo album, Andro, which he doesn't sing on at all. He uses all guest singers. Here's some of what he said:
On not reading the comments
I typically don't read comments. I did this song with Post Malone and Tyla Yaweh and it's called Tommy Lee, it's super rap. [My manager told me to read the comments] The first thing I see is some dude going 'it doesn't seem like Motley Crue.' That's why I don't read comments. How heavy is that rock you're living under?

On people telling him to stay out of politics
One that I see constantly, which is the most unintelligent answer, typical and predictable. 'Hey you should stick to drums dude, stay out of politics.' Because I'm a drummer does that mean I don't have an opinion? I can't say what is happening now is not f'ing mad? 'Just stick to drums dude.' You know what, 'go f-ck yourself.'

I do understand how people would want you to keep that stuff separate. It really bums people out.

On why he quit drinking a year ago
I've been sober for 4 years [before]. I've been on and off for a time. I go through these phases. This particular instance I had been home. Idle time, not touring, I just enjoy being home. I would just float around and just f'ing drink. I didn't notice it until towards the end. I was drinking out of boredom. I would wake up and build all vodka and just a little eyedropper of cranberry or lemonade. I was drinking two gallons, the big handles, a day. Going to get a full checkup. The doctor's like 'your liver's fine, you're super healthy. What are you made of?'

I just realized like 'woah dude, you're drinking enough to die.' It wasn't even phasing me. I just became immune to it and realized [it] was a lot.

"Was your wife concerned to see you drinking that kind of volume?"
Concerned is probably the right word. She was like 'baby, I don't think I've ever seen anybody drink that much. You're kind of scaring me.' Not scaring as in like violent, just 'you're scaring me like are you going to wake up?'

She was definitely concerned and [that] obviously helped in my decision [to go to rehab]. I bailed for over a month.

"How are you still alive?"
I must have a horseshoe stuck in my butt. Somebody is obviously looking out for me.
[From Yahoo Entertainment on YouTube]
That was great to watch because Lyndsey asked the right questions and is clearly very good at her job. I'm pretty sure that it wasn't publicized that he went to rehab because she said it was news to her. Plus she knew to ask him about his wife. Tommy, 58, married Instagram influencer Brittany Furlan, now 34, last year. I wish he would have sounded more serious about his sobriety. He drank so much but just blew off how serious it could be. This kind of story just brings it home that it's super risky to go back to drinking, even if you have years off. It's not something you can just pick up again because you're just taking your misery back as they say in AA.
Oh and Lyndsey tried to get Tommy to admit that he's the giraffe on The Masked Singer but he swore up and down that he's not. I don't watch that show but she was convinced.
Here's that video.

I haven't seen this before and I like it: