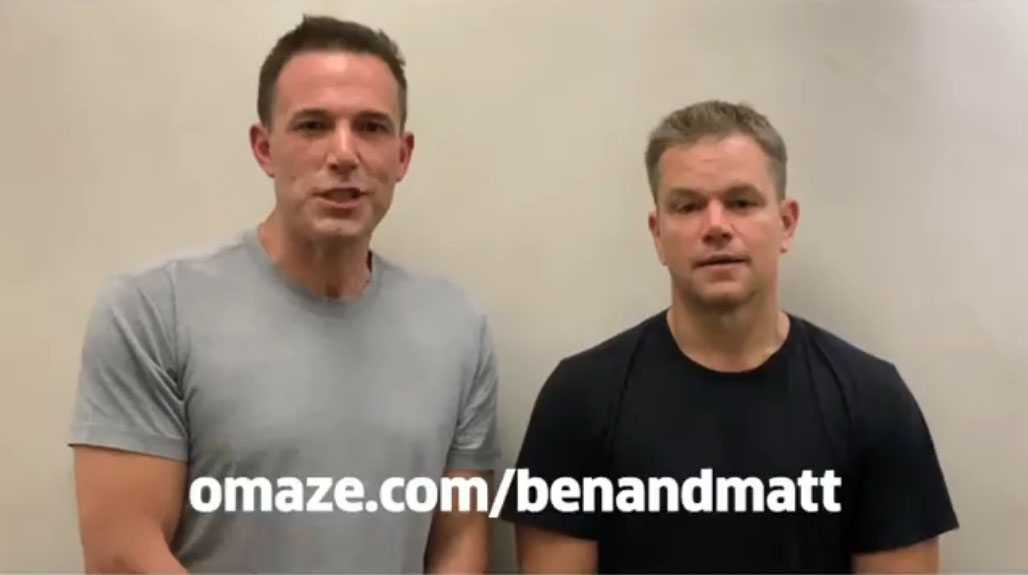 Ben Affleck and Matt Damon have been in Ireland filming an historical fiction rape revenge movie. We know Ben is back in LA because he was recently photographed greeting Ana de Armas at the door of his house while wearing a shirt with the Cuban saying "asere ya, gracias" on it. I thought Ana was just about to move in with Ben. I guess that didn't happen yet.
Ben and Matt have released a new video to benefit Matt's charity Water.org and Ben's charity The Eastern Congo initiative. That's below. They're auctioning off a chance to win a flight to LA and lunch with the two of them. I wish they would have emphasized that it will be distanced and masked. This video is otherwise cute and maybe they're hoping lockdown will be over by then. I like how they rib each other. Ben says "come see Jason Bourne and Batman" and Matt responds "Robert Pattison will be there?"
"No, Jeremy Renner will though." That part was pretty funny I have to admit. This video was recorded at least a week ago as Ben has almost a full beard in the photos of him with Ana yesterday. Ben looks very weird without a beard, like he's plucked. I prefer him with facial hair and also a bit meatier. He's an actor though and needs to lose and gain weight for his roles. He's not at Christian Bale level in that department though. In the past he hasn't always gotten it right.
Anyway welcome back Ben and I look forward to some thirsty photos with Ana. We've missed you guys and are sorry to have mocked you so much. Please go back to doing your thing so we can do that again.
Update: I asked my friend Rhiannon, who used to love Ben, for a quote on Ben's new look. She writes "His face looks tighter than a dollar store Ken doll" and "I think he's having a bad midlife crisis.." Karen says "he's been in a midlife crisis for 10 years now." (There's more from Rhiannon on Ben in episodes 54 and 59 of our podcast!)
Ben Affleck and Ana de Armas were spotted together today for the first time in months! https://t.co/WpSdLK5lrm

— JustJared.com (@JustJared) October 16, 2020
Here's that video:
Look at them trying not to crack up, this is cute: