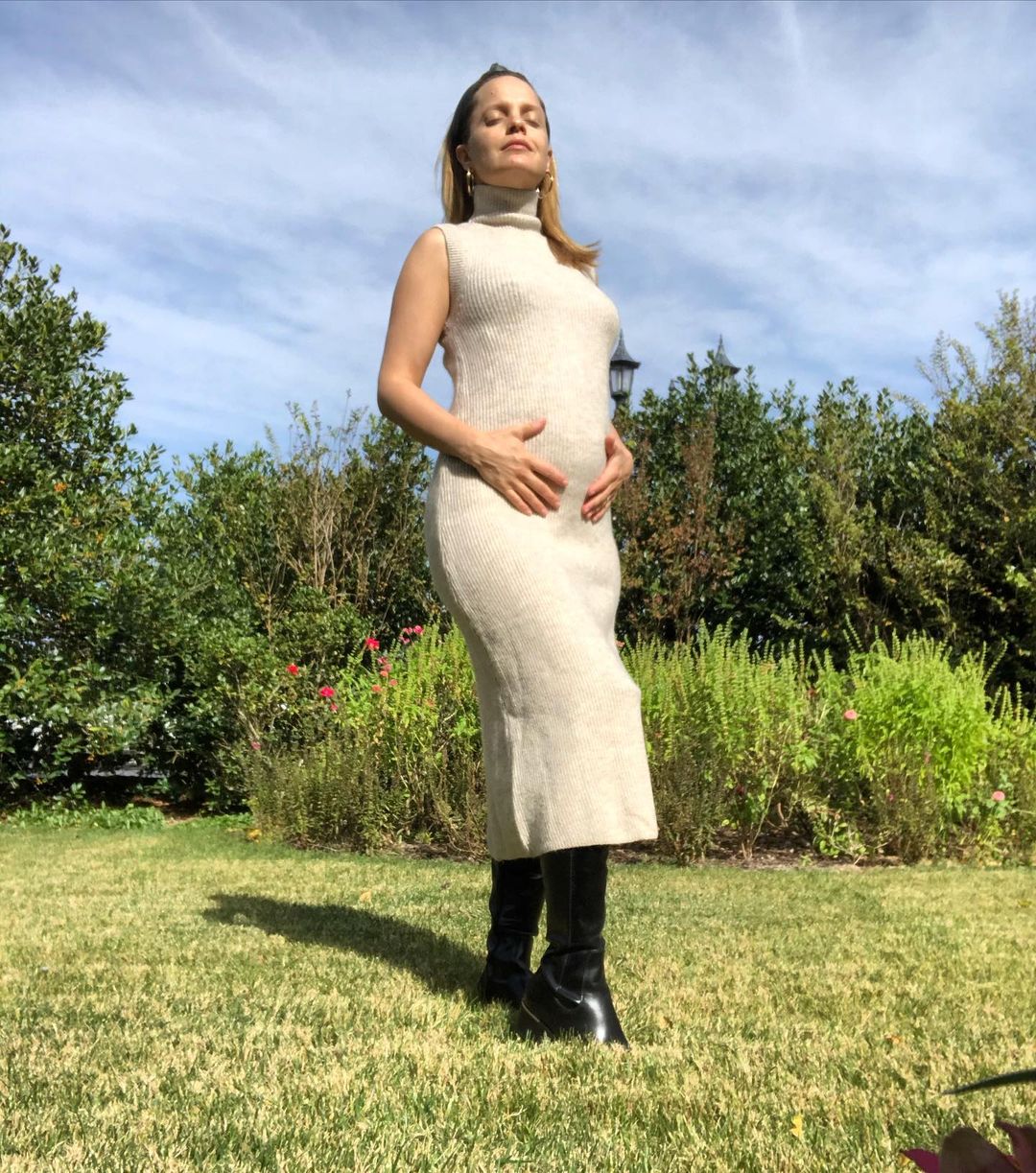 Mena Suvari is expecting her first child at 41 with her husband of two years, Michael Hope. I wanted to cover this because we rarely get the chance to talk about her. She was bigger earlier in my gossip career, in the mid-2000s. Mena just isn't a self-promoter or a hustler and she's content working steadily and doing her thing. She reminds me a little of Julia Stiles that way, they're both strong actresses who seem like decent people and aren't trying to be famous. They could be more popular if they were posting constant photos to Instagram or telling personal stories, but they rarely do that. In fact the last time we covered Mena was over two years ago! Meghan posted a photo showing her pregnancy in a cute sweater dress. She wrote a sweet caption to her baby boy and gave People an exclusive interview describing how hard she worked to get pregnant. She tried for months to conceive and when she let it go it finally happened for her. She's due this Spring. Here's what she wrote on Instagram and more from her interview with People:
The greatest, most precious gift has come our way. Through all the trauma, through all the struggle, through all the doubt, our little angel has chosen us. I will never have enough words to describe my love for this beautiful soul coming into our lives, but I wont ever stop trying to give him the best life possible. You're all I've ever wanted and the most important thing that will ever matter.
We love you, #BabyHope.
We welcome, honor, and cherish you.

---

On trying to get pregnant for a few months
"It's still this process for me of believing it and accepting that something this beautiful could happen for me," says Suvari, who will welcome her son next spring. "It's been a very emotional experience. It's very weird finding out — I was like, I can't believe it!"

"I've had to learn how to be a different way with my appetite and my sleep habits and not pushing myself, asking for help — all these things are hard for an independent woman!" the mom-to-be tells PEOPLE…

Earlier this year, Suvari and Hope decided to actively start trying for a baby — and what ensued was months of an emotional rollercoaster met with its fair share of disappointment.

"I was recording my temperature every morning and peeing on these ovulation sticks… You expect that it'll happen and it didn't. I got to this place where I felt overwhelmed and stressed out."

"I'm 41 and there's this air of like, I've got one foot in the grave and good luck," she says…

"I was like, I can't do this anymore. I'm so tired of stressing over this. I was trying to feel like if it's meant, it's meant," she adds. "I was being really open like the Aquarian that I am — if this is my path or not."

Suvari shifted her focus back to her work, traveling to Georgia in mid-July to film on location. It was there, she recalls, that she suddenly felt a sudden shift in her body.

"At first I thought I was having jet lag because I'm really sensitive," Suvari remembers. "By the end of July, I had a couple of other symptoms and I decided to take a test and there it was. It was a huge surprise, an absolute miracle!"

Suvari continues, "It was something that we've always wanted, but a couple months before, I had stopped calculating. I pulled back and let go, which apparently they say that that's when it happens."

She's doing a home birth with a midwife
"When I thought of what I wanted, [my midwife is] like the embodiment of Mother Earth. I was like, this is the vibe that I want," she says of having a natural birth plan. "I know none of these things we can control and so much of it changes. We'll find out what the real deal is, but that's my plan and I hope it can go that way."

"I'm still falling into that place and just feeling so honored that he came to us," she says. "It's all I ever wanted for years. Even before I met my husband, I always wanted a little boy and it just feels so beautiful and special."
She really laid out her journey for People and I'm impressed with how open and matter-of-fact she was about it. I can't imagine going through months of trying to get pregnant and my heart goes out to women who deal with that. I also like how she's spiritual about her baby and what she's gone through. That's who she is. Plus she's planning on a home birth but sounds realistic about it. Also at first I thought that she was naming the baby Hope and got confused that it's a boy! Then I realized it's her husband's last name so that makes sense. I predict a somewhat unique but not too weird baby name. Congratulations to Mena and Michael!
They're really cute together.