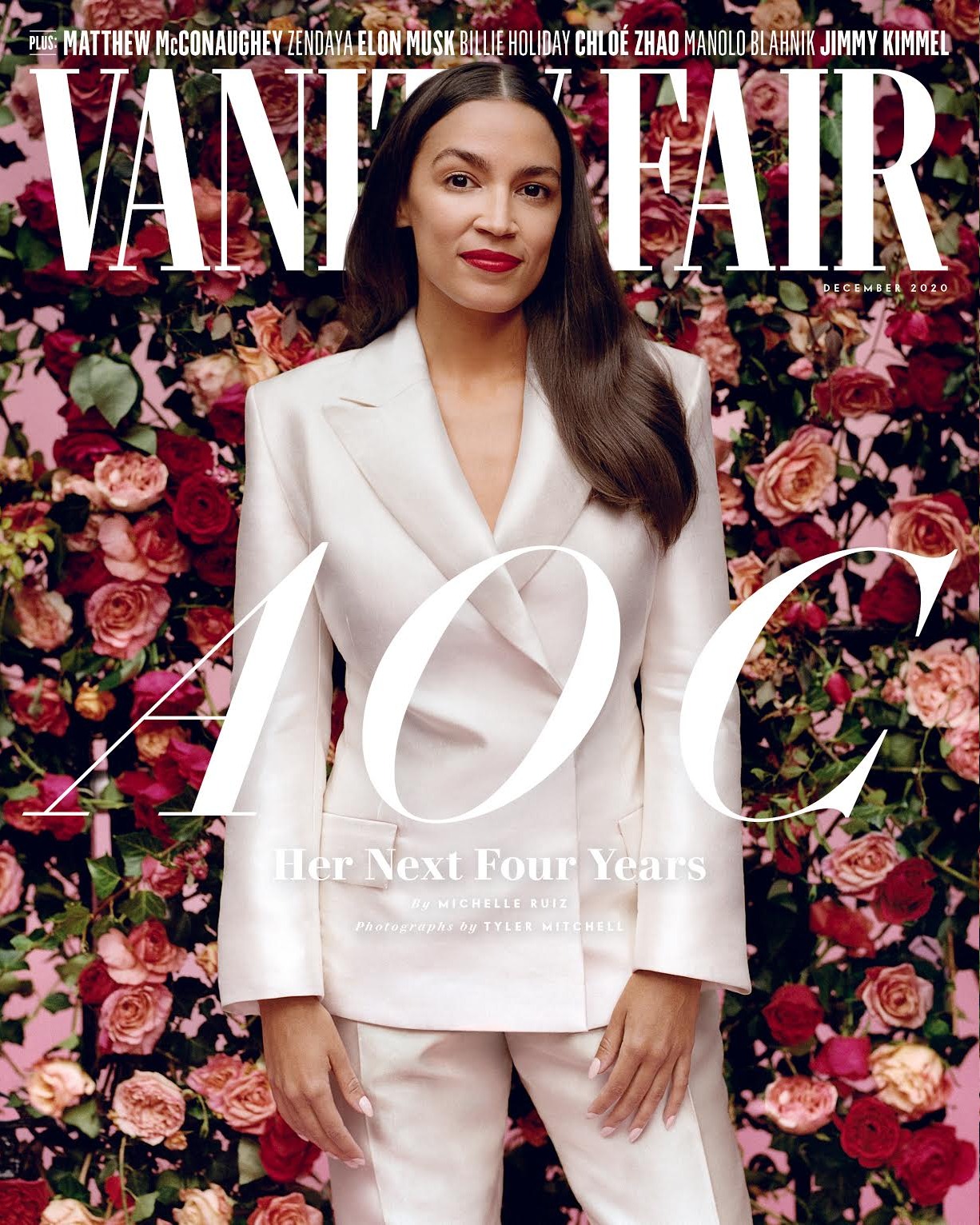 Alexandra Ocasio-Cortez covers the December issue of Vanity Fair. I worried that this would be another Beto O'Rourke-type cover, centering one Democrat as "the savior" or The One. There are shades of that, but mostly the Vanity Fair cover story is just like "this young woman is a seriously big deal, and she's going to continue to be a big deal for years to come." AOC isn't announcing anything, but she's not closing the door to future political opportunities either. The start of the VF piece is a lengthy discussion of the horrible incident between AOC and Rep. Yoho, who called her a "f–king bitch" on the steps of the Capitol and basically harassed and verbally abused a young Latina colleague.
Yoho jabbed his finger in her face, calling her "crazy" and "disgusting." She froze. The situation felt dangerous, with Yoho towering over Ocasio-Cortez, who calls herself "five-five on a good day." Congressman Roger Williams, a Texas Republican, bumbled next to him like a wind puppet at a used-car dealership. She told Yoho he was being rude and went into the Capitol to vote. As Yoho descended the steps, he called her a "f–king bitch." A reporter nearby witnessed the exchange, and soon the whole world had heard the epithet. This part hasn't been reported: The next day Ocasio-Cortez approached Yoho and told him, "You do that to me again, I won't be so nice next time." She felt his actions had violated a boundary, stepping "into the zone of harassment, discrimination." His mocking response, straight out of Veep: "Oh, boo-hoo."

The speech: Forty-eight hours later, Ocasio-Cortez delivered one of the most eloquent dunks in political history, a "thank u, next" for the C-SPAN set, taking on not just Yoho but the patriarchy itself. She took care to enter "f–king bitch" into the Congressional Record. "I want to thank him for showing the world that you can be a powerful man and accost women," she told the House. "It happens every day in this country." And the line that spawned headlines, T-shirts, hashtags, and memes: "I am someone's daughter too."

She doesn't have beef with Nancy Pelosi. "Two powerful women coming from different perspectives and there has to be a catfight." Still, "House leadership is, sometimes, a little wary of me speaking on the floor. Not that I'm not allowed to, but it's a little more dicey. I think a lot of people, including my Democratic colleagues, believe the Fox News version of me."

The way the GOP targets her: "It's very dehumanizing in both ways, strangely, both the negative and the positive. It's not an accident that, every cycle, the boogeyman of the Democrats is a woman. A couple of cycles ago, it was Pelosi. Then it was Hillary, and now it's me." The death threats seem to spike in concert with Fox News rhetoric. "I used to wake up in the morning and literally get a stack of pictures that were forwarded by Capitol police or FBI. Like, 'These are the people who want to kill you today.' There have been many times, especially in the first six months, where I felt like I couldn't do this, like I didn't know if I was going to be able to run for reelection. There was a time where the volume of threats had gotten so high that I didn't even know if I was going to live to my next term."

Aspirations beyond Congress? "I think it's part of our cultural understanding of politics, where—if you think someone is great, you automatically think they should be president. I joke. I'm like, 'Is Congress not good enough?'  I don't know if I'm really going to be staying in the House forever, or if I do stay in the House, what that would look like. I don't see myself really staying where I'm at for the rest of my life. I don't want to aspire to a quote-unquote higher position just for the sake of that title or just for the sake of having a different or higher position. I truly make an assessment to see if I can be more effective. And so, you know, I don't know if I could necessarily be more effective in an administration, but, for me that's always what the question comes down to… I don't want to be a savior, I want to be a mirror."

Trying to keep it cute, fashion-wise: "It's legitimately hard being a first-generation woman…and being working class, trying to navigate a professional environment. It continues to take me so long to try to figure out how to look put-together without having a huge designer closet." AOC is the perhaps the only member of Congress who moonlights as a beauty influencer: Sharing her go-to red gloss—Stila's Stay All Day Liquid in Beso—translated to a sales spike. "Every time I go on TV, people ask for my lipstick."

On raising taxes: "These are the same people saying that we can't have tuition-free public colleges because there's no money, when these motherf—ers are only paying $750 a year in taxes."

On Mitch McConnell: "Trump is the racist visionary but McConnell gets the job done. He doesn't do anything without Trump's blessing. Trump says, 'Jump.' McConnell says, 'How high?' Trump never does what McConnell says."
There was a lengthy section about what AOC has had to deal with from the beginning, from all of the wingnuts and violent Nazis and assorted heavily armed nutcases, all of whom were just waiting to be "incited" by Trump and Fox News. It's really terrifying and I hope that she has tons of security, because she 100% needs it. As for AOC's political future… I honestly can't see her in a Biden administration or a Harris administration. I don't think she should jump to running for president either. She should stay in the House for a few more terms, and then if Gillibrand or Schumer ever retire, she should run for that Senate seat. And then on and on.
Cover & IG courtesy of Vanity Fair.