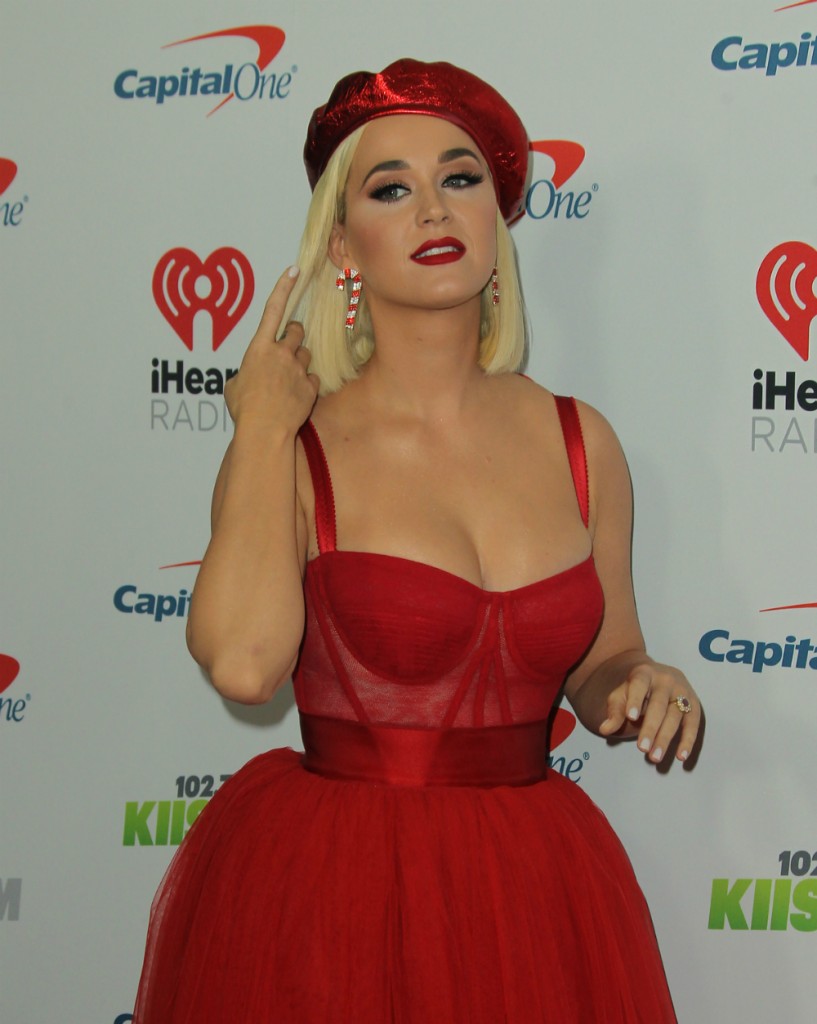 Since we aren't going to have many Halloween costumes to discuss this year, we're going to have to improvise folks. Fortunately, Katy Perry has swooped to the rescue. Throughout her pregnancy, Katy sported a variety of large costumes for various appearances. I'm not talking about the random onesies she's prone to put on, I mean new foam creations made exclusive for her quarantine antics. I suppose we could've asked, "Why is Katy dressed as a roll of toilet paper to promote American Idol?" but isn't the real question, "where did Katy get her Roll of Toilet Paper costume?!" Buzzfeed broke this investigation wide open so let's dig even deeper because truly, all signs point to: Katy Perry has a secret foam person who's sole job is to create masterpieces for the Pop Royalty when her whims demand it. To really look into this, we need to reach back far, before quarantine before COVID – to the Met Slider look:
Obviously, this is a custom look – it's the Met Gala. No one's hitting up Party City for Anna Wintour's shindig even if it is a camp theme. And you can tell, the works good. Each piece was made independently and sewn together, possible bespoke because, who wouldn't want Bedazzled Big Mac on their CV? While I give high marks for the custom crystal sneakers, my one quibble is the mesh hat, nobody's sticking a silver olive in a slider. However, she does earn back recycling points for using it in Taylor Swift's You Need to Calm Down video.
Next up is the aforementioned roll of toilet paper:
This was posted in May, two months into quarantine when toilet paper was still in demand and selling for more than this costume cost on Amazon. Obviously, it's custom because it has "AI" painted on it. I appreciate the detailing of the single sheet flap in the back, it falls beautifully. I understand moving the head opening forward of the painted cardboard roll but honestly, it's a giant foam roll of toilet paper, she didn't have to bake bread – keep the head in the natural hole. Also, if we're nitpicking, the "quilting" should have been embossed or, since it's Katy, outlined in crystals. But the one inexcusable element is the back seam (visible when she leaves her kitchen in the video). It's probably how she gets in and out but could have easily been covered by the sheet flap on the side.
Next up is Katy's Hand Sanitizer bottle from April:
It's cute, simple. I'm not sure what Music Sanitizer is? AI airs on ABC, you can't get much more sanitized than that. I have no complaints about this one and Katy was able to work in a PSA about washing hands. Plus, extra points for this looking like the most comfortable to move around in.
Katy appeared next in a Mrs. Jumbo (Dumbo's mom) costume with her pup Nugget dressed in a matching Dumbo costume:
As far as I could find, this, too, was made just for Katy and, I believe, Nugget. Can we all take a moment with Nugget swimming in that Dumbo costume? I'm going to pin that to my wall so that when I am breathing into a bag trying to manage my anxiety over the election, Dumbo Nugget will be my happy place. Of the costumes so far, this is my favorite. That's shouldn't be too surprising, Disney probably made it.
Then Katy went off and had her daughter Daisy and her foam person was allowed a stay-at-home vacation. But Wednesday, they were hauled off the couch for an emergency costume. This one, however, would prove to be their most important costume yet:
Correction – this is my favorite of Katy's costumes, no contest. And, we should ALL have one.
So, which is your favorite (can't vote for Nugget because obviously she wins everything) and if you had a foam person at your disposal, what would you have them whip you up for this Halloween?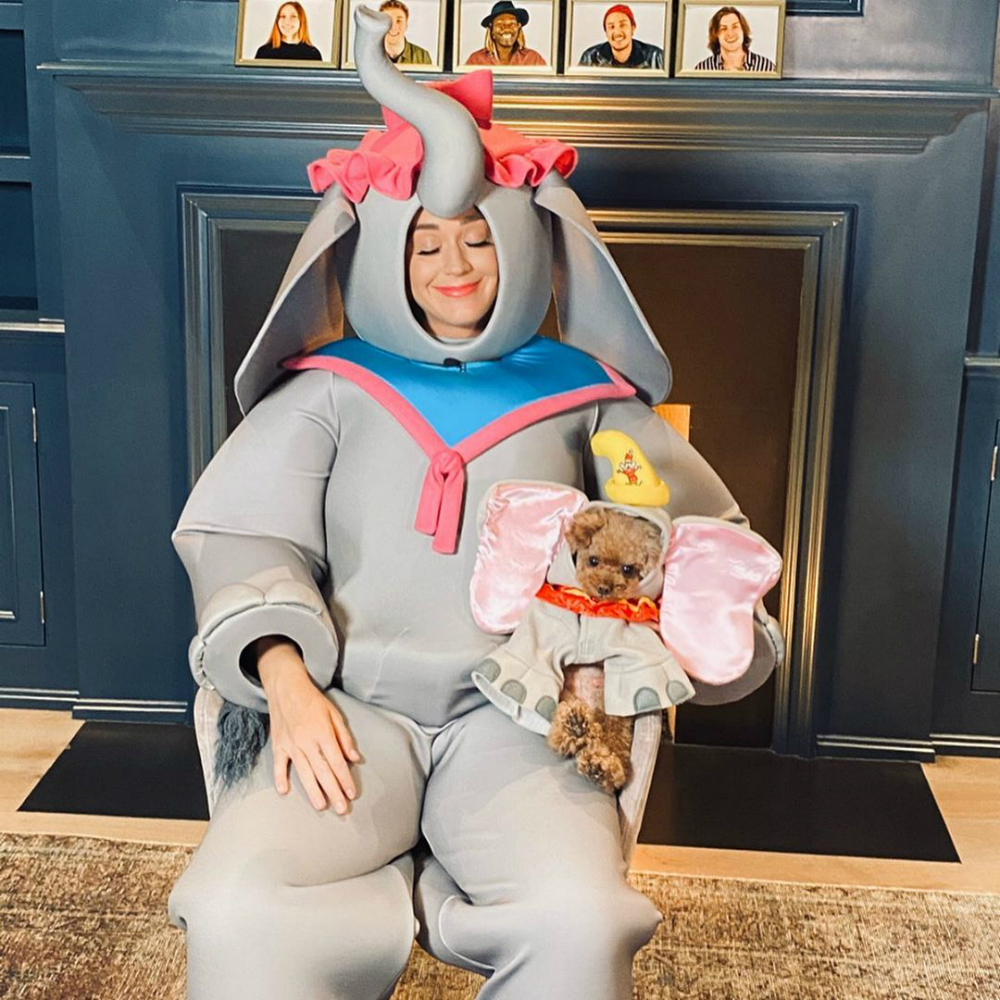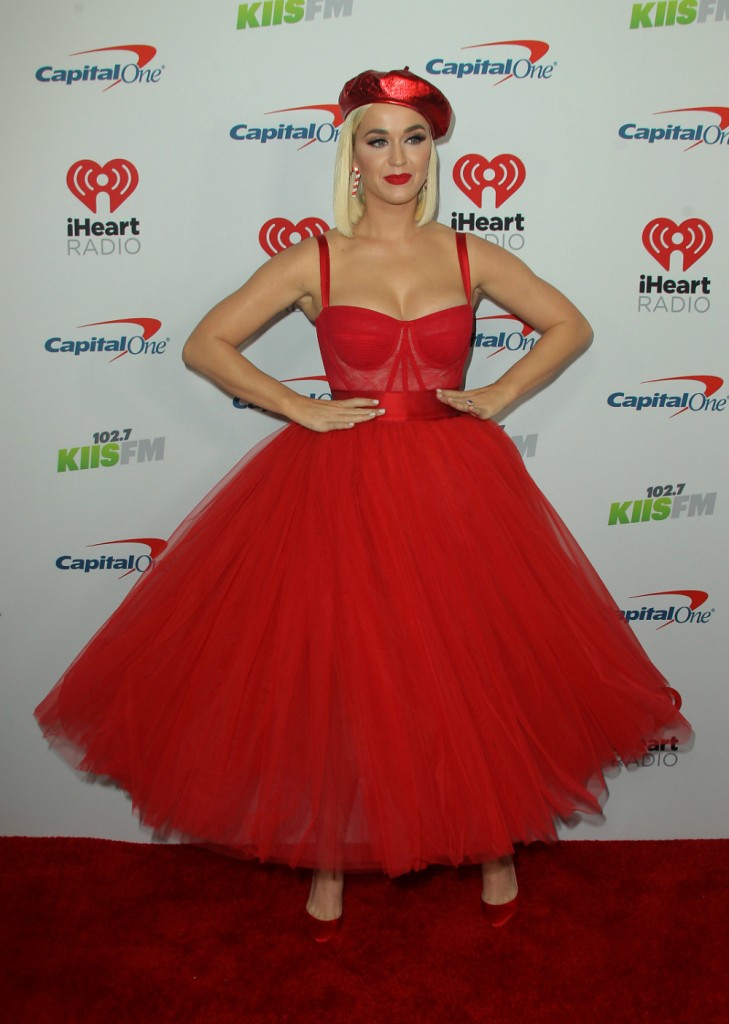 Photo credit: WENN/Avalon, Getty Images and Instagram