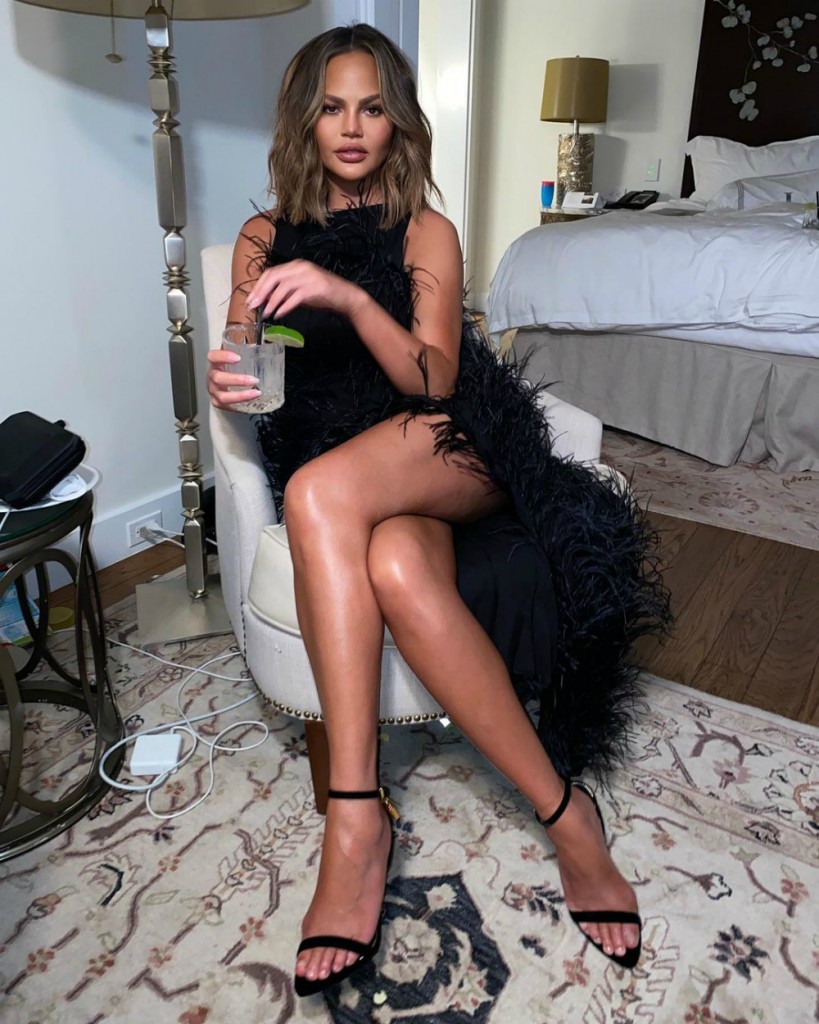 Chrissy Teigen is slowly getting back on her feet after the incredible loss of her son, Jack last month. She and husband John Legend lost the baby at 20 weeks due to a partial placenta abruption. She recently wrote and made public an essay in which she detailed the events and emotions involved with her very difficult journey. In that essay, Chrissy said they are waiting to bury Jack's ash's until they move into their new home, where they will plant a tree specifically for Jack. That's a lovely way to remember him. In addition, Chrissy showed off another tribute she got to memorialize Jack, a new tattoo on her wrist. On Sunday she posted these photos to Twitter:
— chrissy teigen (@chrissyteigen) November 1, 2020
Man, she looks amazing in that top pic, doesn't she? Chrissy has a tattoo that reads, "John Luna Miles" written lengthwise on her forearm, you can see part of it in the hands photo. John got the same tattoo on his wrist. I found this quite touching. Tattoos are so personal anyway, I can only imagine how much this one means. It's only been a month, this poor family.
Chrissy's friend have been supporting her throughout this ordeal. She mentioned in her essay how much they've been there in both thought and with a shoulder to lean on. On Saturday, her friend Kim Kyees organized a blood drive to get seven bags of blood donated in Chrissy's name because seven was the number of bags they used to fight for Jack. I am a huge advocate of giving back in blood donations, so this particular story really moved me. My mother's blood type is AB negative and none of her family is (it's a medical anomaly considering we were all born prior to in-utero transfusions). I always feel guilty when she goes in for surgery and I can't donate anything for it. So we donate in her name all the time. This was a truly lovely gesture of Chrissy's friends and literally an act of healing to give Chrissy a little piece of comfort. I'm so choked up by this, I don't really know what to say. I wonder if I could get a group of friends to do a blood drive for one of my birthdays or some other big event. Anyway, bravo to Chrissy's friends. I'm glad to know she and John have such a caring group of people looking out for them.
Photo credit: Instagram and Twitter