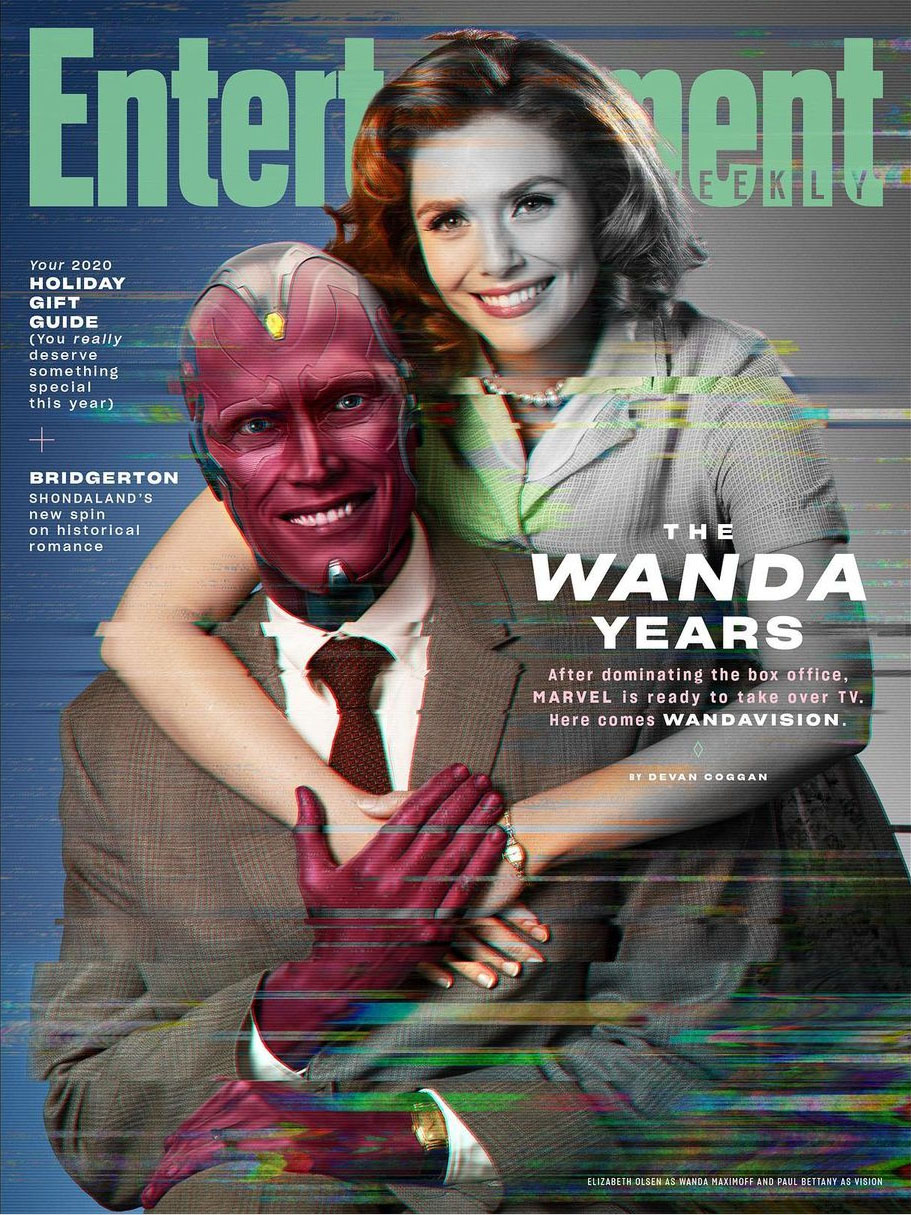 2020 was supposed to see the release of the Marvelverse's Phase IV films and shows. This was going to be jumpstarted with the Black Widow film starring Scarlett Johansson and The Winter Soldier and Falcon series on Disney+. However, due to COVID and the subsequent shutting down of movie theaters and sets, Phase IV has been put on hold. Until now.
According to a profile on Entertainment Weekly, Phase IV is finally launching with the Disney+ miniseries, WandaVision. WandaVision takes place after Endgame and chronicles the life of Elizabeth Olsen's Scarlet Witch and Paul Bettany's Vision who are now a married couple. Creators decided to take a trip down memory lane. Each episode, which were all taped live, will replicate an era of sitcom beginning with the 50s through to the 90s. The show adds two new characters with Teyonah Parris's grown up Monica Rambeau, the first Captain Marvel before Carol Danvers, and Kathryn Hahn's Agnes, Wanda and Vision's busy body neighbor. Below is more on the series:
Crew members came to set in '50s-era clothing, and used period lenses and lighting to capture that dreamy vintage glow. The special-effects team employed wires and camera tricks straight from Bewitched or I Dream of Jeannie, making wine bottles appear to pour on their own and household appliances zoom about like magic. And when Vision's familiar maroon skin didn't look quite right in grayscale, the makeup artists painted Bettany blue instead.

Bettany and Olsen rehearsed their entrances and exits as if putting on a play, and at first, they say the notion of live performance terrified them more than any Marvel supervillain. But by the time they secured their first audience chuckle, the pair realized they might have missed their calling as sitcom stars. "It was insanity," Olsen, 31, says with a laugh. "There was something very meta for my own life because I would visit those tapings as a kid, where my sisters were working [on Full House]."

"The show is a love letter to the golden age of television," explains WandaVision head writer Jac Schaeffer. "We're paying tribute and honoring all of these incredible shows and people who came before us, [but] we're also trying to blaze new territory."

Feige tapped Schaeffer (who worked on Black Widow and Captain Marvel) to serve as head writer, Mary Livanos as coexecutive producer, and Matt Shakman as director. (Shakman's involvement added a meta layer: In addition to directing shows like Game of Thrones and Fargo, he was a child actor on the Growing Pains spin-off Just the Ten of Us.) Together, they sought to nail down WandaVision's irreverent tone. Just as Vision himself is an odd amalgamation of both the homicidal robot Ultron and Tony Stark's wisecracking computer J.A.R.V.I.S., so too is WandaVision a mash-up, marrying epic superhero action with small-town sitcom silliness.

Set after Endgame, the series starts with the married witch and android living in the idyllic town of Westview. "We find Wanda and Vision living a blissful suburban existence, trying to keep their powers under wraps," Schaeffer teases. (A show about escaping into the soothing world of television seems particularly, uh, timely in 2020.) But as the newlyweds cycle through the decades — and the familiar TV tropes — they realize their white-picket-fence life may not be as gleamingly picture-perfect as it seems.

Even with all the sitcom shenanigans, the series remains grounded in Wanda and Vision's tender romance. "They've had a long and gentle love affair, right?" Bettany says. "It's a pretty quirky relationship. She's a witch, he's a robot. Or artificial person, or synthezoid, or whatever your preferred name tag."
I am so looking forward to this series as I felt we Marvel-geeks were robbed when [spoiler alert for movies you've already seen] we lost Vision in Infinity War and Endgame. Vision and Wanda's romance was completely unexpected for me but I loved their chemistry. I think Paul and Elizabeth have a special connection that comes through. It was super cute how Paul and Elizabeth said their first fight was over who was snotting on the other in a kissing scene.
I was looking forward to the Black Widow movie but I don't mind waiting until I can see it in the theaters. Unfortunately, I don't think 'Rona is going to let up enough for us to get the full scale Marvel movies for at least another year. As Black Panther 2 is hanging in the air due to the death of Chadwick Boseman, I think kicking off Phase VI with WandaVision is quite shrewd. I like that they're doing a deeper exploration of Scarlet Witch and Vision's relationship. It's savvy to conceptualize the show as a miniseries as well. I like the concept as I am a huge fan of sitcoms dating back to I Love Lucy. In fact, I stopped watching sitcoms in the late 90s so this is right up my alley. It would have been great to be in the live audience!
Here's the interview: