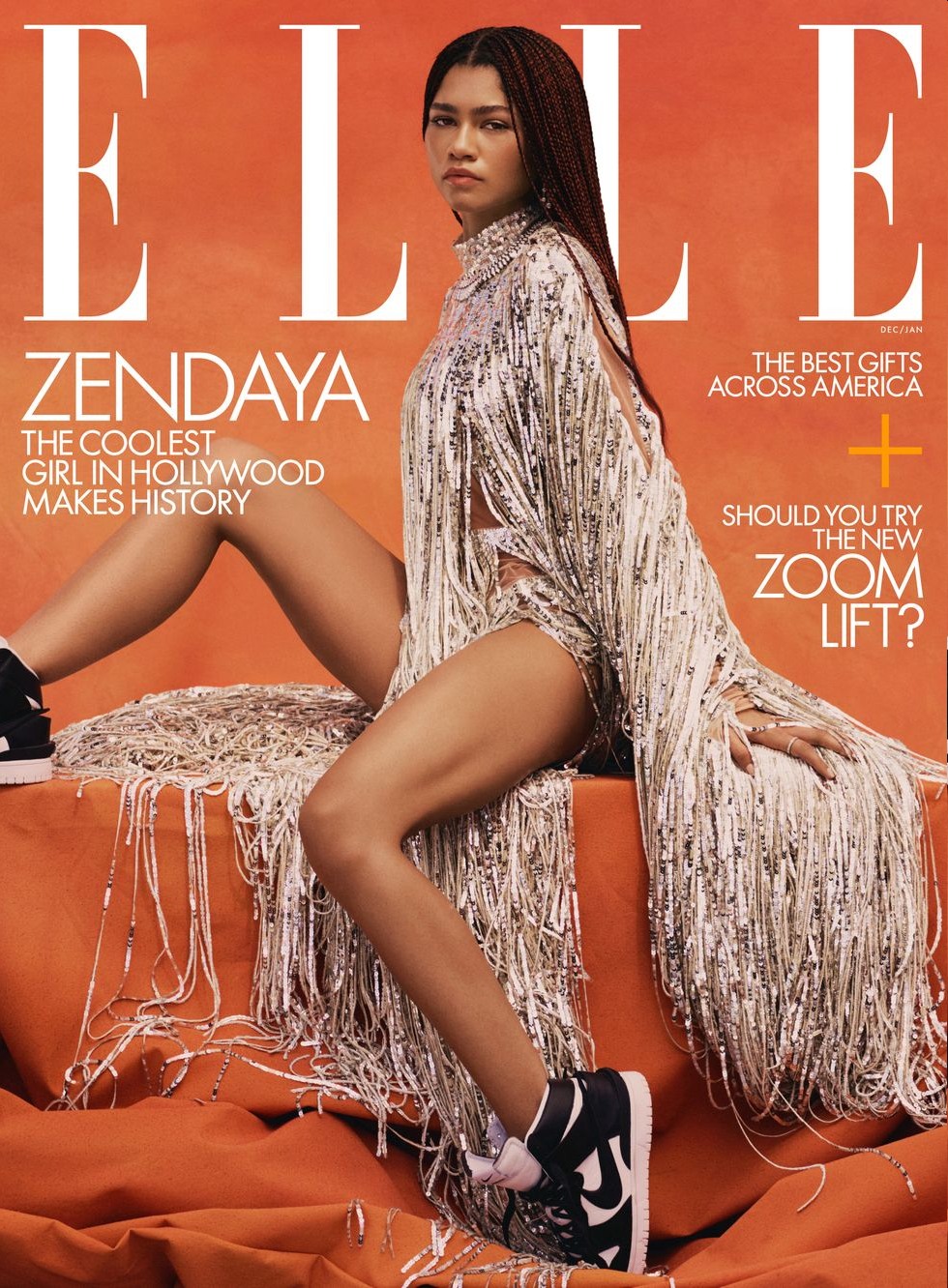 Zendaya covers the latest issue of Elle to promote Dune. The interview was conducted by her Dune costar Timothee Chalamet, in what I assume will be another movement to create Timdaya, the couple we desperately need. Timothee and Lily-Rose Depp broke up at some point, I'm pretty sure, but I have no idea what's going on in Zendaya's love life at the moment. She always seems to have admirers and beaus. Timmy seemed very jazzed about getting to do the interview, for whatever that's worth. Timdaya 4 Eva!!! You can read the full piece here. Some highlights:
The virtual Emmys: "There were these people in hazmat suits that went around to all the nominees' houses with awards. So basically if you won, you'd grab it quickly from them and have it. If you didn't win, they'd just take it with them and leave… Yeah. I got to keep mine. [My assistant] Darnell [Appling] was actually the one who handed it to me.

Her Emmy win was full of love, surrounded by family & friends: "It absolutely was. Everybody was there and screaming, as my family does! We are a very loud family, and I was worried that they were going to be screaming for too long. And the little clock would start ticking, and I'd be like, "Ah, thank you." And then it would be over.

She quite liked doing the Emmys at home: "I got to feel all fancy and put on this beautiful custom [Armani Privé] gown and do my hair and makeup and then just be with my family in the living room, which was actually quite nice. it was great. And we got to take pictures in the house, so I knew I would be happy with them. There was none of the usual "Ah, I hate that picture" that is suddenly circulating everywhere. So it wasn't bad. It actually worked really smoothly the way they virtually transitioned people over to different media outlets. They really had it all figured out.

She wants the youths to have hope: "Well, my intention there was really just to be honest, because it feels like a very hopeless time, specifically in this country. I know a lot of my peers feel enraged and exhausted and tired of living and growing up in a system that feels like it wasn't built for us. At this moment in time, it is hard to find joy and beauty in things, and I really think that is important. Right now, we as Black people need to embrace joy and not let it be taken away from us.

What she's looking forward to doing once the pandemic is over: "I don't know—I think that things are going to stay different for quite a long time. We're probably going to have a new normal to keep people safe and healthy, which I'm totally down for. I mean, I love traveling. I don't feel super-safe traveling all over the place quite yet, but I can't wait to get back to it. I love being able to visit different places. I think that's one of the beautiful parts of our job. Anytime I go on either a press tour or travel for work, which is really the main reason why I travel, I try to find as many museums and educational tours as I can. Some people think it's boring, but I absolutely love it. You get all this information, and you go home and you start telling people random things like, "Did you know that this was built and…." I just love having random facts. So, yeah, I miss traveling for sure. Luckily I've been able to work, so I'm grateful for that, being able to work safely. I do miss being able to actually go to the movies. But you know what? All of that can wait.
I have something to confess… but is anyone else just feeling sort of okay with all of the pandemic restrictions and all of that? There have been moments or weeks when I felt a little stir-crazy, and there are legitimately some things I miss (seeing my mom and going to restaurants), but pandemic life suits me fine, in general. I think that's what Zendaya is kind of saying too – she doesn't believe that "normal" will be happening any time soon, and she's fine with that. She also seemed to kind of shrug when Timothee suggested that virtual awards shows (like the Emmys) will be the norm for a while. I definitely think… that's a real possibility. The awards season has needed a shake-up for a while, honestly.
Cover & IG courtesy of Elle.