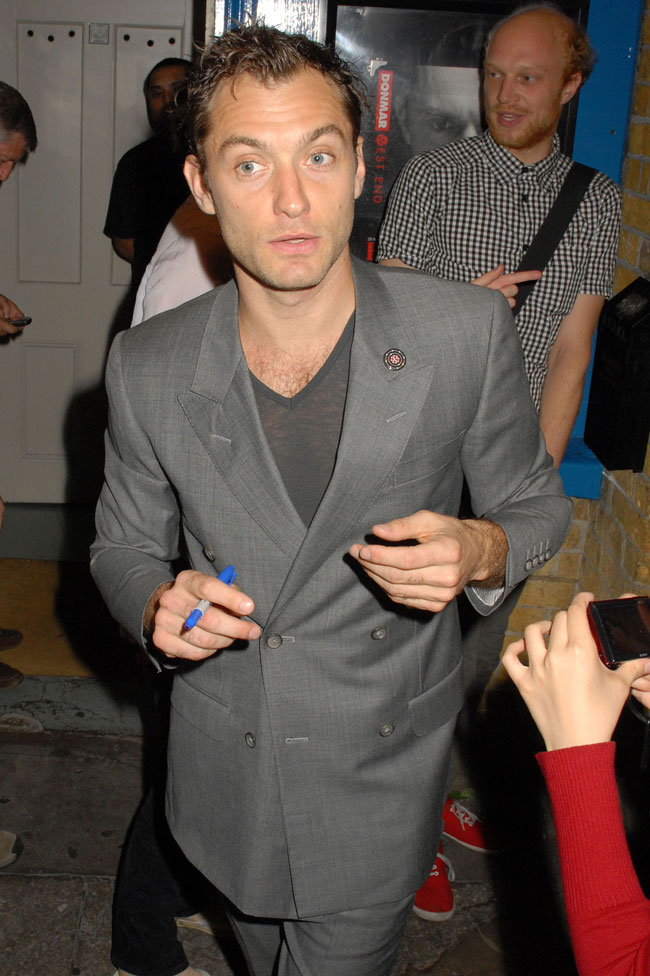 Jude Law wins my prize for Most Self-Defeating Celebrity of the Year. I love him dearly, but my guy needs to keep it in his pants – or at the very least, buy condoms in bulk and actually use them. So his soon-to-be baby-mama, Samantha Burke, is most likely trying to get famous from her relationship with Jude Law. She had been blogging about her pregnancy, and she had even sent out some crazy, sexy cell phone pics of her "modeling" her bump in skimpy panties, using what looked like her parents' back porch as a backdrop. Hot.
Although Samantha denies the "golddigger" label on her blog, I'm pretty sure that Jude is going to be paying for the this baby for a long, long time. Meanwhile, some sources have told the press that Jude didn't even remember having the baby-making sex with Samantha – apparently, he was very ill at the time, and Samantha was acting like his sexy wet-nurse or something. Anyway, his swimmers found their way, and now Samantha's due date is coming at a very inopportune time – the night Jude's Broadway play opens:
Jude Law's baby mama, Samantha Burke, says she's "excited but a little anxious" with only a month to go until her baby is born. The model/actress wrote on her blog, "There is still so much to do to get ready."

But Samantha — who promised her fans regular updates on her pregnancy — says she'll now keep quiet until the birth. She added, "I'm going to sign off from this blog for now. Be sure to check back with me after Sophia arrives. I can't wait!"

Baby Law looks certain to overshadow Jude's other big production, "Hamlet," which opens on Broadway Oct. 6 — the same day Sophia is due.
[From Page Six]
Chances are that Jude will not be around the Florida hospital room when Samantha delivers. Guess he'll just send the check, then. Meanwhile, the Hamlet publicity machine is gearing up, and there was this nice little interview with Jude in the New York Times last week. I read the whole damn thing, and it only mentioned the baby drama at the very end with this:
Mr. Law is a regular presence in tabloid gossip columns. His divorce from the mother of his three children and his relationship with the actress Sienna Miller were both highly public. He has been in the news again lately, with the disclosure that a young woman with whom he had a one-night stand is pregnant, apparently with his child.

As a result interviewers are under strict instructions not to bring up anything remotely personal. Not that you would really want to; the character Mr. Law is playing seems to have enough on his plate right now.

And Mr. Law is not interested in public self-analysis. For a moment, in his dressing room in London, he came close, when he was discussing how actors internalize Hamlet by approaching the role through the prisms of their own personalities. In his case he embraces Hamlet's mercurial nature, he said, more than the character's melancholy.

"I'm probably much closer to Hamlet than you realize, but it's not something I want to go into too much, or talk about," he said. "But rather than having just his lows, where he goes down and stays there, I go up and down more. Perhaps that's my reveal of myself. I quite like to shave off feelings, when they're not too constructive, and physicalize them. I don't want to sit and brood."

After doing many movies in recent years, Mr. Law is taking a break. "To be honest, I don't know what I'll do after this," he said. "I have no films planned. I haven't been hugely inspired by what's come my way in the film industry lately, and this has opened up my eyes to how great roles can be, and how great acting can be."
[From the New York Times]
Did Hamlet have baby-mama drama with Ophelia? Is that what I'm getting? Did Ophelia send her nudie cell phone pictures to Us Weekly? Did Gertrude remind her son about the child support payments? Did Hamlet bang the first random waitress/model that offered to wipe his nose? Ah… I jest. I would love to see Jude's Hamlet, I bet it's very good. And God knows that if I went backstage to tell him how much I liked the play, I would end up pregnant. This is why I love Jude.
Jude Law is shown in the header on 8/23/09. Credit: WENN.com