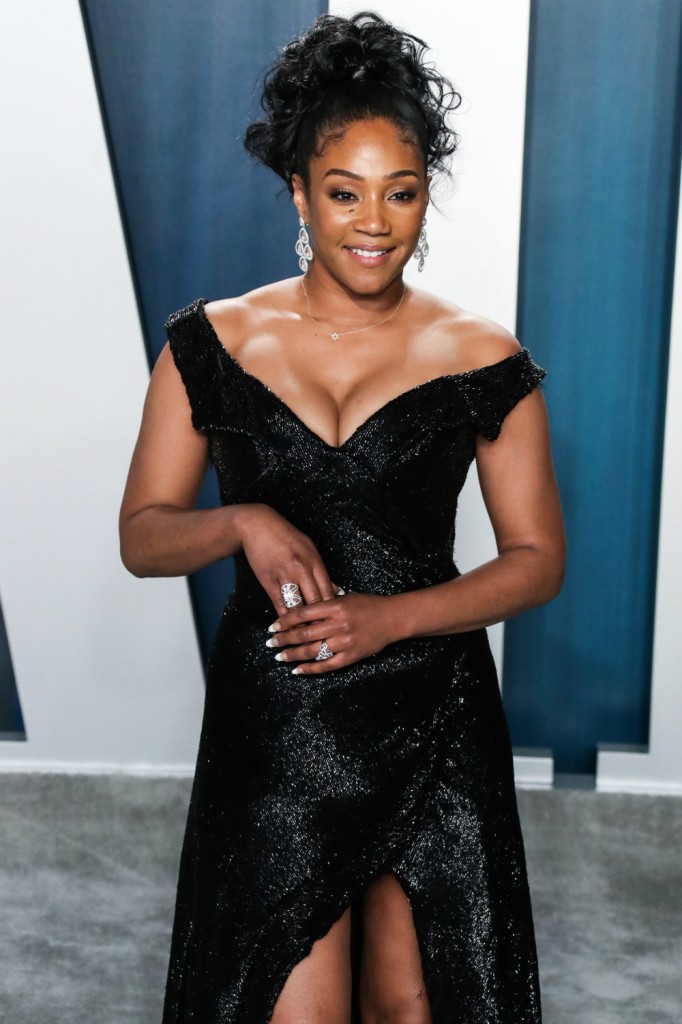 Earlier this week, Tiffany Haddish gave an exclusive interview to Variety in which she said that she'd turned down hosting next January's Premiere Ceremony that's live-streamed before the Grammys. Tiffany said it would have cost her to do so. The Premiere Ceremony is hosted by the Recording Academy, which is a not-for-profit organization, so the hosts and performers usually perform without fee. But Tiffany said she was also told they would not pick up the cost of her wardrobe, hair, makeup and transportation, which would all have to come out of her pocket. She said she brought it up because she was worried about how many other artists were being asked to front these same costs.
Since the interview was published, the Recording Academy personally and publicly apologized to Tiffany. The interim president, Harvey Mason Jr., said he was unaware Tiffany had been told she'd have to pay for her own beauty team and reached out to her.
After actor Tiffany Haddish told Variety that she had been invited to host the Grammy Awards Premiere ceremony but turned down the offer after being told that she would have to pay her own way, Recording Academy interim chief Harvey Mason, jr. posted a public apology on social media, and said that he had apologized to her personally as well. Mason, who took the job on an interim basis last January, said that he had been unaware of the offer and the conversation.

"It's just been brought to my attention that the Recording Academy invited Tiffany Haddish to host this year's Premiere ceremony," a tired-looking Mason said in an Instagram message posted in the wee hours of Thursday morning. "Unfortunately and without my knowing, the talent booker working for the Academy told Ms. Haddish that we wouldn't even cover her costs while she hosted this event for us.

"To me that was wrong," he continued. "I'm frustrated by that decision. It was a lapse in judgment, it was in poor taste, and it was disrespectful to the creative community — I'm part of the creative community and I know what that feels like, and it's not right," added Mason, who is a veteran songwriter, producer and musician.

"Thankfully, Ms. Haddish was gracious enough to allow me to have a conversation with her. I apologized to her personally, I apologized from the Academy, and I expressed to her my regret and my displeasure about how this went down and how it was handled. And I will say," he concluded, "Tiffany, we are sorry and thank you for allowing me to speak on it."
I looked up past Premiere Ceremony hosts and they include Shaggy, Margaret Cho and Paul Schaffer. Imogen Heap did this year's, so they do attract notable names, all whom host without pay. Tiffany is nominated for her second Grammy, Black Mitzvah, and she does a good job as host, she was a great choice for the role. It is perfectly possible that some newbie talent booker messed up and conveyed the wrong information. A talent booker will definitely be given the blame and losing their job over this, that's for sure, I just don't know if they actually deserve it. I've never worked with something as high-profile as The Grammys but when I did events, even if we used a booker, we had a copy of the talent's contract before it was signed. I'm surprised this slipped by.
A few outlets reporting this story noted how tired Harvey looked in his public video apology to Tiffany. This is the same guy that had to respond to The Weeknd's claims of corruption in the nominating process. Harvey better get a bigger extinguisher, because it looks like he'll spend his entire tenure as interim president putting out fires.
Photo credit: Avalon and Getty Images