Embed from Getty Images
Every time I go out I think about the fact that real life is now scarier and messier than a dystopian/apocalyptic show, and I've watched many. Here's a story that reminds me of one in particular. A man died of covid midway through a flight – from Florida, of course. He is said to have had symptoms before getting on the plane, which did not conduct temperature checks. Medics tried in vain to revive him. The plane was headed to Los Angeles, but it was diverted to New Orleans to remove him. After that the passengers continued to their destination, on the same plane. Instead of getting it fogged or putting everyone on a different, presumably cleaner plane, they just used wet wipes and continued.
We know about this because one of the passengers, who goes by Beige Oppressor, tweeted about it. Two other passengers have tweeted about it too. This is unconfirmed and she didn't say what airline it was, although she retweeted a guess that it was a United Airlines flight headed to LA. This is not the first case of someone dying of covid mid flight.
The tweets are a whole journey. She said she's certain that the passenger who died had covid because his wife told medics. I wanted to yell in all caps that someone who is covid positive is not supposed to fly but I'm too tired to bother. Of course someone did that. Two people got busted for it, but how many have gotten away with it? Here are some of her tweets, thanks to Just Jared for featuring this. Update 12/17: The author has deleted the tweets. Here are screenshots of those instead: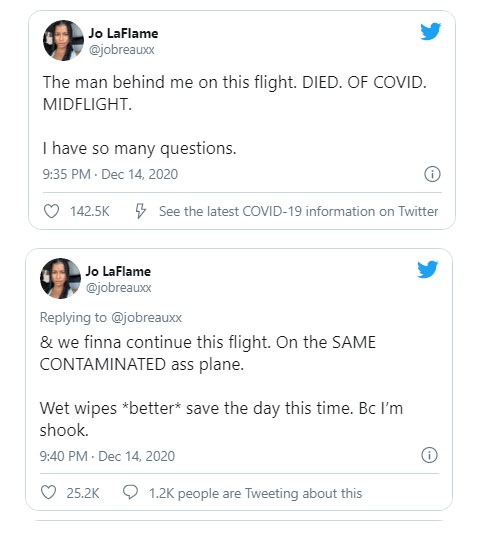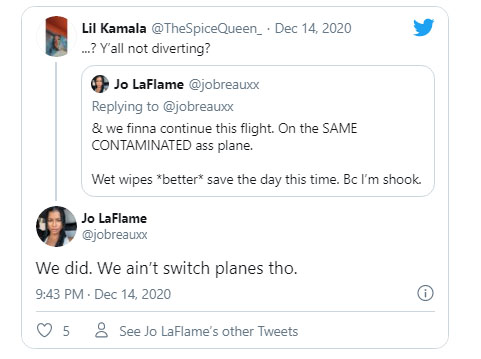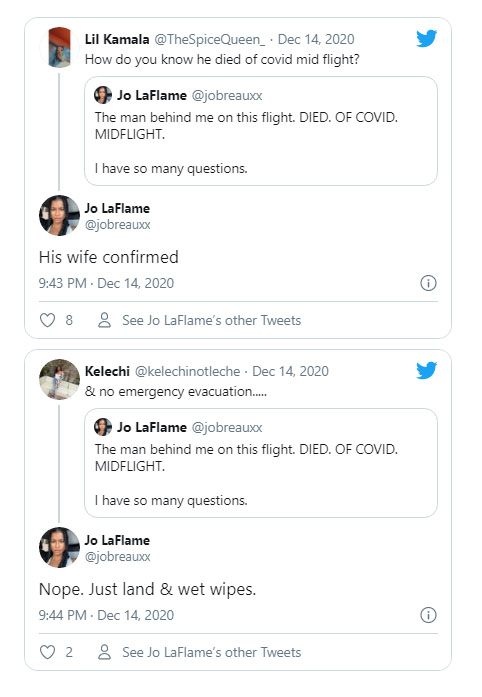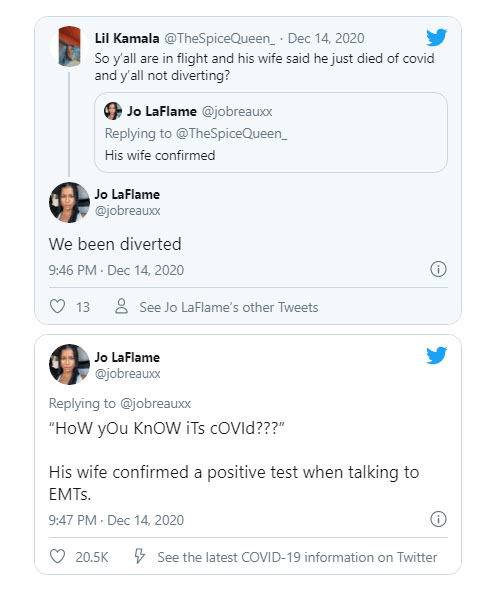 The woman who tweeted this is hilarious, although she understands how grave this us and has tweeted about that too. She defended her decision to fly and retweeted funny responses, like this one.
at first i thought they were flirting and i was like, aww

and then i was like no they just predicted the other person's DEATH 💀

— that's Dr. Jew to you ✡️ (@PhD_femme) December 15, 2020
I guess we can find some humor in this very dark time. I keep trying to think "it's ok, we're getting a vaccine, it will be over soon," but I still see maskless people inside and you know people are going to be getting sick and dying of covid for years. Nothing will ever be the same. There are so many anti-vaxxers and anti-maskers in our messed up country and around the world. This just gave me another reason to hate flying once we're able to do it again. They should absolutely not allow people over 18 to fly unless they show proof of being vaccinated.
Here's a confirmation from another person on the same flight. There are more tweets where she elaborated. The man was given mouth-to-mouth because medics didn't realize that there was a medical kit on board with a bag that they could use. People are dying to go to Disneyworld.
Some guy literally died on my plane coming back from Disneyworld, nurse who worked on him during the flight trying to revive him said it was covid related. Family got on the flight with him showing major covid symptoms..and we didn't change planes even after he passed..

— Shay (@shaylabobmonsta) December 15, 2020
But the medical personnel who helped him on the flight tried to revive him for an hour…the family was crying, people were freaking out. He was shocked twice, given an epi-pen, 2 shots of adrenaline and mouth to mouth after chest compressions…

— Shay (@shaylabobmonsta) December 15, 2020
And yet another person on the flight:
My family was on that flight and we're very concerned about exposure. Unfortunately I had a front row seat to all this as we were 2 rows behind this man. The wife did say that he was experiencing shortness of breath and lack of taste and smell.

— Robert Reeves (@reevesreel) December 16, 2020
Not a word from the airline yet. I'm surprised the flight attendants didn't have any instructions for us before we got off. They did offer some kind of financial compensation for the people directly involved in the resuscitation efforts. Which is the least they could do.

— Robert Reeves (@reevesreel) December 16, 2020
In the beforetimes I used to fly to Florida regularly to see my parents. Several discount airlines fly to Florida and I assumed it was one of those, but again it is thought to be United Airlines. I want to see this covered by the mainstream press. It's worth noting that the covid relief package has not passed because Republicans want to sneak in immunity for corporations that would shield them from lawsuits for incidents like this. Again, the passengers say temperature checks weren't done. Plus as that passenger Robert Reeves tweeted they weren't even told to self isolate afterwards.
Y'all QUICK https://t.co/rHCnxC4kYt

— Jo LaFlame (@jobreauxx) December 15, 2020
This is a sponcon from United in conjuction with an influencer from one week ago. This is the photo I used for the frontpage.
Update presented without comment: