Back in March, Ariana Grande said some smart things about how her fans needed to stay home and be safe and follow all of the lockdown guidance. Ari practiced what she preached too – she stayed at home in LA, with a small group of friends and a guy named Dalton Gomez. Ari and Dalton began dating probably around January, and they went into lockdown together. That kind of thing can make or break a relationship, as we've seen. In Ari's case, it seemed to "make" their relationship, and Ari and Dalton are now engaged.
Ariana Grande is a bride-to-be! On Sunday, the singer, 27, showed off her new diamond engagement ring in photos shared on Instagram. "Forever n then some," Grande captioned the series of images, which included a close look at her engagement ring.

"They couldn't be happier, they're just so excited. This is a happy time for them, both sets of parents are thrilled," a source tells PEOPLE of Grande and Dalton Gomez, who is a real estate agent.
I was trying to remember if this is Ari's second or third engagement. She was definitely engaged to Pete Davidson (a mess!) but was she engaged to Mac Miller? I don't think so, but I'm not 100% on that and I can't find anything concrete in the gossip archives. Anyway, this engagement seems like it's on much more solid ground than the Pete Davidson thing. I hope Dalton is a good guy.
As for the ring… I'll be nice for a moment and say that the diamond is beautiful, really and truly. The diamond is so beautiful, the terrible setting makes me really mad. What is with the "crooked" setting and then the pearl? I'm sorry but this isn't a great engagement ring. I feel the same way about this that I felt about Emma Stone's engagement ring – Ari's going to bang that pearl into everything. Just take that diamond and reset it into a normal solitaire setting. (Also, I would have thought that Ari would be 100% pro-pink diamonds.)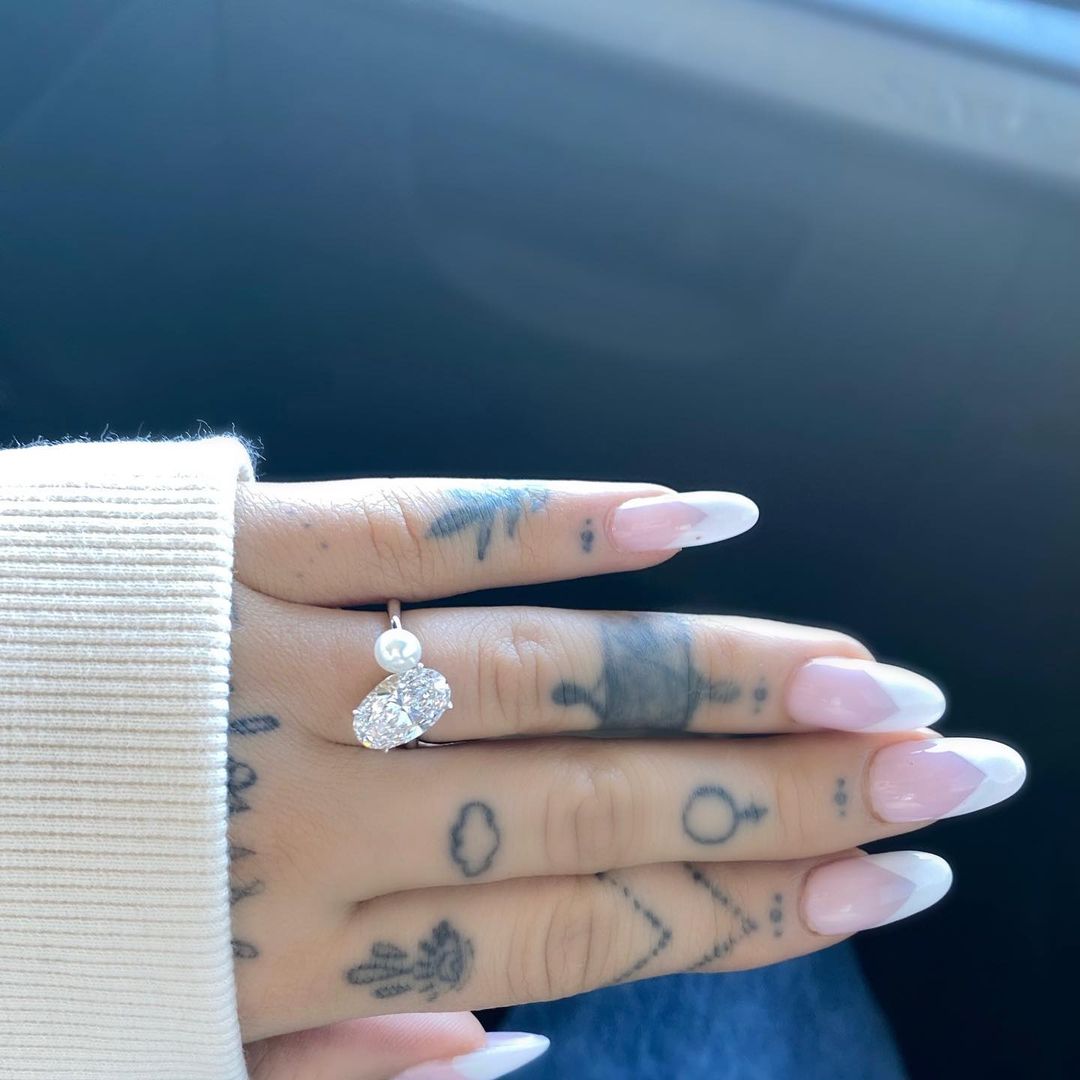 Photos courtesy of Ariana's Instagram.