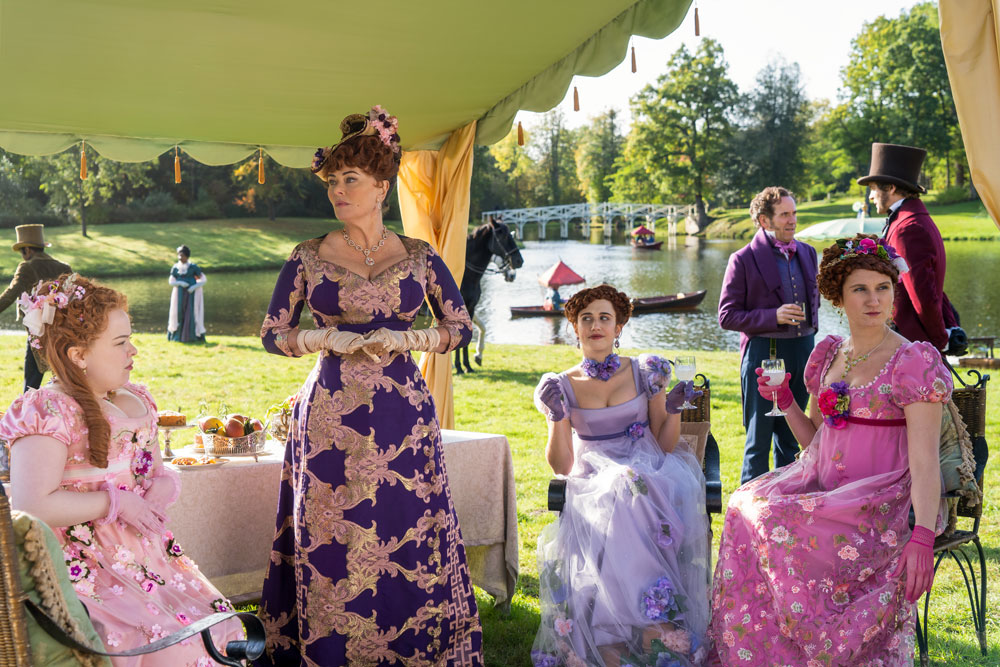 I spent the weekend escaping and binging Netflix's series,Bridgerton. Bridgerton is a scandalous Gossip Girl-y Jane Austen-esque show brought to us by Shondaland Media that is loaded with lots of steamy, bodice ripping, raunchy sex and a toxic AF 18th century love story. To read more about the show you can read my post here. Besides the plot and ridiculously frivolous characters that I love, and the cool reimagined pop songs into classical ballads, the show's wardrobe was spectacular. The empire frocks were a kaleidoscope of candy-colored hues that are the dreams of any fashionista, despite those damn corsets.
Bridgerton's costume designer, Ellen Mirojnick, who worked on Shonda Rhimes' How To Get Away With Murder, is profiled in Town and Country. She discusses how her team spent five and a half months making 7500 costumes for principle characters and extras on set. She calls Shonda the inspiration behind the more colorful and modern update of 18th century high fashion. And those steamy, bodice ripping, raunchy sex scenes? She made them easier by creating clothing that was well, rip-offable. Below are a few excerpts on the inspiration behind the costumes that brought 18th century London to life:
A veteran of Shondaland (she previously worked Rhimes's How to Get Away With Murder and Still Star-Crossed), Mirojnick shares that her process involved looking "at what was real, what was high fashion, and then, [thinking] 'What would Shonda do?'"

"We're not talking about 1813 and Jane Austen and beige, cream bonnets," she says. They wanted to create something "fresh and young and aspirational," and "the first way in which you create something new is shift the palette."

For the old-money Bridgertons, that meant "soft, romantic" blues, whites, and pinks. And for their neighbors, the nouveau riche Featheringtons? "Spicy, vibrant, I-want-to-be-seen" shades, like orange, green, and purple.

But it was the character of Queen Charlotte (image up top), who Mirojnick thinks represents the "pinnacle" of the Bridgerton aesthetic. "Queen Charlotte never changed her silhouette from 18th century," she explains—so they took that shape and played with the hue. "We made beautiful combinations of different fabrics, different colors," Mirojnick says. But what really took the Queen's look to the next level was her hair design. "Change her hair color, change the height, change the shape. Everything was embellished. It was sublime."

But Mirojnick's work went beyond just re-imagining 18th-century attire. She and her team had a few Bridgerton-specific challenges to deal with, too. Notably: how to get people out of their clothes as fast as possible.

"How easy can you get in the pants?" was a key question she had to address. "How easy can you lift up the skirt?" she says. "How easy does the top come off? How easy does the shoulder fall? And will it look sexy and alluring and rapturous?"
I did my bachelor's degree in fashion merchandising and one of my favorite things about period dramas specifically is how the costume designers reimagine the eras. Bridgerton did not disappoint. Not only did I love most of the characters and their stories, the scenery and the costumes really captured my imagination. I could tell that each piece told the story of the character that wore it. The brightly colored dresses of the Featherington sisters emphasize that they stood out like sore thumbs in high society. The Featheringtons are the gauche nouveau riche sisters who wore clothes that struck a dissonant chord against the prim and sometimes bland palette of the blue bloods. The blues, ivories, and silvers that Daphne wore gave her more "prim" and proper character an ethereal and romantic quality. My absolute favorite was the Queen's reimagined afro. That afro was lit and gave me life. Lady Danbury's hats and cane also deserve honorable mentions.
Mirojnick did an excellent job in creating a third character in the series in the costumes. The colors made the city of London and those stuffy castles and mansions seem more inviting and exciting. I was having serious FOMO watching the characters interact. I wanted to be in the world that was created. I truly enjoyed everything about Bridgerton. Yes, there were quite a few questionable moments and Daphne and the Duke's relationship was quite toxic and messy, but that messiness is what makes Bridgerton fun to watch. Even though I'd never wear a corset on purpose or an empire waisted dress or stockings (they're itchy), the wardrobe on this show was chef's kiss perfection. The fact that you can easily rip off the clothing in a fit of passion, well, that's just the icing on the cake. Now, I am inspired to find one of those bodice ripping dresses for future cosplay.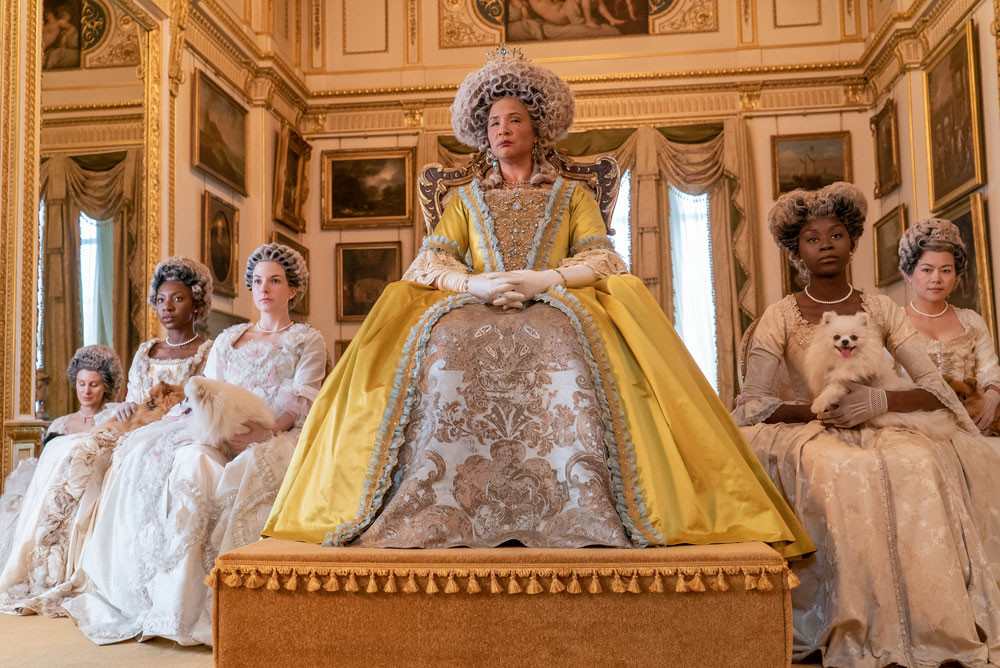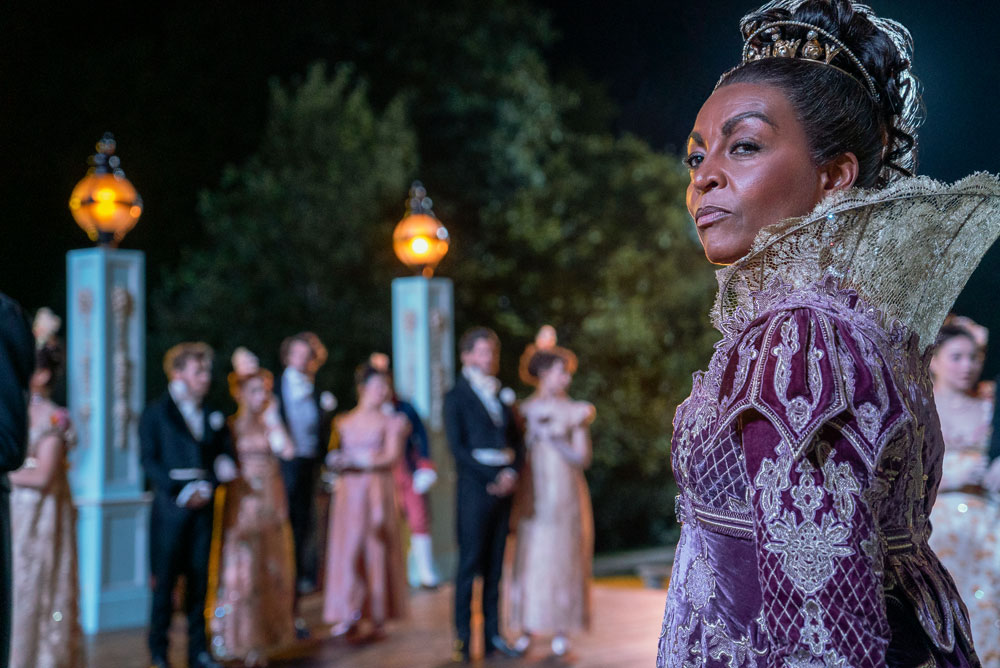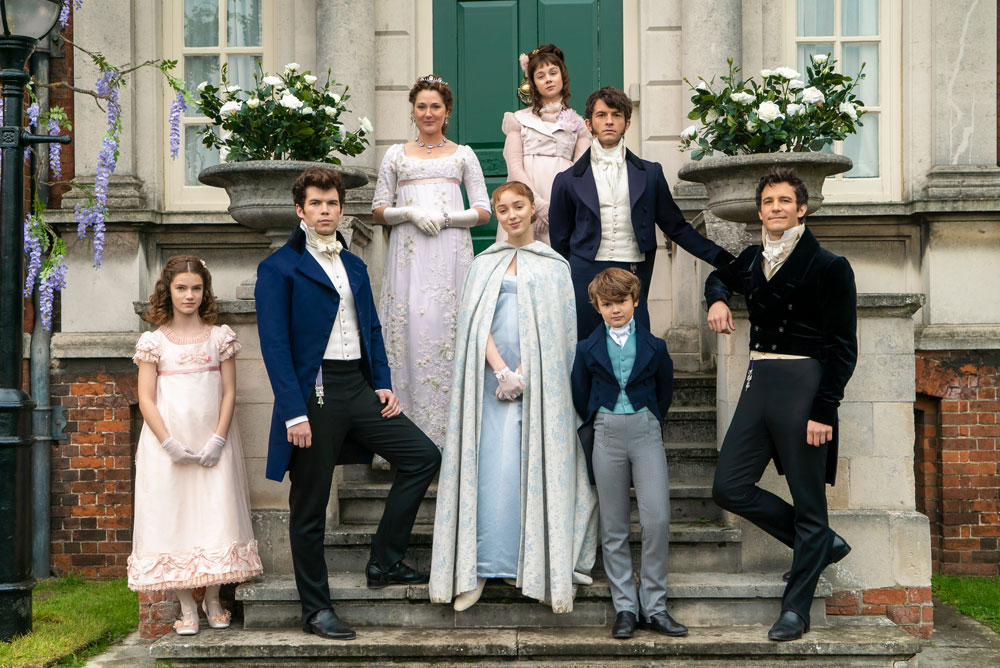 Photos credit: Liam Daniel/ Netflix © 2020