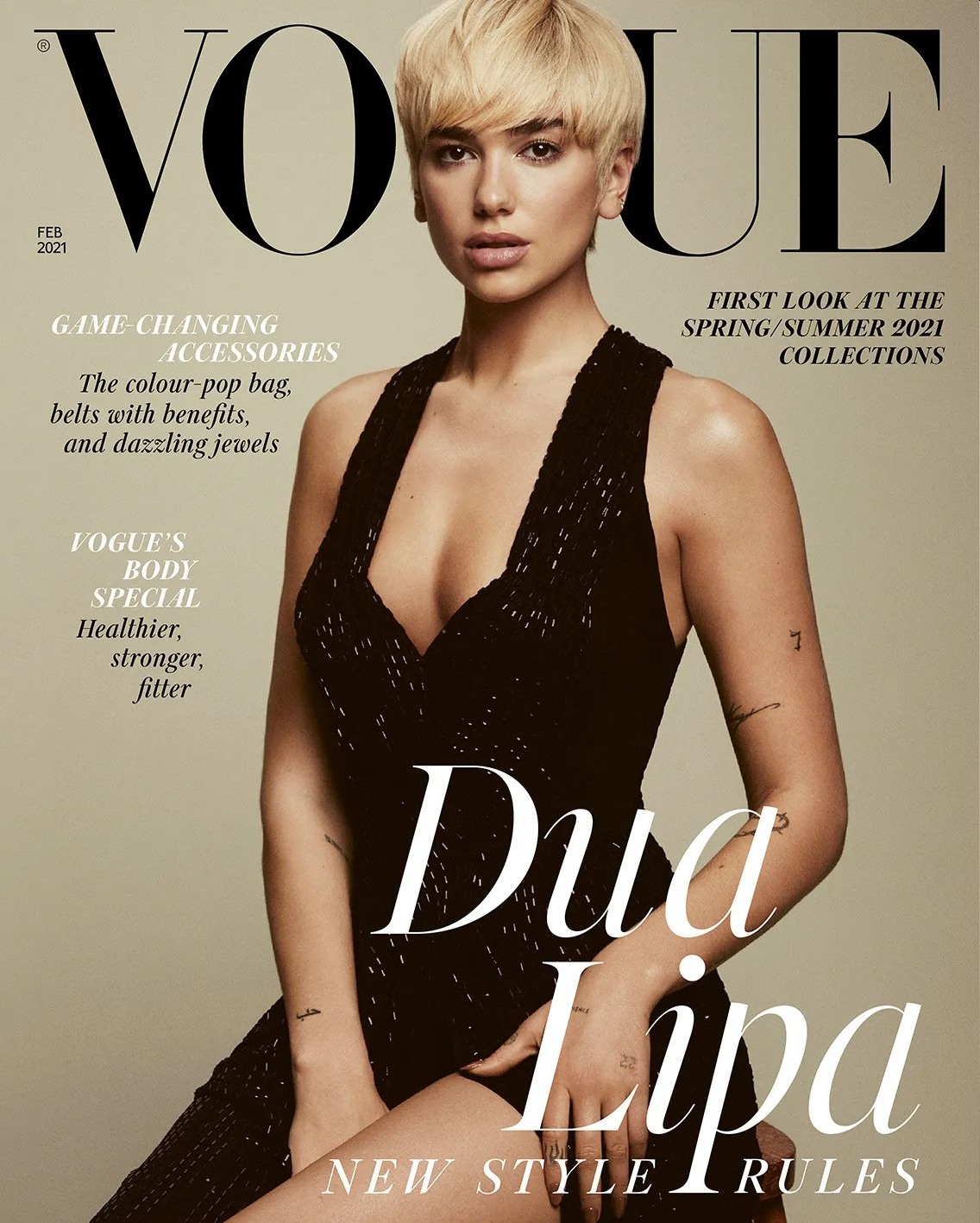 Dua Lipa was one of the few people to have a pretty great 2020. She released her album Future Nostalgia at the start of lockdown, and people really loved the pop-disco vibe – it was great music for one or two people dancing at home, and it was fun and light. Her tours were cancelled, but she still found ways to perform live, like her record-breaking live-stream concert Studio 2054. She spent much of 2020 locked down with her boyfriend Anwar Hadid in London, watching Netflix and doing interviews via Zoom. Which is how this British Vogue interview was conducted too! Dua covers the February issue of British Vogue to talk about music and her surprisingly good 2020 and more. Some highlights:
Going lighter for this album: The "smile through the pain" ennui of Gen Z is her speciality, and she describes her oeuvre as "dance-crying" music or "dark pop". On this album, however – and its thrilling new additional tracks – "dance" and "pop" take precedence. "I had to fight inner demons. I wanted to write songs that were more sad, more about heartbreak, because I thought that writing happy songs would turn into cheesy songs. I had to fight that because I was like, 'I am happy. I deserve to be happy.' I should be able to write about that without the fear of feeling like I'm compromising my authenticity because I'm not crying about something or someone."

Dating Anwar Hadid: "We have all these incredible memories and experiences, and if there's something that we want to share together, then OK, that's fun… But at the same time, we're quite private – we'll only show you as much as we want you to see. It's a little bit of give and take, trying to find the right balance of being so excited and being in love, and wanting to share that with the people around me, but at the same time not wanting to put too much out there. I want to be able to just be happy in this relationship without having other people's opinions."

On Twitter: Her management now runs her account. Twitter was the first social media platform she had. She used it to connect with fans she'd meet post-shows, which now sounds absurd. "I would go into interviews and people would say, 'How do you deal with hate?'And I'm like, 'Hate? I don't get hate, what are you talking about?' It was so early on that people didn't even care to try and say something mean." As her star rose, however, things "got really hectic". Despite her better judgement, she started endlessly scrolling hateful comments about herself. "I would get anxiety. And I was like, 'This shouldn't be the way that I'm experiencing this once-in-a-lifetime experience.' It was messing with my confidence. I'd be super-nervous, wondering what everyone's gonna say."

Her home life is normal: "My home life is really normal. The people I surround myself with have known me for the longest time. My job doesn't define my circle, and that makes a world of difference."

She & her parents were refugees from Kosovo: It goes without saying that Lipa is staunchly anti-Brexit and troubled by anti-immigration rhetoric. "People don't leave their home country unless they have to a lot of the time. To save their families, to try and get a better life. People want to be where their family is, where their home is, where they speak the language that is native to them, where they have their own culture."
"I had to fight that because I was like, 'I am happy. I deserve to be happy.'" I wonder about this all the time with Adele and Sam Smith specifically, just because they're two artists known for sad songs about how lovers did them wrong. Even when Adele was happily married, she was still writing about heartbreak! I like that Dua was like "I'm happy and I'm going to force myself to write a happy pop album." Anyway, y'all know I'm a Dua stan. The only thing I don't like about her is Anwar Hadid! She could do so much better than that idiot.
Photo and cover courtesy of British Vogue.