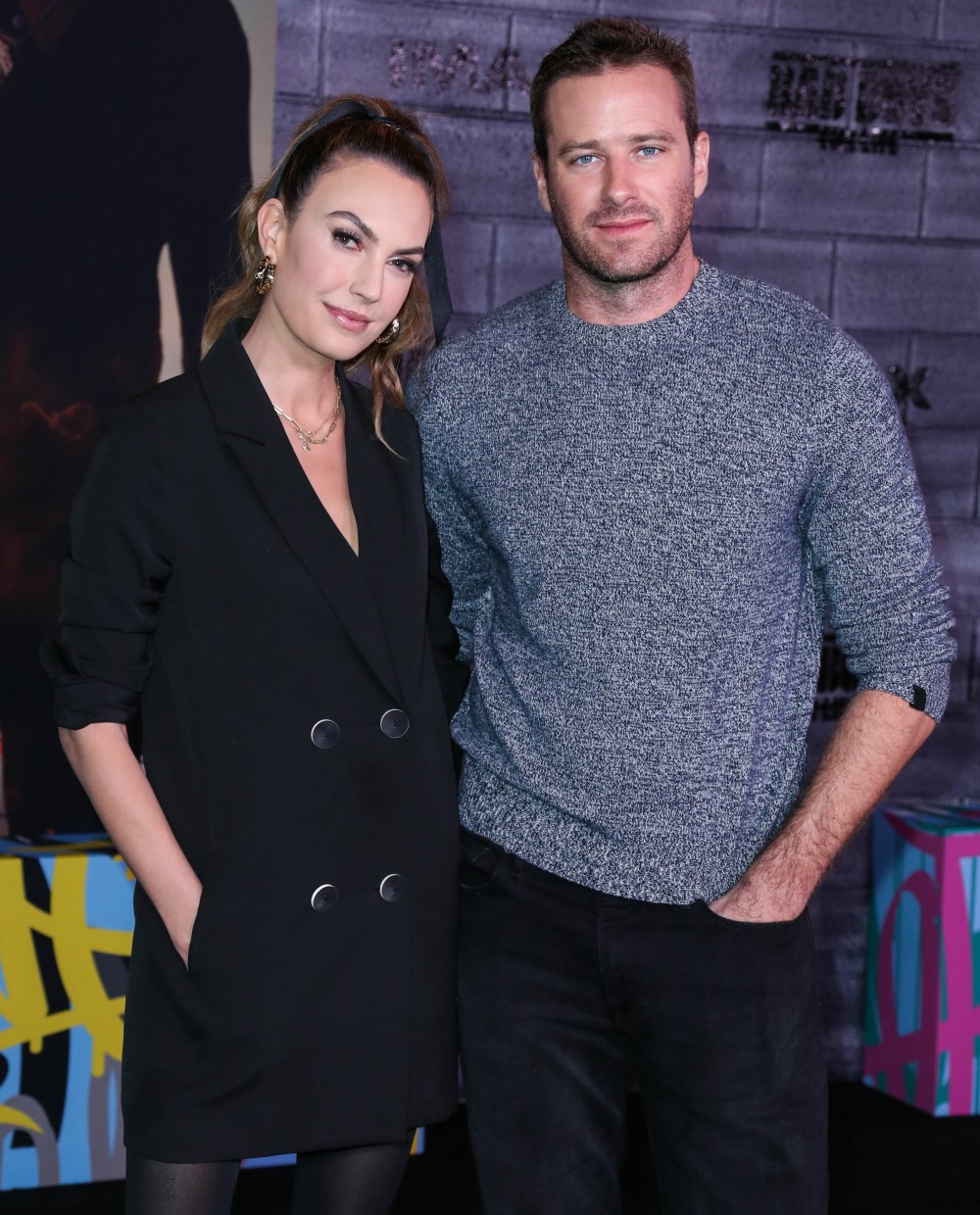 It looks like the Daily Mail and Page Six have somehow discovered Armie Hammer's "private" Instagram, and the images are reportedly full of raw meat, knives and scantily-clad women. While this seems entirely "on brand" for what we now know of Armie Hammer, I do find it suspicious that the Mail and other media outlets have access to it? Perhaps they do, and if so, those Instagrams seem to reveal a man who is on a downward spiral, someone who is likely hurting a lot of people on his way down. Some highlights from this Page Six story:
How Elizabeth Chambers is doing: This [scandal] has come as a shock not just to his friends, but his ex-wife Elizabeth Chambers, with whom he is in the midst of an already difficult divorce. They are both currently on the Cayman Islands, where Chambers has been living with their two young children since they split over the summer. A family friend told The Post that Chambers, who filed for divorce in July, is "really in shock" and has "not processed any of this yet," adding: "They went out to the Cayman Islands at the beginning of the pandemic in March as a family and Armie left in late June to go back to California. She's basically been a single mom since then, Armie didn't see the kids for five months. The kids are her number one priority, so on top of all the emotional stuff she has two kids to take to school and make sure they're not affected."

She knew about some of the cheating, but not all this: The friend added: "Elizabeth was aware of some infidelity, but she wanted to make the marriage work and thought that he did too." Several sources said that Hammer had been madly in love with Chambers. But a major Hollywood publicist told The Post how, once "Call Me By Your Name" boosted his fame, "women were texting him, chasing him — and when he would drink, that's when he'd run around. Everyone thought he and Elizabeth decided to have an open marriage."

He didn't do that stuff with her: "[These messages] are very shocking for her," Chambers' friend added. "He never did any of the weird s- -t with her."

Does Hammer need help? Another source who knows both Hammer and Chambers said: "My mind is blown. He always appeared so totally normal, he loves grilling, I mean — he was so excited about buying a new smoker and he would have friends over for barbecues and cocktails. None of this seems like the Armie that I know. He needs help. Something is terribly wrong, and I just wonder if it's drugs."

So, about the drugs: This week, the Daily Mail published video clips of Hammer declaring "s–t's getting weird" after sniffing a white substance from someone's hand and swigging from his beer can while behind the wheel of a car. On Friday, the Daily Mail posted a video from what is alleged to be Hammer's secret Instagram account. The post said that he had "THC and benzos" in his system but that the hallucinogenic drug DMT had not showed up in a drug test; he also showed what appeared to be a court mandate ordering him to undergo drug testing as a condition of seeing his children. In the background, a woman wearing lingerie while on her hands and knees in a bed was visible. "Divorce is so fun. Not as fun as drugs. But what is," the post read.

Heavy drinker to drug user? A movie insider who worked with Hammer on the set of the 2018 film "On the Basis of Sex," told The Post that "He would have a water bottle of vodka in the green room before going on TV [interviews] but other than that he was a gentleman." A source who has worked with Hammer told The Post that Hammer does "not have a drug habit" but that he will drink heavily for weeks at a time. Asked about the messages, the source said: "Of course Armie is not a cannibal … although BDSM might be weird, it's not illegal."

A God complex? A casting director told The Post that Hammer is a cautionary tale for young Hollywood. "Up till 'Call Me By Your Name,' nobody took him that seriously other than as a rich kid who wanted to get famous. He was in a lot of loser films before that," the casting director said. "But after 'Call Me,' he started getting much better offers and much more attention. He seemed to be getting a bit of a God complex — like he's so famous and rich, he's above reproach. That can lead to some actors having very bad behavior."
Part of me doesn't believe some of the denials from Elizabeth Chambers' friends/publicist. Even in this piece, her "friend" says that she did know about some of the affairs, and that's been consistent with the reporting of what Elizabeth knew and when, with one of her friends even telling the Daily Mail last week that some of Armie's mistresses/victims even came to her. My take is that I do think Armie was into some weird sh-t and Elizabeth knew some of it, and Elizabeth wasn't into it and she just thought it would go away or that he would get it out of his system discreetly. And then the indiscretions, affairs and BDSM stuff just kept piling up and that was a big reason why she filed for divorce last year. And since then, Armie just keeps going deeper into this. Like, escalating his behavior, perhaps abusing drugs as a way to self-medicate for deeper issues, and on and on. Yeeesh.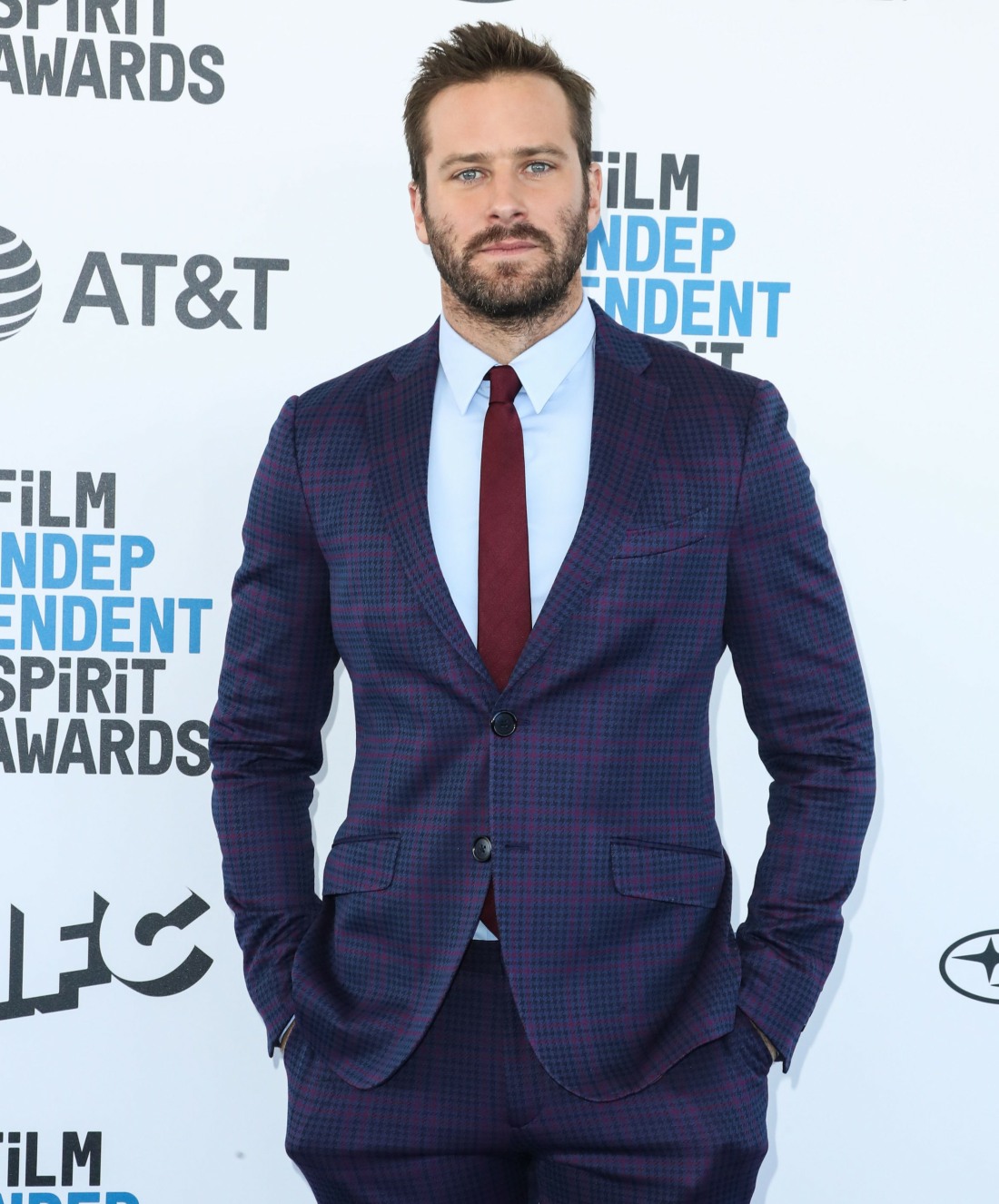 Photos courtesy of WENN, Backgrid, Avalon Red.