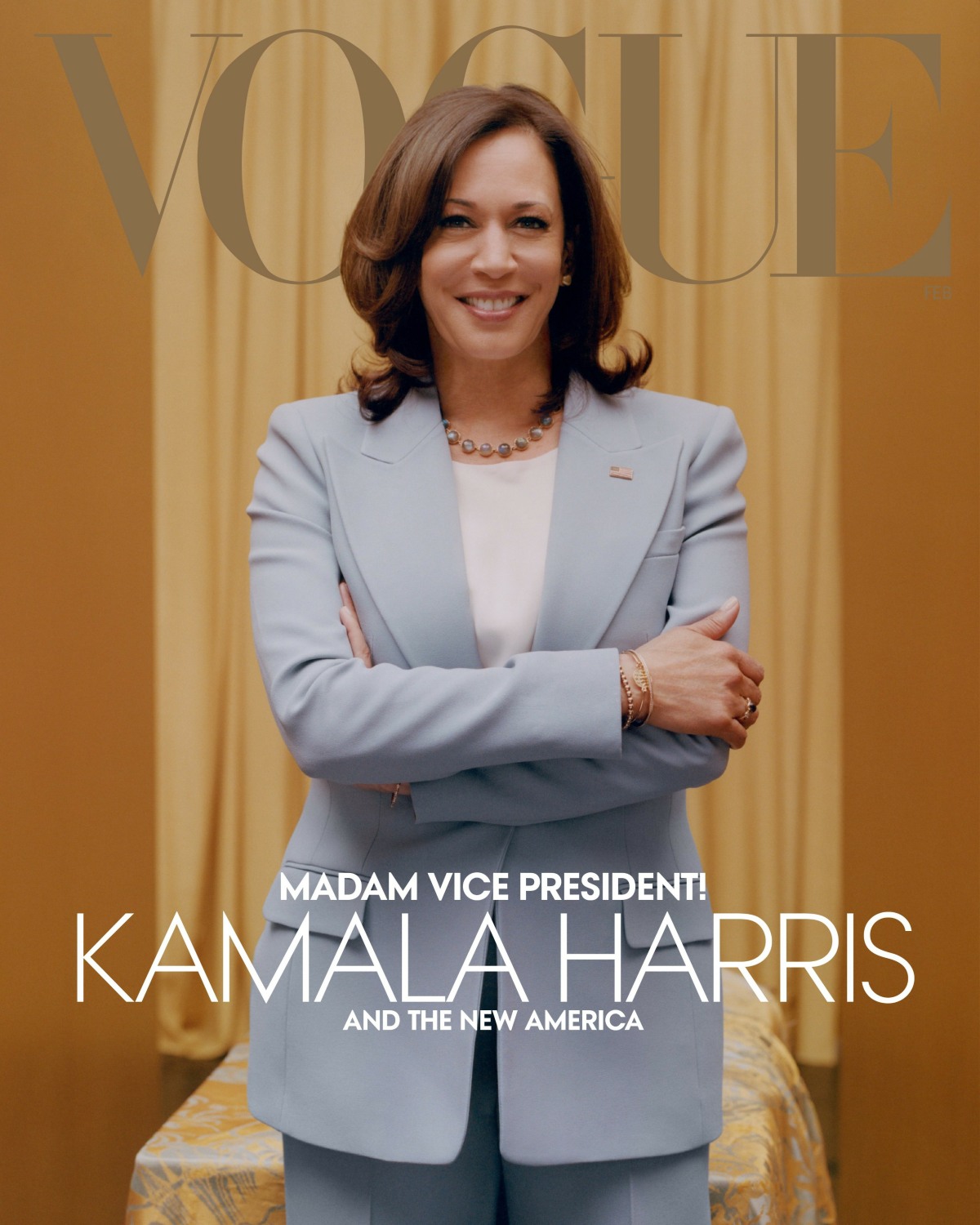 Anna Wintour made sure to create a lot of stupid drama for no good reason. Soon after Joe Biden and Kamala Harris won the election, Vogue got in touch with Team Kamala and invited her to appear on the February issue, which they would coordinate to come out just before the inauguration. Kamala and her team agreed, with some conditions. Kamala – Senator Harris, VP Harris – wanted to style herself and wear her own clothes, and her team wanted to be informed about which photo would make the cover. All of that was fine with the Vogue team and they selected the cover image you can see above, VP Harris in a powder blue suit in front of a soft gold background. Vogue and Team Kamala agreed, this would be the cover.
Then, at some point, Anna Wintour was like "not so fast," and out of nowhere, she changed the cover images. Suddenly, the newsstand cover became the more informal shot of VP Harris in Chucks and slim-cut pants, looking too lowkey. As many pointed out, the Chucks photo was too informal, overly familiar in a disturbing way. The more presidential image (powder blue suit) was relegated to the "digital cover." The whole thing was a catastrophe. Well, Anna Wintour is still eating sh-t about it, as she should be. Wintour decided to offer "a limited number of special edition #InaugurationDay issues, featuring Vice President-elect Kamala Harris," and the special edition Vogues will have the powder blue suit cover. What happened?
Vogue magazine is doing a U-turn and publishing a new cover with Kamala Harris following the furor over the vice president-elect's cover. The fashion bible released a cover with the senator posing in her own casual clothes and Converse sneakers for its February issue. But fans griped that it was far from worthy of the fact she will be the first woman to hold the nation's second-highest office.

Sources close to Harris then said her camp was "blindsided" by the cover after being told Vogue would use a photo of her wearing a Michael Kors powder blue suit in front of a gold background. The image was instead used for the digital cover. But on Tuesday, Vogue confirmed to Page Six that it would be publishing this photo as a fresh cover to commemorate Wednesday's inauguration, saying in a statement: "In recognition of the enormous interest in the digital cover, and in celebration of this historic moment, we will be publishing a limited number of special edition inaugural issues."

A source added it was a "gesture of goodwill combined with excitement about being able to publish this cover in time for this special day."

Readers still took aim at Vogue after the announcement was made on Instagram, with one writing: "Don't you mean 'we are publishing the cover that should have been.'" Another added: "This is the edition I want to buy. Ms Kamala Harris looking like the powerful and dignified woman she is."
Yeah, I still want the oral history of how the Kamala-approved cover was ever pushed aside in favor of the Chucks cover. Clearly, it was a very last minute thing, given that VP Harris and her team had already gotten a look at the powder blue suit cover and approved it. I'm positive that Anna Wintour screwed up, but I still want to know the hows and whys of what went into the f–k up. Anyway, Vogue offering us the newsstand cover we should have had from the beginning is too little too late.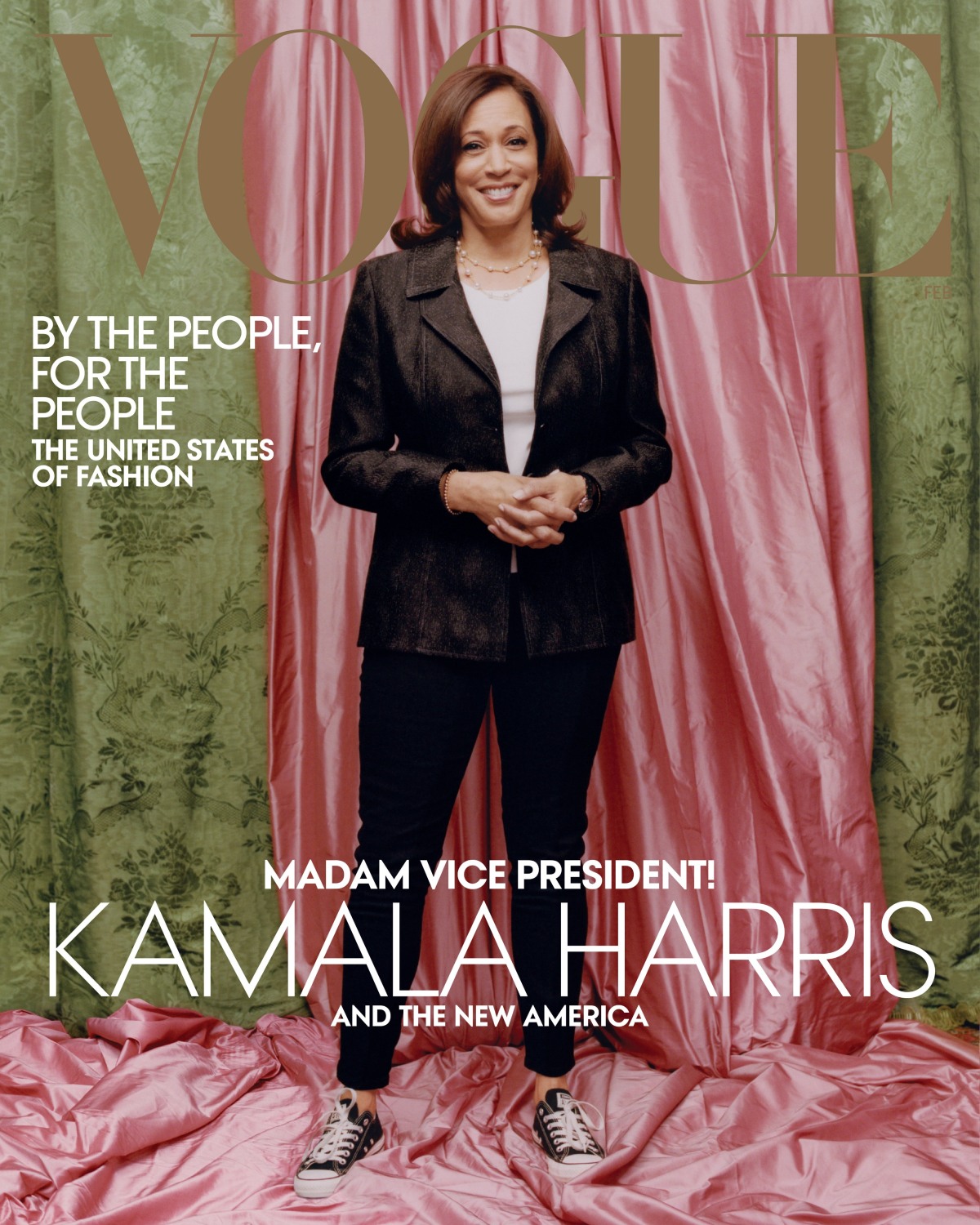 Covers courtesy of Vogue.