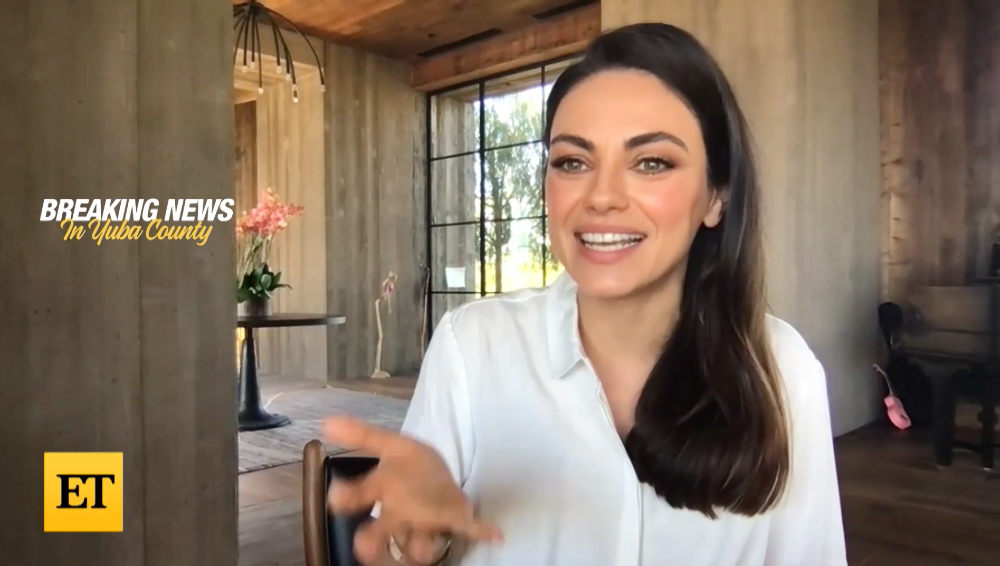 We haven't heard much from Mila Kunis and Ashton Kutcher during quarantine. One of the last times we talked about them, they'd developed Quarantine Wine that was regular wine, but with blank labels to write the names of the people you wished you were drinking with. However, they gave all the proceeds to charity so that was good. Then they told everyone they got their single friends teach their kids in Zoom school to give themselves a break. And now, Mila told ET that she and Ashton took a Superbowl commercial recently took get the hell out of the house for two days. However, leaving the kids ended up being weird for them, because they are so co-dependent as a family. And apparently, the pandemic's been feeding that.
Mila Kunis and Ashton Kutcher reunited on the small screen — but their kids weren't very happy about it.

The couple, who appeared together on That '70s Show, are featured in an upcoming Cheetos Super Bowl commercial, airing Feb. 7. Two teasers have dropped over the last couple of weeks. The opportunity, Kunis told ET's Nischelle Turner, was one that they could not pass up.

"It's so silly! Ashton and I, we never work together. I mean, I know we worked together before…And in the midst of quarantine, they sent us this ad to do and every time I've ever been offered a Super Bowl ad it's always a female having to be scantily clad," Kunis explained while promoting her upcoming film, Breaking News in Yuba County. "And this one comes around, I started laughing so hard and Ashton was like, 'This is kind of funny.' And I was like, 'We should do it!'"

However, the commercial's comical element wasn't the only reason the couple said yes.

"Also it was quarantine and we were stuck with our children for nine, 12, months at this moment, and I was like, 'Two days, baby! Two days off.' Literally we were like, 'Yeah, OK, let's do it.' And so we did it," she said with a laugh. "And I hate saying it but we were like, 'Freedom!'…It was amazing!"

"I love my children so very much! So, so much!" she was quick to note, before adding that she has "never been so excited to wake up at five in the morning to be like, 'I'm going to work!' And I literally skipped out of the house. My kids were like, 'You're abandoning us!' And I was like, 'Relax.'"

Kunis and Kutcher are parents to 6-year-old daughter Wyatt and 4-year-old son Dimitri. The actress added that "it was really weird" for them to be away from their children while filming the commercial, as they are all "co-dependent."

"Our whole family is already co-dependent, so this pandemic just feeds into our entire co-dependency," she relayed. "And my husband and I were super co-dependent for like eight years and in this pandemic our kids are like, 'Where are you going?" And I was like, 'The bathroom.' We haven't left each other. We're in the house. Yeah, it was really weird for them. They forgot that we have to go out of the house…"
I'm fascinated to see what the post-COVID landscape of this country (world) will look like. We'll be studying the effects for decades. But if the Kunis-Kutchers are a co-dependent family, that's probably why we haven't heard anything from them. Would co-dependents thrive in this environment? It makes sense the pandemic would feed that type of a relationship. I don't fully understand co-dependency and all if it's nuances, but in my general understanding, that's probably something else we are going to have to deal with once lockdown is done, isn't it? There will be relationships that will have to be retrained to function apart from each other after getting to be together 24/7 for 12 months. I'm not too worried about Mila and Ashton, though, if they are dancing out the house at 5AM to get away from their kids. It sounds like they'll handle reentry just fine. That's no judgement from me, by the way. People keep asking where everyone is going once we are free to do so and I keep getting depressed that I can't afford to travel anywhere. But I can afford a weekend stay at some motel. Hell yes, I will take two days away from any or all members of my family. Honestly, I bet they'd pack the car for me, too.
There are two teasers for this Cheetos ad that Mila and Ashton are in, posted below. Mila said in the interview that it was so funny. That is not represented in the teasers, but maybe they're just saving the best bits for the Superbowl (although MC Hammer's teaser managed to be funny in the teaser – just saying). Mila is also promoting the Breaking News in Yuba County Movie that she's starring in with Allison Janney, Regina King, Wanda Sykes, Awkwafina, Samira Wiley and Juliette Lewis. Now that looks funny.
Photo credit: ET, YouTube and Getty Images