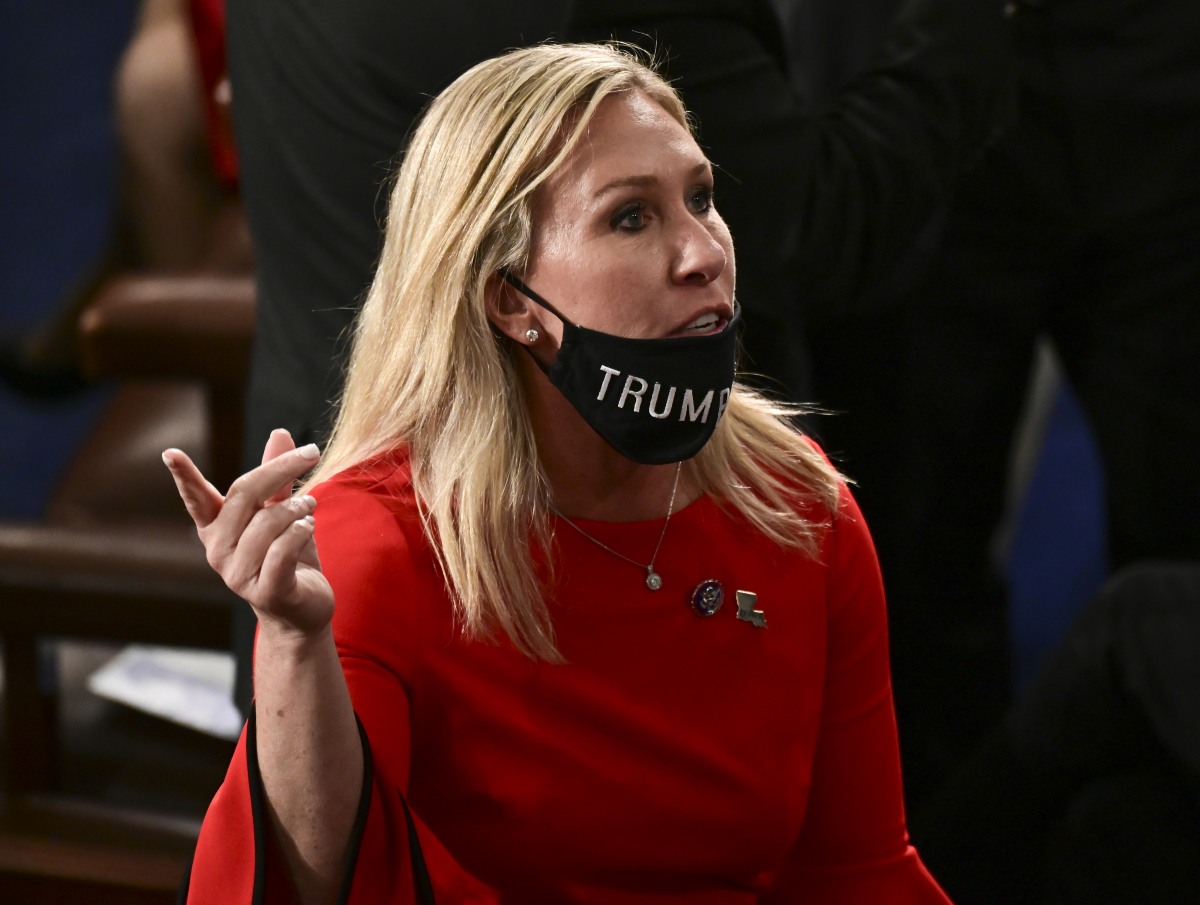 Democrats believe that Rep. Marjorie Taylor Greene not only represents a major threat to democracy, but that she's also representative of the dark, fascist, anti-Semitic, violent path which too many Republicans want to willingly take. House Democrats issued an ultimatum to House Minority Leader Kevin McCarthy: strip MTG of her committee assignments or we will. The ultimatum came after a slew of awful information came out about MTG, including her threats of violence and harassment of survivors of school shootings, and her belief that wildfires were started by Jewish space lasers. Yesterday, Speaker Pelosi's office issued this statement:
Speaker Pelosi's office just sent out a press release referring to @gopleader as "McCarthy (Q-CA)" pic.twitter.com/I0Ijghe0R3

— Grace Panetta (@grace_panetta) February 3, 2021
Yes, that's the Speaker of the House referring to McCarthy as a member of the QAnon Party, not the Republican Party. Aunt Nancy isn't taking any more of your shenanigans, malarkey or bullsh-t. The Biden Era is a malarkey-free zone. So yes, Dems gave the ultimatum and Republicans whined, cried, made false equivalencies and did nothing about a violent fascist wingnut in their midst. No, not "nothing." They gave the fascist a–hole a standing ovation:
Rep. Marjorie Taylor Greene (R-Ga.) apologized for her past controversial remarks and embrace of the QAnon conspiracy theory during a heated closed-door House GOP conference meeting — and received a standing ovation at one point from a number of her colleagues.

Greene told her colleagues that she made a mistake by being curious about "Q" and said she told her children she learned a lesson about what to put on social media, according to two sources in the room. She also denied that she knew what Jewish space lasers were and defended her comments that past school shootings were staged by stating that she had personal experience with a school shooting.

She received a standing ovation from some members of the caucus at the conclusion of her remarks.

The House will vote Thursday on removing Greene from the House Budget and Education panels, where she was placed by Republicans. House Minority Leader Kevin McCarthy (R-Calif.) has so far declined to take disciplinary actions against Greene.
Again, for those who disbelieve what has been happening right in front of them: people like Donald Trump and Marjorie Taylor Greene are not outliers who do not represent the Republican Party. This is not some kind of "flaw" in the GOP design. This is the modern GOP. This is who the Republicans have been for years now. Further proof: in this closed-door meeting for Republicans, House GOP apparently spent more time debating whether or not to punish Liz Cheney because she voted for impeachment! There's also a poll of Republican voters and Marjorie Taylor Greene is "more popular" with them than Liz Cheney.
House Minority Leader Kevin McCarthy defends Marjorie Taylor Greene:

"Denouncing Q-on, I don't know if I say it right, I don't even know what it is– any from the shootings, she said she knew nothing about lasers" pic.twitter.com/R49WoE9TvL

— The Recount (@therecount) February 4, 2021
A few details from a tense GOP meeting:
McCarthy apparently spent more time explaining why not to punish Marjorie Taylor Greene than defending Liz Cheney. Adam Kinzinger blasted him for it.
Cheney spoke, refused to apologize for her impeachment vote.https://t.co/7zd01pWl6l

— Cameron Joseph (@cam_joseph) February 3, 2021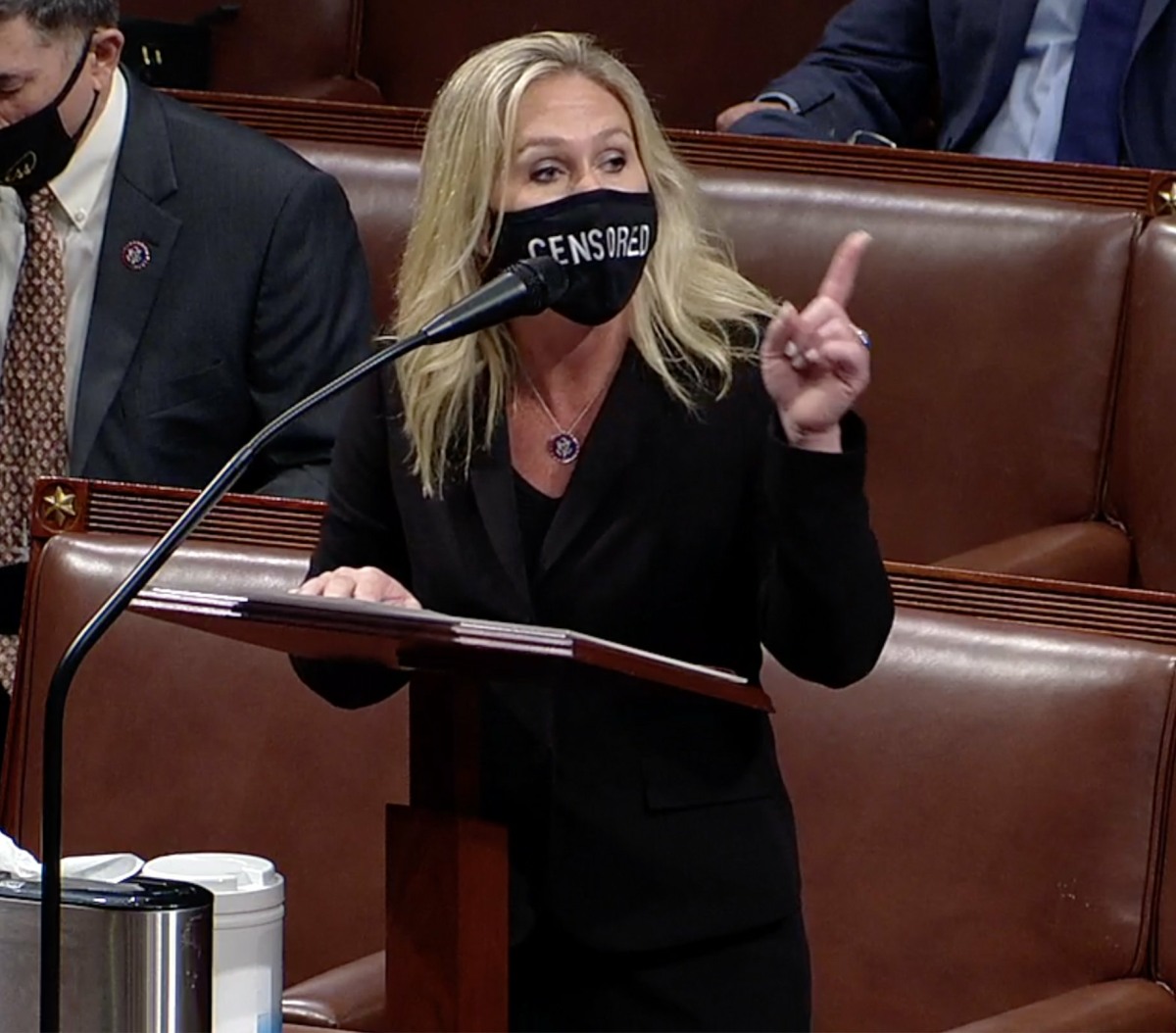 Photos courtesy of Avalon Red.