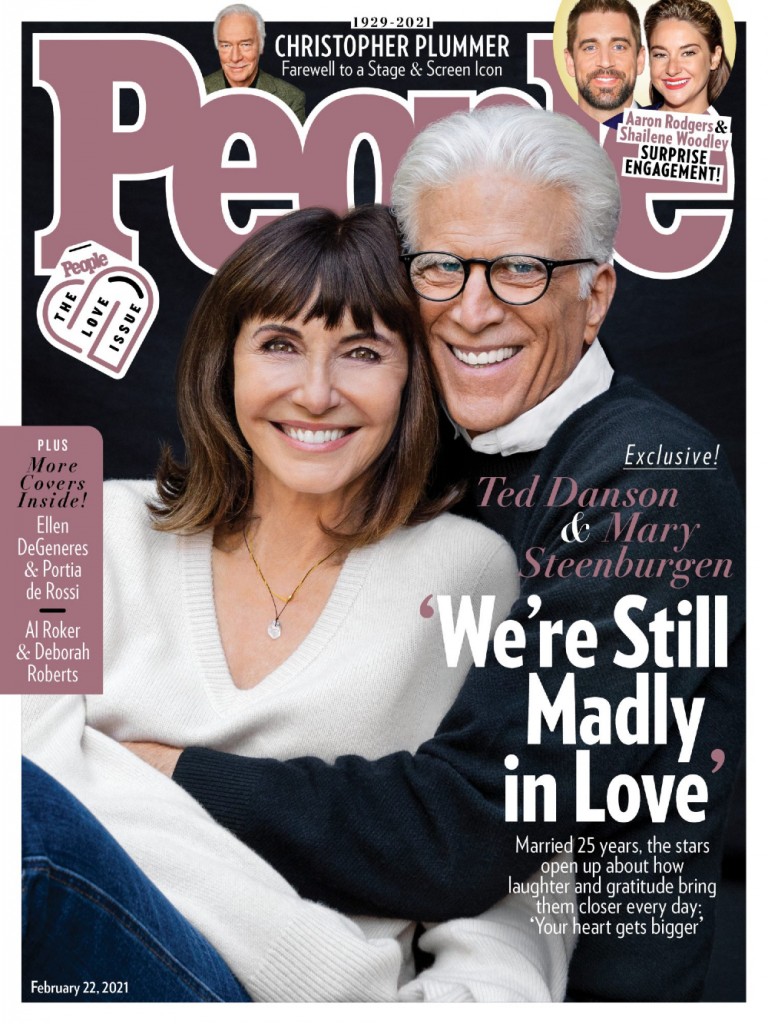 Mary Steenburgen and Ted Danson are one of three couples featured in People's first ever Love issue, that hits newsstands tomorrow. The other two couples featured are Al and Deborah Roker and Ellen DeGeneres and Portia De Rossi. Mary was married to Malcom McDowell before Ted, and has two grown kids, Charlie and Lilly. Ted was married to actress Randy Danson and producer Casey Coates, with whom he has two grown daughter, Kate and Alexis. Ted and Mary met the first time when he auditioned to play Mary's husband in the film Cross Creek. He didn't get the role, but they were attracted to each other. However, they were also both still married at the time. Some time after they were divorced, and Ted had famously publicly imploded following his relationship with Whoopi Goldberg. They worked together on Pontiac Moon. This time, they did fall in love and married two years later. Together for 27 years, married for 25, Mary said she, "would sign up for a 100 more lifetimes," with Ted if she could. What's their secret? A good sense of humor.
Ted Danson and Mary Steenburgen have learned a thing or two when it comes to spending quality time together.

The couple, who have self-quarantined amid the pandemic at their home in L.A., "have been alone except for today for the last nine months," says the actress during the pair's socially distanced photo shoot in January for one of this week's PEOPLE cover stories. "And we've decided to stay together."

Jokes Danson: "Every morning we get to choose. It's a rule."

When they were both cast in 1993's Pontiac Moon, "we both had sworn off relationships," Steenburgen says.

While Steenburgen admits she initially thought "that dude seems kind of complicated," both felt an undeniable attraction. "I wasn't ready for anything like a relationship," she adds. "We just kept working together and becoming better and better friends."

A canoe trip and picnic Danson planned in Mendocino, California, sealed the deal. "It was very magical," he adds. "We came back in love, to be honest, or I'll say smitten."

"I want as long as possible in my life with Mary," says Danson. "I know it will have all of its hard parts but I want to experience love in all those moments."

---

"If you're blessed enough to grow old with someone, you better have a good sense of humor," the actress, 68, shares, with Danson, 73, who adds, "I'm madly, madly, gratefully in love."
[From two articles on People]
Ack! I really like both Mary and Ted and I can't argue with anything they're saying. But I am so bad when it comes to any expression of feelings like this. Seriously, I watched their video through my fingers. (Yes, I know, my loved ones are lucky folks.) It's actually nice to see someone as "jokey" as Ted be able to express earnest feelings like this. Many people I know *raises hand* use humor as a deflection. But you do get a sense of how deeply devoted he is to Mary and it is lovely. Of course, devotion was never Ted's problem. He was devoted to Casey after she suffered a stroke giving birth to their first daughter, leaving her partially paralyzed. He cared for both mother and newborn. And even with all the bad choices that were made while he dated Whoopi, he was always devoted to her. Mary doesn't really discuss her marriage to Malcom much, but I think it's safe to say that Ted and Mary saw when the time was right for them and have never lost sight of how fortunate they are to get a second (or fourth) chance at love.
Like Mary said, it helps if you and your partner share the same sense of humor. I've been watching Ted's Mr. Mayor show, which is pretty dated humor, if I'm being honest. However, they do have great cameos. One show has Ted falling for Andie McDowell in an extended gag that involves Andie playing a ridiculous parody of herself. Mary's son, Charlie McDowell, aka Lily Collins fiancé, has a running joke on Instagram, in which he honors his mom but posts pics of Andie to troll folks. He started in 2014 with a Mother's Day post and ratchets it up each year. Now he posts Andie's pic every Mother's Day and on his real mom's birthday. So while filming for Mr. Mayor, Ted got Andie to film a video for Charlie's IG saying he was her favorite child. Which makes that episode much funnier, as far as I'm concerned. Anyway, it sounds like the whole blended Danson Steenburgen McDowell family was lucky to find each other.
.@TedDanson & @MarySteenburgen are opening up about their on-set romance during the 1993 film Pontiac Moon, what they love most about each other, and the importance of gratitude throughout their 25-year marriage. ❤️ Watch the full @PeopleTV special: https://t.co/nq3b8FChJw pic.twitter.com/eIupSMl2IF

— People (@people) February 10, 2021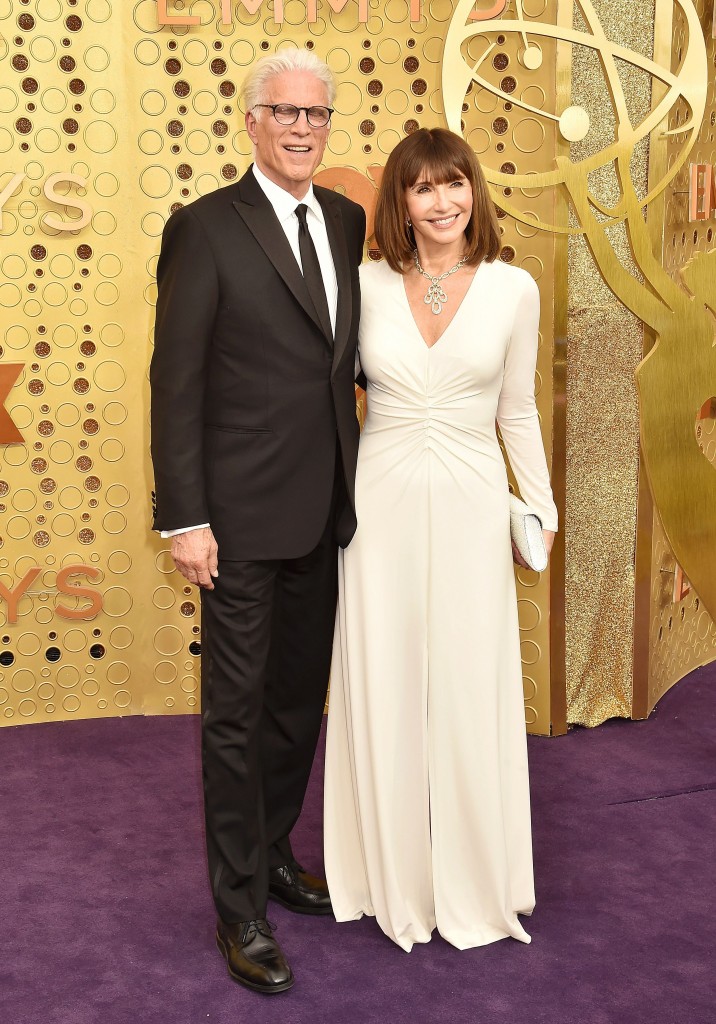 Photo credit: People, Twitter, Avalon, Getty Images and Instagram