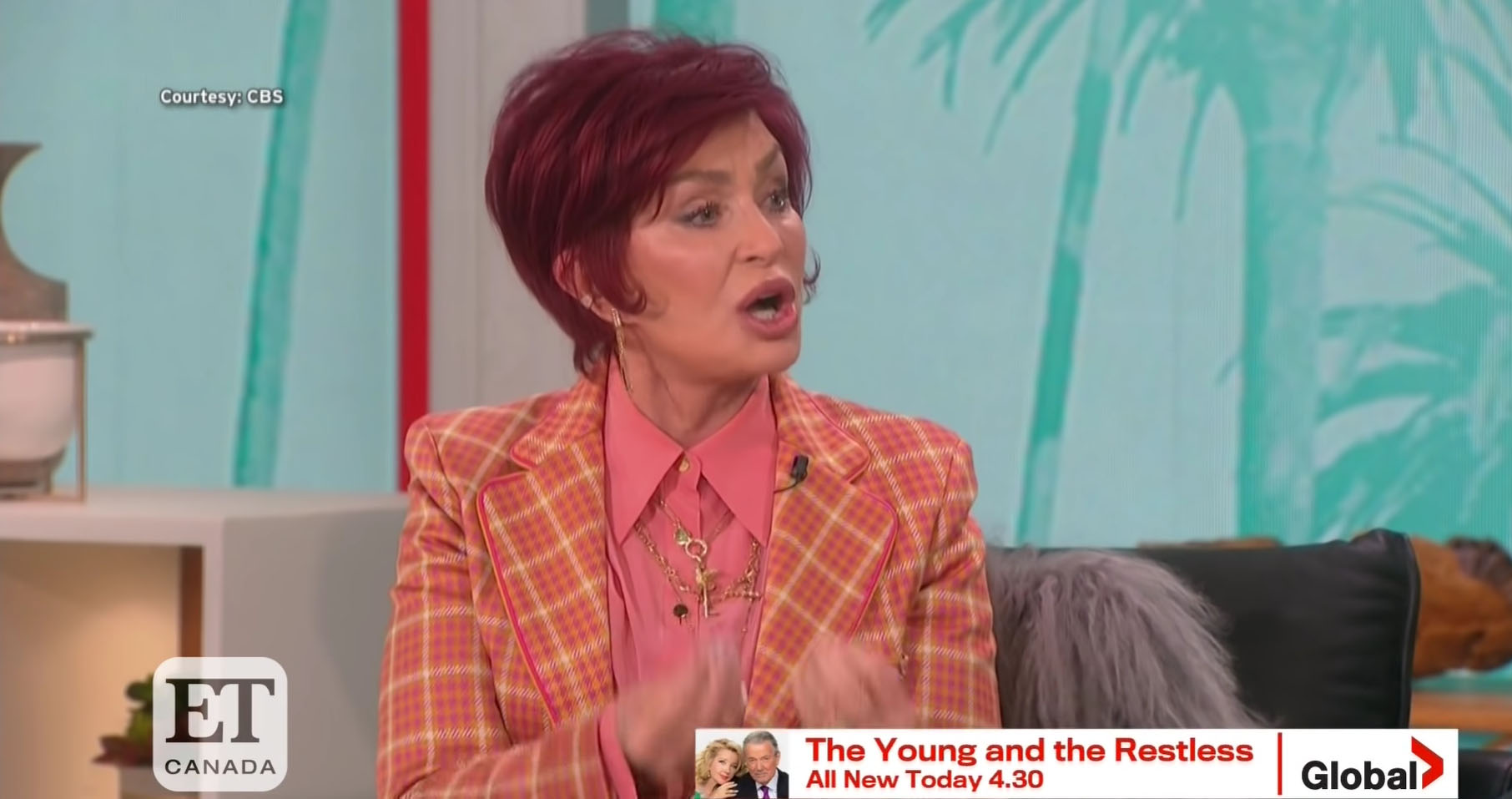 Last week Sharon Osbourne tweeted out support for Piers Morgan. This was after Piers stormed off his show while being mildly questioned about his years of abuse of Meghan Markle. On Wednesday, Sharon was asked about the tweet on her show, The Talk. Sharon was defensive, aggressive and threw expletives at her colleague, Sheryl Underwood. Sharon used textbook white fragility and crocodile tears to get out of taking responsibility. On Friday Sharon issued an apology, using the line "to anyone of color that I offended and/or to anyone that feels confused or let down by what I said" without once acknowledging her Black co-stars. Friday, CBS announced an internal review into Sharon's behavior, signifying that she may find herself without a job like her buddy Piers. Cue the tears because now Sharon is playing the victim again, stating that she was blindsided by CBS and that she basically isn't responsible for her response. Below a few details via People:
Osbourne, 68, apologized on Friday for her comments in the episode, during which she said that she had been accused of being racist after voicing her support for Morgan, 55, in the wake of criticism about his response to Markle's recent interview with Oprah Winfrey.

However, the TV personality is now claiming that CBS "blindsided" her when the topic of Morgan was brought up.

"I blame the network for it," Osbourne told Variety on Friday night. "I was blindsided, totally blindsided by the whole situation. In my 11 years, this was the first time I was not involved with the planning the segment."

Osbourne explained that the showrunners called her about eight minutes before taping began to ask if it was okay if they asked about Morgan.

"I said, 'Sure, they can ask me whatever.' But then I get on there, I say my piece and Sheryl [Underwood] turns around straight-faced, looks at me and is reading from a card with questions," she said. "I was just so hurt, caught off guard and stunned by what I was being asked and not prepared. I was honestly in shock. I felt like I was in front of a firing squad. I felt like a lamb held out for slaughter. … They had me there for 20 minutes."

Osbourne also said she "begged them to stop, to please change subjects" when they went to commercial break.
Sharon continues to avoid self reflection by screaming she isn't racist and blaming everyone but herself. No one is buying it and several people who have worked with Sharon are pointing out that this isn't her first instance of racism. Holly Robinson Peete tweeted that Sharon called her and Leah Remini "ghetto". Remini tweeted in 2012 that Sharon was behind the two of them getting fired for the show. I am not sure how Holly and "ghetto" could ever be in the same sentence but there it is. Sharon then denied ever calling Holly "ghetto" and tweeted out a private correspondence between her and Holly in which Holly thanked her for being a good co-host. HuffPost contributor, Yashar Ali, called out Sharon's intentional withholding of the second email that Holly sent to Sharon after Holly found out that Sharon was instrumental in her firing. Yashar also provided proof by way of a six point thread of Sharon's past racist behavior on the show and in some of her own tweets. CBS has announced that The Talk will be on hiatus and that all upcoming live shows have been canceled pending the review. All I have to say is that Sharon had it coming. And as my mom has always taught me, birds of a feather flock together. If Sharon did not have the same beliefs and values as Piers, I promise you, she would not have supported him.
1. A few years ago, I did a lot of reporting on CBS and The Talk.

Here's what I know:

Three months after Holly sent this email, she learned about Sharon's role in her ouster at the show and sent another email holding her accountable.

This is an incomplete record of events. https://t.co/319WqSs9b0

— Yashar Ali 🐘 (@yashar) March 14, 2021
I'm old enough to remember when Sharon complained that I was too "ghetto" for #theTalk…then I was gone💨
I bring this up now bc I was mortified watching the disrespectful condescending tone she took w/her co host who remained calm & respectful because…she HAD to🤦🏽‍♀️ 🤷🏽‍♀️#fbf https://t.co/7pnCnhM5rf pic.twitter.com/CXR4DzvlEZ

— Holly Robinson Peete😷🥰 (@hollyrpeete) March 12, 2021