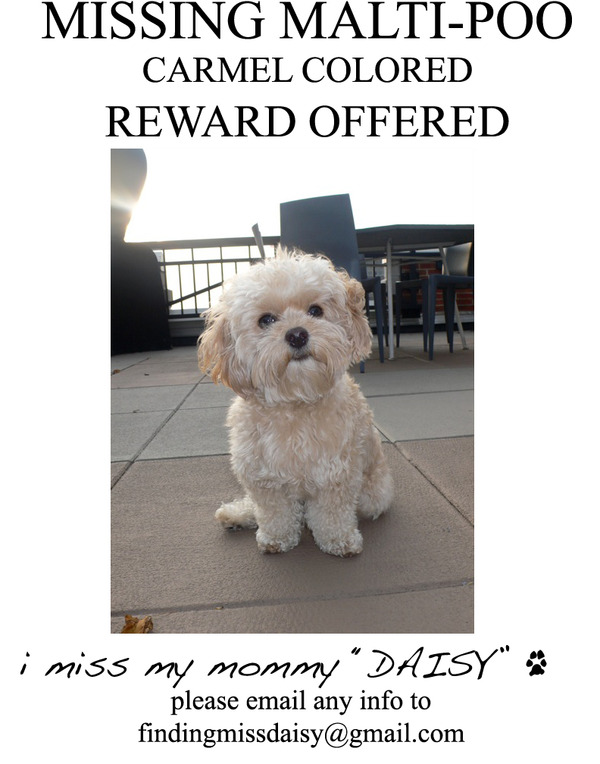 Jesus, can anything go right for Jessica Simpson? After spending the summer recovering from being dumped by Tony Romo, and probably being the easy lay of John Mayer, Jessica has just been hit with another blow. Her beloved Malti-Poo Daisy was absconded by coyotes right in front of her eyes! Daisy was given to Jessica by Nick Lachey, when they were together, so I think that makes Daisy around five years old. Jessica has already made posters asking people to contact her if they find Daisy, or if they have any information, but Jessica realizes that her dog is most likely dead:
Jessica Simpson says her "heart is broken" over her missing 5-year-old maltipoo Daisy.

On her Twitter page, she writes: "A coyote took my precious Daisy right in front of our eyes. HORROR! We are searching. Hoping. Please help!"

Posters of the pooch have already surfaced in the singer's Calabasas, Calif., neighborhood. "Reward offered," they read.

Daisy was a gift given to Simpson, 29, by ex-husband Nick Lachey several years ago. The singer rarely travels without the dog.

Fans consoled the singer, who was just in Rio de Janeiro shooting her VH1 reality show The Price of Beauty, on Twitter.

"My heart hurts for you," one wrote. "I'm an animal lover and it's like losing a family member."
[From Us Weekly]
Poor Jess. I'm an animal lover too and even though I don't care for small dogs, I acknowledge that Daisy was a cutie and that Jessica adored that dog. Coyotes are a huge problem in California, especially for domesticated animals. With modern urban sprawl – especially in Southern California – coyote attacks have become more frequent as their habitats are threatened. It's very sad for animal lovers, and I really do feel badly for Jessica.
Jessica and Daisy are shown on 9/21/05, credit: WENN.com, and 10/9/08, credit: Fame Pictures