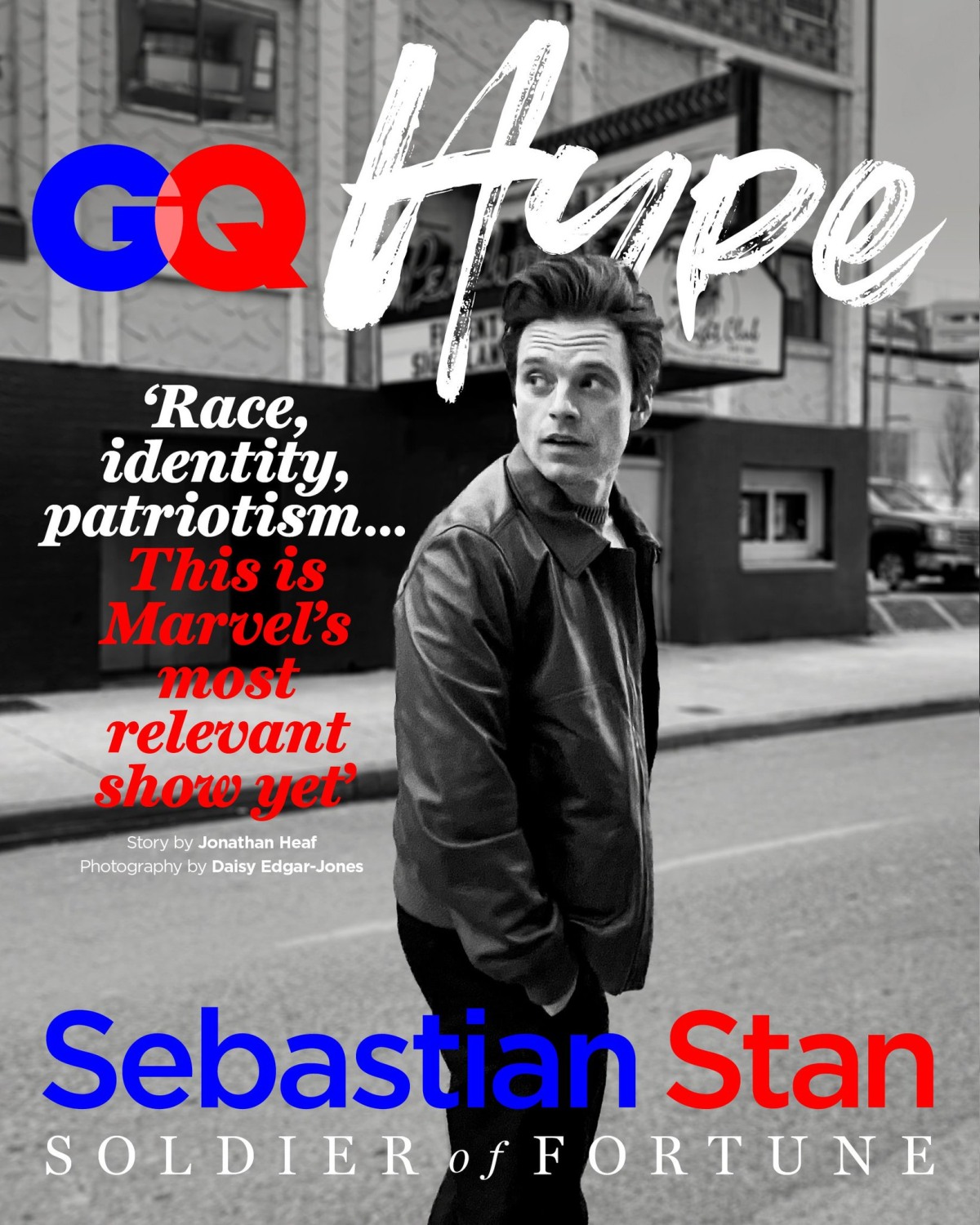 Sebastian Stan is hustling for the Disney+ series The Falcon and the Winter Soldier, where Stan plays (you guessed it) the Winter Soldier. For the longest time, I didn't know that Stan's family came from Romania (when it was a communist/Soviet country) when he was just a child. But knowing that, doesn't it make a lot of sense? He does give off a sort of European vibe, even though his accent is pure American. I was thinking about that as I read his GQ Hype cover story when he began talking about how timely this new Marvel series is about race and patriotism in America. You can read the full GQ Hype piece here. Some highlights:
He didn't know The Falcon And The Winter Soldier would happen: "This wasn't something long planned, not at all. Maybe Kevin [Feige] did, but he didn't tell me about it. But once Anthony and I realised these changes were taking place to the storyline in Endgame, in particular to the story of Captain America, I think both of us sort of looked at one another and thought, 'Well, we're still here! We're not dead! So, what happens to us now?' This show is a revival, in spirit at least, of some of those buddy comedies that were so popular in the 1980s."

He gets along well with Anthony Mackie: "Anthony and I both get a kick out of working together; we always have a lot of fun. Also, this show is six hour-long episodes, which gives us a lot more to play with than a two-hour film. 'Buddy' walked out of that last film with an identity crisis, so there's a lot to dive into….Actually, now we've got these longer scenes together, there's a lot more dialogue between us."

Bucky is like James Dean or something: "He's been silent for, well, almost all the movies and that's what made him cool. He was cool because he didn't open his mouth, a sort of less-is-more, brainwashed assassin. For this show I had to find his voice, in all senses, and do it in a way that was timely to what is going on in 2021."

On the timeliness of the show: "Look, you can't do a show that explores the title of Captain America without touching on some of the stuff we have seen on the news. In fact, I would argue this is Marvel's most relevant show yet. Race, identity, patriotism… these issues have invariably boiled over into all our lives these past 12 months. We started filming The Falcon And The Winter Soldier in September 2019, I believe, and the scripts were already touching on all this stuff. Yet, as we filmed and developed, the delays pushing us into 2020, the world began catching up to certain things being explored. It became an even trippier experience for all of us. It also gave us a feeling of a much larger moral responsibility and I think, for me – certainly for Anthony, but also myself to a certain extent – work wasn't just going to 'work' any longer. It felt like a real opportunity to ask questions, not only of the characters but also of ourselves and the audience."

A Black Captain America: "A black Captain America is an incredibly powerful symbol, for all those reasons we were discussing, but also he was the right man from a character standpoint [to] take the shield, regardless of race. Bucky wouldn't be emotionally intelligent enough or mentally stable enough to be able to handle such huge shoes. His moral compass is somewhat questionable too."

Parallels with the real world: "Take Covid, for example. With the 'Blip' that happens at the end of Infinity War, Hulk reversing the deaths caused by Thanos, the idea of a big, tragic event with a long, dark, menacing shadow falling over everything since, you can see similarities here with the pandemic. Also what happened at the Capitol in the States just these past months. I mean, sometimes you watch the news and you don't know what's real or what's not, right? But full credit to Marvel: it manages to touch on all the important topics while remaining entertainment, albeit entertainment with a message. It's not like we have set out to lecture anyone."
"I mean, sometimes you watch the news and you don't know what's real or what's not, right?" Yes. I've honestly felt that way too at times, but honestly, if someone had scripted some of the dumbf–kery that's happened in recent years, those scripts never would have been produced. "Okay, so there's an actual plague which is killing thousands of people a day, right? And people… refuse to wear masks!" "Get out of here." Oh how about this: "So there's a violent insurrection and these traitors actually take control of the Capitol and they erect gallows, okay? And then… they all go home without being arrested." So yeah, all of that.
Cover courtesy of British GQ.