Chrissy Teigen has "left Twitter." Again. For what feels like the millionth time. I have a few things to say! First off, she'll be back. Maybe this time it's more serious, but she's shown that she needs the outlet of Twitter and she needs that immediate gratification and validation of people engaging with her and paying attention to her. Two, the internet is still a terrible place for women. It's true that Chrissy gets bullied, that people are really f–king mean to her sometimes, that she's attacked in a way particular to many women on the internet. Three, Chrissy is incredibly thin-skinned for someone who made a name for herself by being extremely online. There are legitimate criticisms of her and she hates that. Like, I remember the reprehensible sh-t she tweeted about Quvenzhané Wallis, not to mention all of her history of punching down and starting completely random beefs, and coming across as completely tone-deaf and self-involved. So here's what Chrissy tweeted before she deleted her account:
Chrissy Teigen is saying "goodbye" to Twitter. The cookbook author, 35, shared her decision to step away from the social media platform on Wednesday.

"Hey. For over 10 years, you guys have been my world. I honestly owe so much to this world we have created here. I truly consider so many of you my actual friends," Teigen began a Twitter thread Wednesday evening. "But it's time for me to say goodbye. This no longer serves me as positively as it serves me negatively, and I think that's the right time to call something. My life goal is to make people happy. The pain I feel when I don't is too much for me. I've always been portrayed as the strong clap back girl but I'm just not."

"My desire to be liked and fear of pissing people off has made me somebody you didn't sign up for, and a different human than I started out here as! Live well, tweeters," she continued. "Please know all I ever cared about was you!!!"

Continuing her thread, Teigen said that she has been "deeply bruised" over the years and encouraged social media users "to know and never forget that your words matter."

"I have made my mistakes, throughout years and in front of hundreds of thousands, and been held accountable for them. I've learned an incredible amount here," she said, adding that she has "said f— up s— and killed myself over it as much as you killed me. But one thing I haven't learned is how to block out the negativity. I'm just a sensitive s—, okay!? I don't wanna be this way! I just am! But I love you guys and I cherish our time together, I truly do. I also hate you."

Teigen didn't say whether or not she'd be discontinuing use of her other social media platforms like Instagram and TikTok, but both were still active Wednesday evening.
I think this week, there was a new wave of hate/criticism against Chrissy for her new collaboration with Kris Jenner. They're making eco-friendly cleaning supplies or something. And people were yelling at Chrissy for working with Kris Jenner. Which is completely weird because… working with Kris Jenner is completely on-brand for Chrissy. Anyway… it's Chrissy's right to step away from Twitter and I hope it lasts a while, but I bet she'll be back within six months. My guess is that she's going to be even more extra on Instagram now.
Chrissy Teigen on her alt checking out the response to her leaving pic.twitter.com/6rIorucd1j

— matt's idea shop (@MattsIdeaShop) March 25, 2021
chrissy teigen quit twitter because everyone kept calling her rich lol

— cinnamon bun (@notsofiacoppola) March 25, 2021
So Chrissy Teigen deleted her account. So basically a woman of color who is grieving the loss of a child and simply wanted to share funny thoughts and yummy recipes was bullied to such an extreme that she had to leave in order to protect her mental health. Good job sucky people. pic.twitter.com/0opttM0Eke

— Meredith Lee (@meralee727) March 25, 2021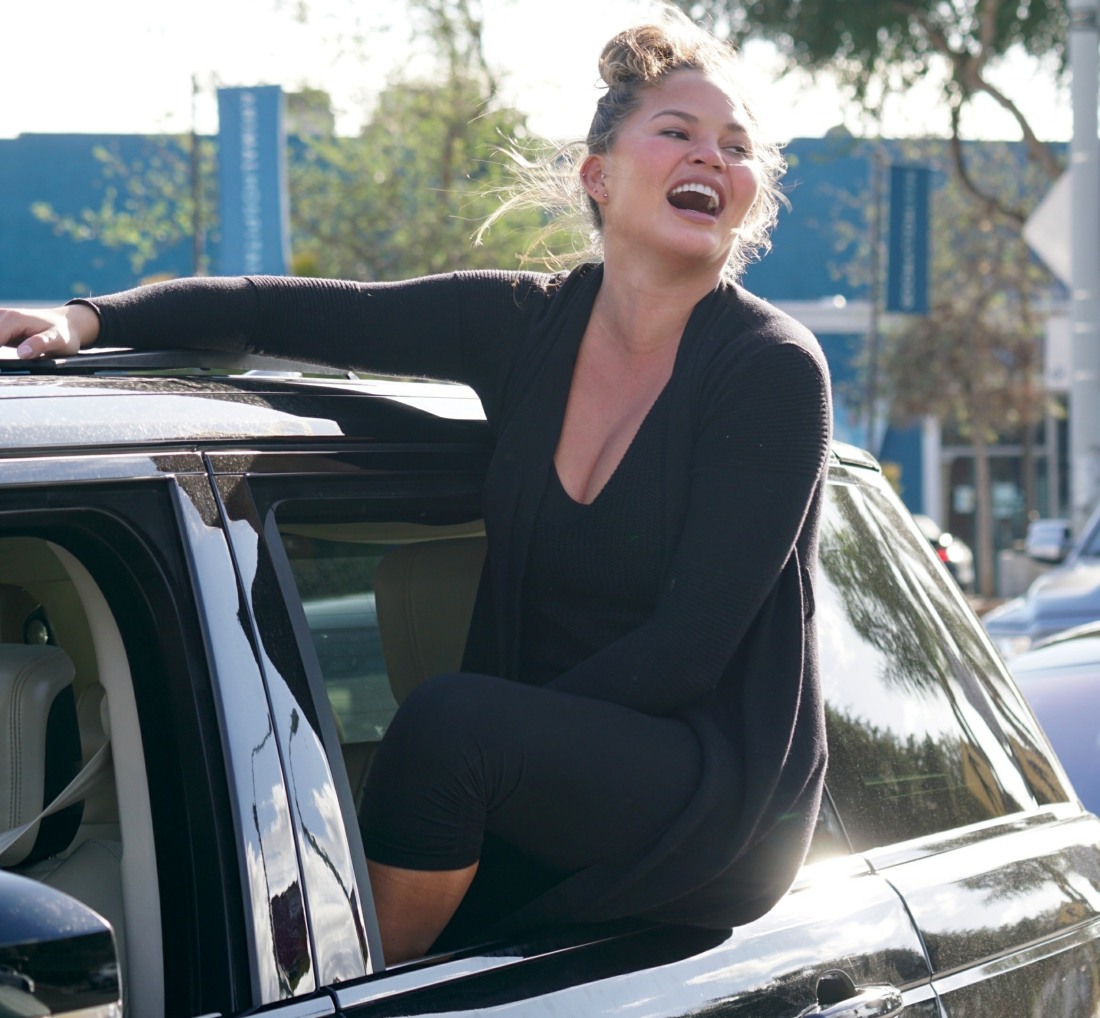 Photos courtesy of Avalon Red, Backgrid.